We've all heard (and probably sung off-key) that classic American ditty, "Oh give me a home, Where the buffalo roam..." And perhaps your favorite uncle collects buffalo-head nickels. Only, that's not a buffalo -- it's a bison; it's all the result of a confusing French-to-English transliteration some 400 years ago. Buffalo are to be found in Asia and Africa; bison have roamed the plains of North America for centuries.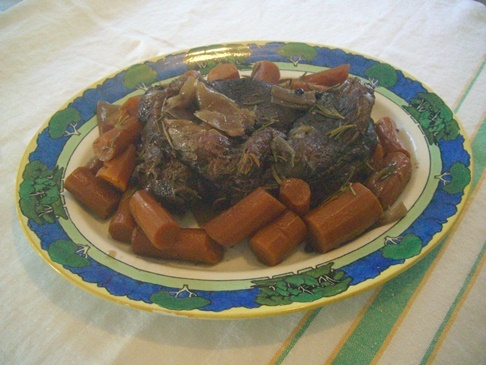 But whether you call it buffalo or bison, it is definitely experiencing a resurgence in popularity. Genetically-pure bison have recently been re-located to Native American lands to provide cultural and economic benefits; the bison herd in Yellowstone National Park is a top tourist attraction; and many local health-food markets are starting to carry a full line of bison meats.
Only a few years ago, you were lucky if you could find a small frozen package of ground "buffalo" tucked away in an obscure corner of a market's freezer section. Nowadays the meat case at my favorite Whole Foods Market displays an enticing array of fresh bison -- New York steaks, clod roast, rib-eyes and more.
For those of us who eat meat, this is cause for celebration. Bison is a great source of lean protein as well as a wealth of nutrients, and the downside is minimal: bison has more protein, and less fat and cholesterol, than beef (90 percent lean), pork (84 percent lean), turkey and even skinless chicken. In addition to a roster of various vitamins, bison provides a generous amount of selenium, iron and copper. And as a result of grazing habits, bison contains omega-3 fatty acids -- and we all know how essential those are for combatting inflammation of all sorts, from cancer to heart disease to dementia.
Eaten in moderation, bison can be an integral part of a healthy diet. Making tacos? Use ground bison instead of beef. Sunday dinner? Crank up the crock pot with a bison clod roast. Barbequed pork chops? Try a couple of bison New York strips instead. And as always, make sure your portions are small -- no more than four ounces per person is more than enough, if you surround it with a tasty grain dish and a bevy of appealing vegetables.
And for all of us who are concerned with how our food is raised and how it impacts the environment, it is reassuring to know that bison are still essentially wild animals, allowed to roam and forage at will.
So the next time your protein cravings swing toward meat, make it bison, and discover for yourselves a tidy package of excellent nutrition and savory deliciousness.
Oh, and keep in mind -- because of its lower internal fat content, bison requires a little different treatment when cooking. For larger cuts like a roast, slow wet cooking is best; for steaks and burgers, medium heat and a shorter cooking time is the way to go.
Crock Pot Bison Pot Roast
Serve this robust hunk of one-dish protein with a big bowl of Anson Mills slow-roasted farro to soak up the sauce...
1 tablespoon grapeseed oil
3-pound bison clod roast
2 tablespoons olive oil
1 large organic brown onion, halved and quartered
5 large organic carrots, peeled and cut into 2-inch pieces
5 cloves garlic, thinly sliced
2 cups robust red wine (I use a Spanish garnacha)
2 cups low-sodium organic beef broth
2 tablespoons organic tomato paste
1 tablespoon juniper berries
2 tablespoons fresh rosemary
3 tablespoons orange zest, julienned
Heat grapeseed oil in large heavy-bottomed pot over medium-high heat. Sear meat on all sides and transfer to crock pot.
Reduce heat to medium, sauté onions and carrots in olive oil until slightly browned, about five minutes. Add garlic, cook for one minute more. Add wine, broth, tomato paste, juniper berries, rosemary and orange zest, and bring to a boil.
Pour liquid and vegetables over meat in crock pot. Turn on crock pot and cook on high for five hours.
Remove meat and vegetables from crock pot and set aside, loosely tented with aluminum foil. Pour sauce back into large pot over medium-high heat and boil uncovered until reduced by one-third.
Carefully slice meat into thick slices, lay in a deep platter and surround with vegetables, and pour one-half cup of sauce over it. Pass more sauce on the side.
Serves six.
Bison Zucchini Scramble
A healthy helping of protein to kick-start a busy morning... And put a little fresh fruit on the plate!
5 large organic eggs
1 tablespoon olive oil
1/3 cup chopped organic zucchini
4 ounces ground bison
1 ounce fresh goat cheese, crumbled
1 teaspoon snipped chives
Whisk eggs in a bowl with two teaspoons cold water. Heat olive oil in a large sauté pan over medium heat, add zucchini and stir-fry for about two minutes, until just past crisp. Add bison and stir-fry until just cooked through. Add eggs and stir-fry until just past runny. Remove from heat, stir in goat cheese and chives.
Serves three.
[ A version of this blog appears in my "Eat Smart" column in Better Nutrition Magazine. ]