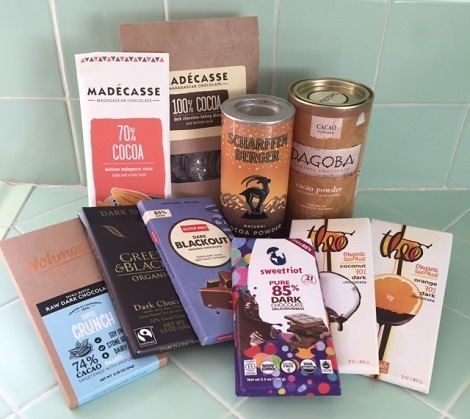 Okay, so maybe he didn't actually say that precisely, but I'm pretty sure that good boys and girls will score points with the red-garbed gift-giver and do themselves a world of good by consuming the dark fruit of the cacao plant. And it wouldn't hurt to give some as gifts this year too!
In recent years, various headlines trumpeting the health benefits of chocolate have delighted the hearts of chocolate-lovers everywhere, providing justification for indulging their chocoholic fantasies. And indeed, research has shown that the right kind of chocolate can be good for you - the right kind being dark chocolate and cocoa powder.
When it comes to solid chocolate, unsweetened, bittersweet, and semi-sweet are the terms most often seen in the marketplace, and nowadays many manufacturers are specifying the percentage of cocoa within. The optimal figure is 70% or higher, guaranteeing a useful concentration of antioxidant flavonoids. Natural cocoa powder is the highest, usually close to 100%. And go with natural cocoa; Dutch is processed with alkali to neutralize the natural acidity, and this destroys most of the flavonoids which are essential to the healthy aspect of the chocolate.
It is largely those flavonoids that are the source of the reported health benefits. Studies at Johns Hopkins University School of Medicine and Harvard University School of Public Health, among others, point to reduced risk of heart attack and improved cardiovascular function from the flavanols found in the cacao bean. And observed effects upon serotonin levels in the brain following consumption of chocolate certainly explain why that chocolate bar tightly clutched and happily consumed can enhance mood levels.
But there are other levels of goodness to be pursued in the production and consumption of chocolate, that have to do with larger issues and concerns in modern times. Enormous demand leads to increased pressure on natural resources and impacts the workforce in multiple ways; unfair prices to farmers, environmental degradation, and child labor bordering on slavery are endemic to the system.
The problem is complex, and solutions equally convoluted and hotly debated. One of the primary movements to rectify the process is the Fair Trade designation; as described by a consortium of the top certification organizations, "fair trade" is "a trading partnership, based on dialogue, transparency, and respect, that seeks greater equity in international trade". In theory, it improves quality of life and upgrades the community, but the structure allows for inefficiency and corruption, and does not necessarily benefit the actual farmers involved. Thus there is considerable controversy over the efficacy of this designation.
Some folks suggest that a better way to go, if you are looking to do good socially with your chocolate purchase, is to look for the "direct trade" designation, including the "bean to bar" concept and "single origin" chocolate. This indicates that the maker has obtained beans directly from the grower, thereby eliminating any number of possible middlemen and not only ensuring greater quality control but also guaranteeing a greater share of profit to the farmer.
In any event, you will want to shun those mass-market confections shouting at you from display racks at the front of your local supermarket, and find your way to the artisanal treats discreetly clustered elsewhere, with their sweet but subtle siren songs promising organic ingredients, fair or direct trade sourcing, and high percentages of cocoa within. It'll do your body, your heart, and your head a world of good.
And trust me, a gift of chocolate at the holidays is always appropriate and welcome, and will be received with a seasonal measure of joy.
If you want to explore, try these simple recipes to get you started.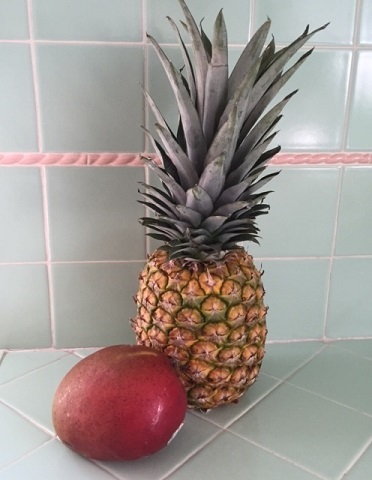 Tropical Chocolate Fondue
A perfect dessert for a cold winter night...
1/3 cup whipping cream
3 tablespoons honey
7 ounces dark chocolate, grated
1 tablespoon Cointreau liqueur
1 tablespoon finely chopped macadamia nuts
1 ripe pineapple, cut into chunks
2 large ripe mangoes, cut into chunks
In a medium saucepan, bring cream & honey to a bare simmer. Stir in chocolate, remove from heat; let sit for five minutes, then whisk until smooth. Stir in Cointreau & macadamias.
Pour into a bowl & serve immediately beside bowls of pineapple & mango, with skewers to seize & dip the fruit.
Serves 4-6.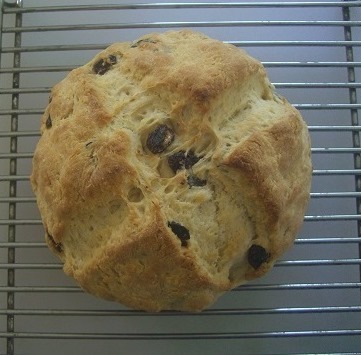 Chocolate Cherry Irish Soda Bread
A tribute to my Mom, who made a basic version of this often when I was growing up... It's splendid for a holiday tea or brunch...
4 cups all-purpose flour
1 1/2 teaspoons baking soda
1 teaspoon salt
3 tablespoons superfine sugar
3/4 cup dried cherries
4 ounces dark chocolate, coarsely chopped
1 3/4 cups buttermilk
2 tablespoons unsalted butter, melted
Preheat oven to 375°F. Line a large baking sheet with parchment paper.
Sift together flour, baking soda, and salt into a large bowl and stir in sugar, cherries, & chocolate. Add buttermilk and stir just until dough is evenly moistened but still lumpy.
Transfer dough to a well-floured surface; knead gently with floured hands about eight times to form a soft but slightly less sticky dough. Halve dough and form into two balls. Pat out each ball into a domed 6-inch round on baking sheet. Cut a 1/2-inch-deep X on top of each loaf with a sharp knife, then brush loaves with butter.
Bake in middle of oven until golden brown and bottoms sound hollow when tapped, 35 to 40 minutes. Transfer loaves to racks to cool completely.
Best enjoyed slightly warmed and slathered with soft butter!
Makes two loaves.
[note: A version of this post appears in my "Kitchen Matters" column in Better Nutrition Magazine.]