An economic recovery is happening. Slowly, but it's happening. Depending on which side of the aisle you're on, there are a number of different theories about what can make this turn around move faster. Regardless, there is one area that everyone agrees on: women business owners and the need for them to grow and create jobs.
Yes, women specifically. Census statistics show that most women-owned firms plateau at $50,000 in annual revenues.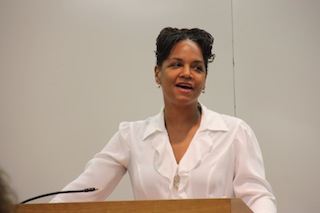 No matter what field you're in, that's not enough to stay in business competitively. It's also not enough to support yourself or your family, especially if you're a single parent. And it's certainly not going to help your business create new jobs -- how can you pay people when you're not making enough in your business to pay yourself?
Recognizing this, and the thousands of women entrepreneurs who contact us each year for answers on the best ways to grow, my team at Count Me In has teamed up with the Sam's Club Giving Program to help find a solution. It's called Urban Rebound and we're bringing it to Detroit September 30 and October 1.
Why Detroit? Just look at the numbers! The unemployment rate for the Metro Detroit region has been slowly declining, falling from 16.9 percent in July 2009 to about 9 percent in July 2012, but still above the national average of 8.3 percent. At the state level, Michigan is among the top 10 states in terms of the number of women-owned businesses -- ranked #10 with 250,000. However, it ranks 49th when it comes to revenue growth among women-owned firms -- only 17.1 percent between 1997 and 2012, compared to the national average of 58 percent.
Enter Urban Rebound, designed to help women with firms with $50,000-150,000 in annual revenues grow their businesses to $250,000 or more within 18-36 months. In 2012, we're bringing the opportunity to join the Urban Rebound movement to Los Angeles, Detroit and Charlotte, all top ten states in terms of the number of women-owned businesses. If we can get 100 businesses from each of the three 2012 Urban Rebound events to grow to $250,000, that translates into $25 million in new economic activity and more than 1,000 much needed new jobs. Not too shabby! And a big boost for local and the national economic pictures.
I'm especially excited about bringing this program to the Detroit area because I had the chance to meet with some fabulous women entrepreneurs there at one of our weekly Pitch Parties. Amazing businesses who are ready to learn how to grow the right way like SoupDive, a fantastic mother-daughter health food operation in Southfield, and GradeCheck, the brainchild of a mom who developed a great system to track her a child's academic performance and goals.
These women and many more will be taking a big step toward growth by attending our Detroit event September 30 and October 1. They'll be pitching their businesses for a chance at a spot in our Business Accelerator program that will help set them up on a sustainable growth track. They'll also meet area women who have grown their ideas into multi-million dollar success stories -- Pam Turkin, founder of Just Baked; Beverly Bantom, CEO of Unique Expressions; and Jami Moore, president of JEM Tech Group -- who will be there to support other women trying to do the same and share their insights into how it's done.
Urban Rebound is about a vibrant, supportive community of women small business owners coming together as part of a movement that can invigorate in our nation's ongoing economic recovery. It's also about women who are ready to stop making excuses and take control of their potential for success. Having worked with thousands of women business owners over the past decade, I can tell you that I've heard all the challenges women face, and I've seen them overcome -- from balancing babies and a small business to learning how to manage your own books to gaining the courage to re-approach that bank or investor or get on TV and really sell what you do like a pro.
Urban Rebound is helping women across the country make these things and much more happen, and I want to invite YOU to be a part of it. Join this powerful movement to help grow your business, our nation's economy, and your confidence in yourself.
I hope to see you there and remember... Believe in you!
Urban Rebound-Detroit takes place September 30-October 1, 2012, at the Detroit Marriott at the Renaissance Center, 400 Renaissance Drive, Detroit, Michigan 48243. Learn more at www.countmein.org/UrbanRebound.