At some point, every entrepreneur comes to a crossroads, the point where she must take stock of her business and decide if they want to just be in business and remain in survival mode or if they want to take it to the next level. It's a daunting task -- but a necessary one. Indeed, every business owner owes it to herself to examine all the paths of growth, to set brand and financial goals that allow her business to reach its fullest potential.

What do business owners need to do to reach $250k and beyond? What do they need to know to move forward? And whom do they ask for help?

For answers, I decided to go straight to the sources -- four phenomenal women who won our Urban Rebound competition in Los Angeles last month: Bonnie Matthews of Blu PonyVintage; Norma Rapko of Norma Rapko, Inc.; Erica Harris of Happy Baby Vending; and Kiki Otero of Flantastic.

I figured they would know. After all, part of the reason they joined us was to learn how to take their businesses to the next level.

Let's begin with Kiki Otero, who started her company in 2008 after getting laid off from her job as a postal worker. Unsure how to stay afloat, she turned to desserts. Literally. Her father had a fabulous recipe for flan; she tweaked it a bit and now has 50 flavors and can custom make any flavor you want. She recently created something called a flantini -- it's in a martini glass, but you eat it with a spoon. Flantastic, indeed! But she wondered: should she grow her business by selling 50 varieties of flan at weddings, christenings, and Hollywood events, or does she choose the five best flavors and sell those to restaurants, supermarkets, and other distributors? What's her clearest path to growth and creating the life she wants for herself and her family?

She wasn't sure. But she knew one thing she had to do: network, network, network! Never mind that it made her uncomfortable. "Networking is all new to me," says Kiki. "It's out of my comfort zone. But I believed in my product and knew it was very unique, so I had to step out."
At the Urban Rebound event in May and the Pitch Parties leading up to it this spring, she had the chance to talk with other women who had similar fears and business concerns. "We did the competition together -- and as scared out of my mind as I was, I did it! And I ended up being one of the winners! I can't tell you how humble I feel, how grateful."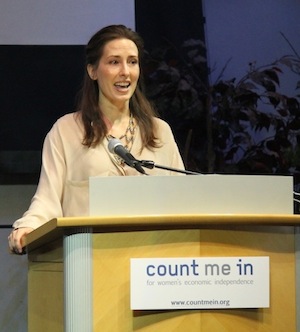 Bonnie Matthews (pictured here giving her pitch at the Urban Rebound-Los Angeles event) launched Blu Pony Vintage, a children's apparel company, in 2010. Today, her clothes -- think Ralph Lauren meets the Little Rascals -- are sold in 63 boutiques worldwide. Although she has a part-time assistant, she has been doing the bulk of the work on her own.

"I know I can only go so far like this," she admits. "It happens as a business owner - you need resources and guidance. You become doubtful and worried."

After the Urban Rebound event, she changed how she pitched her company. "I used to say: 'My product is inspired by the 1920s and 1930s,' but after getting feedback from Nell Merlino in the rehearsals, I changed my slogan to: 'Blu Pony Vintage, American Made.' It's more succinct, and it made it more tangible. Not everyone understands what 20s and 30s fashion means, especially for kids. That was amazing feedback." She also plans to revisit her business plan to help her achieve her goal of opening a boutique in New York.

Norma Rapko, the CEO of Normal Rapko, Inc., was also inspired by the community she found at CMI.

"To be able to have a support group around you is key, says Rapko. "You start believing in yourself 500 times more than you did before."

Norma's business started 12 years ago by sheer accident. She was a stay-at-home mom and needed picture frames for her wall. She couldn't find anything she liked so she borrowed tools from her father, a carpenter, and made her own. Friends saw them, loved them, and wanted them. Soon she was taking orders, shipping them out of her garage and selling them at craft fairs. In 2009, she published her first book, Embellished Memories. She then launched the Crystyler by Norma Rapko, a "pen" that dispenses crystals that you can glue onto fabrics, flip flops, and or whatever else you want to add some bling to. In October 2011 she singed a lucrative deal with Walnut Hollow, which sells wood products for the craft and hobby industries, and in January 2013 her wares will be found in big box stores across the country.

It's exciting, And overwhelming.

"I feel like my company is on the brink of exploding and I don't have the tools or know how to help me get to that step," she says. "It's like this huge animal that has taken on a life of its own, and I really needed the help!"

At the Urban Rebound-Los Angeles, she discovered just how valuable she was. "I was told, 'You're an author, inventor, product designer, on-camera talent. You're the Latina Martha Stewart! You've actually invented something of great value!'" Norma recalls. "It made me realize that I was bringing big stores a wonderful business opportunity. They needed me more than I needed them because I was the innovator. I hadn't seen it that way before."

Neither had Erica Harris, the founder of Happy Baby Vending, which sells baby products with an eco-friendly twist in vending machines. The idea came to her in October 2010, but she's only been doing it full-time since January of this year.

"How do you grow your business? You have to get funding," says Erica, who hopes to have 100,000 vending machines nationwide within 10 years (so far she has five in the Los Angeles area). "I have to find locations, I have to get the machines, put all the merchandise in them, and then market them. But I haven't marketed at all because I didn't have the funding."

The lesson? "In order to grow and be profitable I have to have a really strategic marketing plan in place and the funding to implement it," she says. "So, that's what I'm focusing on now."

These are just some of the women starting to grow with our Urban Rebound program, which is supported by Sam's Club Giving Program with the goal of finding 300 women entrepreneurs for the program nation-wide by the end of 2012. We'll be bringing the program and pitch competition to the Metro-Detroit area October 1 and North Carolina October 29. You can learn more at www.countmein.org/UrbanRebound and I hope to see you there!