By Gracie Zheng
Zhanpeng Yi, neighbor and classmate of Ming Qu, walked home alone with an umbrella while it was pouring heavily around midnight on Wednesday. When he arrived at his steps, he paused for a second. Qu's car wasn't parked there.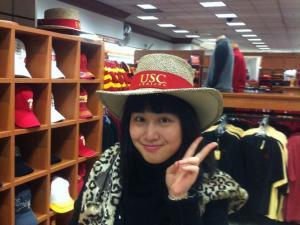 "This is unusual because he doesn't often use his car," Yi said.
When he woke up around 9 a.m., he went out and still didn't see the car.
It never came back.
Police announced on Wednesday that Qu was found collapsed on a porch in front of a home just beyond where a second victim, Ying Wu, was found dead in the passenger seat of a gray BMW on Raymond Avenue.
Yi remembered a USC crime alert email from last semester stating that four Chinese male students were robbed on the street, and one of them was threatened with a knife on his neck.
"That was bad enough. I didn't expect there would be a worse incident like this," he said. "There is nothing I can do. I can't just buy a plane ticket and go back to China."
Before the shooting, Yi didn't worry too much about the safety of his neighborhood -- he stays four blocks away north of campus, within DPS cruise area, he said. The shooting of two Chinese graduate students happened seven blocks west of his street.
"I won't go to that area, that's for sure, especially late at night. If I have to, I will drive my car instead of walking on the street," he said. "Ironically they were shot in a car."
Like many other Chinese students, he has unanswered questions about how they could get killed in a car.
"What kind of terrible neighborhood is this to have your car window glass shattered and to get yourself killed in the car?" he said.
Yu Quan, a friend and classmate of Wu, remembers the time they spent in spoken English class and chatting after class.
"She is a passionate person. She is always ready to help. I often borrow our class materials from her," he said.
"I used to see her during office hours with our teaching assistant," he said. "She talks in a slow manner."

Quan first saw the news of two USC students shot on RenRen, a Chinese social network similar to Facebook. "I was shocked," he said. "This is unbelievable."
"Nothing like this happened to my friends back home. She was such a live person. Now she is gone."
Ran Zhai, a second-year graduate student majoring in computer science, had a hard time after he saw the murder in the news. He spent the whole day in front of his computer in his apartment near campus keeping an eye on the developments of the case.
"When my housing contract expires this May, I'm going to move out of this area," he said.

This post was originally published on Neon Tommy.