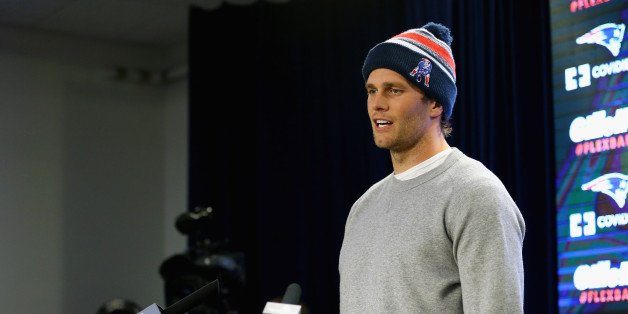 In the wake of an NFL scandal the Internet has dubbed "Deflategate," New England Patriots quarterback Tom Brady held a press conference on Thursday to address allegations of "ball tampering" in the team's 45-7 win against the Indianapolis Colts (a win that advanced the Patriots to Super Bowl XLIX). Brady's press conference followed Patriots' coach Bill Belichick's prepared statement earlier that day where he pled ignorance not only to ball tampering, but the entire process of pre-game ball inspection. In his statement to the press, Belichick offered what many predicted would be the Patriots' best defense: that the team's balls deflated below legal limits naturally, during the course of the game.
"Obviously with our footballs being inflated to the 12.5-pound range, any deflation would then take us under that specification limit," Belichick said. "Knowing that now, in the future we will certainly inflate the footballs above that low level to account for any possible change during the game."
As Brady stepped to the press podium wearing a striped winter snow hat, the three-time Super Bowl winner exuded both calm professionalism and schoolboy innocence. He was careful to avoid traps set by reporters, including an attempt to cajole him into offering an apology. ("Is this a moment to just say 'I'm sorry' to the fans?" the reporter baited.) "I would never do anything to break the rules," Brady insisted. "We accomplished something really special getting to this point, and I don't like the fact that this is taking away from some of the accomplishment of what we've achieved as a team."
Much like he does on the field, Brady remained composed in the face of intense pressure. The bottom line? He didn't do it. He wouldn't do it. He simply has "no idea" who or what caused those 11 balls to deflate.
"Everyone is trying to figure out what happened," Brady said.
So far, there have been no reports of tangible evidence to support allegations of intentional misconduct. No witness has come forward with firsthand knowledge of ball tampering by Brady, Belichick, or any of the officials responsible for pre-game ball inspections. But if Belichick and Brady didn't deflate 11 of the Patriot's 12 game balls -- what did?
Some theorize that New England's cold, rainy weather conditions the night of the game are the most likely culprit. Carolina Panthers kicker Graham Gano took to Twitter to share his own experience with the phenomenon. "Since the whole 'deflated ball' story is a hot topic right now, here is a situation that we experienced this year," Gano wrote in a series of tweets. "When checking the game balls, the refs check the PSI indoors. This is frustrating bc [sic] the ball loses some pressure in cold weather. During our home playoff game this year, I asked the official if he could check the PSI outside again bc [sic] the ball felt flat and he said he could not. I guess you can't blame the official for that. Rules are rules."
As media coverage continues to intensify in the days leading up to the Super Bowl, how far should the NFL go to solve the mystery of the deflated balls? In the absence of hard evidence, will they be forced to recreate the game's weather conditions in a lab (including "Gronk-Spiking" a ball) to test if deflation could have occurred naturally? With many NFL coaches and players debating whether "deflated balls" should be a valid topic of discussion, does "deflategate" warrant such forensic analysis?
Furthermore, would any of this be front-page news if it were not the Patriots being accused?
An ESPN report from November stated that the Minnesota Vikings and Carolina Panthers were caught heating their footballs on the sidelines when game temperatures fell to 12 degrees. The Tampa Bay Times reported that former Buccaneers quarterback Brad Johnson paid to have the Buccaneers' footballs altered before Super Bowl XXXVII -- a game in which the Bucs beat the Oakland Raiders, 48-21. "I paid some guys off to get the balls right," Johnson said. "I went and got all 100 footballs, and they took care of all of them." Neither story resulted in a front-page NFL scandal or a call for investigation and penalties.
So what is it about the Patriots gets everyone so riled up?
Many point to the media's hostility toward Belichick, the Patriot's grim-faced, tight-lipped coach. Belichick has earned a reputation for doing "anything to win," even when it crosses the line into cheating. But while Belichick's failure to earn the public's good will might play a role in the climate of distrust surrounding his team, equally to blame may be something less obvious.
Tom Brady is one of the elite quarterbacks of his generation for reasons often described as "intangibles." A 6th-round NFL draft pick, Brady received embarrassingly low scores on his "measurables" with scouts criticizing everything from his lack of arm strength to his "slow foot speed," and small frame. It remains something of a mystery how Brady emerged as not only one of the best NFL quarterbacks of his era, but arguably in the history of the game. He's a player with that mysterious blend of heart, talent and drive, in place of the more "tangible" gifts of strength, speed, and size. Those intangibles helped propel Brady to a status no one could have predicted, and few have ever achieved. At 37 years old, Brady remains at the top of his game; defying the odds, frustrating his critics, and now heading to the Super Bowl for a record-breaking 6th time.
We are waiting for Tom Brady to fall. We're waiting to learn that he's not a great American sports hero but a common cheater, a guy who doesn't deserve to be where he is and maybe never did. To a generation of sports fans who grew up watching their icons exposed as frauds, Brady is long overdue for a spectacular fall from grace. But while "deflategate" may add to the perception that Brady's achievements should be viewed with suspicion, the scandal's own "intangibles" have caused it to fall short of the smoking gun his detractors were hoping for.