Huffington is the free, weekly iPad magazine created by The Huffington Post. The latest issue is a special Literary edition, and here the four guest editors explain their motivations.
Before this issue was a reality, before it was even an idea worth talking about, it was an ellipsis at the end of a lively discussion about Don Delillo, George Eliot and Zadie Smith. After a busy day reading the wires for the latest political scandal or celebrity mishap, there was a good chance some of us editors were gathering at happy hour to spar over a recent New Yorker piece and trade Joan Didion for Jennifer Egan.
Before this issue was a reality, it was a question that we asked ourselves so frequently it became a refrain. "Why not?" Why couldn't The Huffington Post go literary for a bit?
This spring, when Arianna Huffington and Tim O'Brien launched Huffington, the time had come to stop asking "Why not?" Designed for the relaxed weekend read, Huffington expressed their shared desire to slow things down, and it seemed to be the perfect medium for us to celebrate the literary community we love -- and for which we see a bright future even in times of great change.
Though there have been grumblings about new technologies' detrimental effect on more traditional forms of literature, we believe that these media are not mutually exclusive. We can hold on to, and elevate, the things we love about books and still embrace the worlds opened up by more recent developments. And so, in the spirit of celebrating the past and the present and the future of literature, we chose the theme of preservation, and explore it through the excellent poems, stories and essays within these virtual covers. Each chapter of our issue explores a different facet of this human defiance of the powerful entropy that pulls at our families, our lives, and even our cultures.
Chapter 1 focuses on the social ties that bind us -- love, domestic life, communities -- and the the ways in which they may be loosened. In it, we spotlight an enthralling short story by Aimee Bender first seen in one of our favorite literary reviews, Electric Literature. "The Red Ribbon" offers a haunting glimpse into a marriage decaying quietly from within, as Bender masterfully reveals the heartbreak that can be created by the uncertainty of our own desires.
In Chapter 2, we focus on the sharpest threat of all: death. The renowned literary review Granta presents a stunning piece of fiction from doctor and writer Terrence Holt, who vividly communicates the urgency of an attempt to save a dying patient in "The Perfect Code." Holt unflinchingly reminds us of the tenuousness of life itself.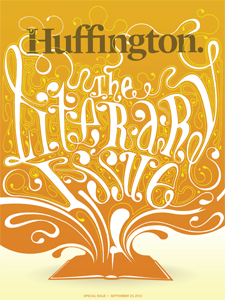 Chapter 3 widens the frame, encompassing the preservation of culture throughout generations and across geographic divides. A daring new poem by acclaimed poet John Matthias, "After Five Words Englished From the Russian," is this chapter's centerpiece. Matthias' poem throws together different languages, cultural references, and histories, allowing the reader to watch these disparate cultures dissolve before our eyes.
These three chapters are framed by a number of short, original features that highlight the diverse achievements of the literary community, further enhanced by the beautiful design of Huffington's Art Director, Andrea Nasca. We hope this issue of Huffington satisfies, if only for a moment, the bookworm in each of us.
This piece appears in the Literary Issue of our FREE new weekly iPad magazine, Huffington, in the iTunes App store.
Or read it on the site at the links below:
Reviews:
"Uber-Rich Porn," by Peter S. Goodman
"Asshole Rising," by Stuart Whatley
"Apocalypse Later," by Lucas Kavner
"Lonely and Laughing," by Gazelle Emami
"Three New Books Reviewed in Brief," by Nicholas Miriello, Claire Fallon, and Danielle Wiener-Bronner
Poems:
"Fitzy and the Revolution," by Ishion Hutchinson
"On Crying Wolf," by Don Share
"Desertion," by Jacquelyn Pope
"Post-Coital Discourse," by John Hennessy
"Valet Angelus," by John Hennessy
Fiction:
An excerpt of Granta's "The Perfect Code," by Terrence Holt
Miscellany:
"Sherlock, the Prequel," by Claire Fallon
"Mark Mothersbaugh Revisits His Literary Roots," Q&A by Danielle Wiener-Bronner
"Junot Diaz Takes on Love and Loss," Q&A by Nicholas Miriello