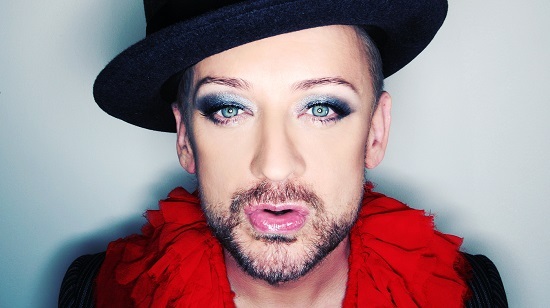 Boy George Photo by Dean Stockings Photography
In this episode of Nicholas Snow Live, breaking news! Boy George has announced his move to Los Angeles and Reality TV, so say the producers of Keeping Up With The Kardashians.
Explain the producers:
Boy George and Bunim/Murray Productions (BMP), producers of longstanding reality franchises Real World, Project Runway and Keeping Up with the Kardashians, are partnering with Boy George's Manager Paul Kemsley and award-winning producer Cindy Cowan to develop a reality docu-series chronicling the icon's move from London to Los Angeles.

"If Marge Simpson met Dolly Parton and went dancing with Ziggy Stardust, it wouldn't come close to what you'll see. Why now...why not? Why me...who else?" said Boy George.
Check Out Entertainment Podcasts at Blog Talk Radio with
NicholasSnowLive
on BlogTalkRadio
Listen to this episode of Nicholas Snow Live on the BlogTalkRadio Network.
And here's a fan photo gallery set to Do You Really Want to Hurt Me:
More from that official announcement:

Universally recognized as one of the music scenes most iconic artists, Boy George has maintained a worldwide presence for the past 30 years, having sold over 100 million singles and more than 50 million albums as a performer and songwriter with 80's super group Culture Club and as a solo artist in his own right. He is one of the world's most successful and in-demand international DJs touring extensively across the globe. The docu-series will capture his new life in America, including dating, house hunting, embarking on Culture Club's North American tour, managing Brando, his pop group, launching a vegan food line and juggling visiting family members. The intent is to begin shooting this summer when Boy George arrives in LA.

"Boy George is a musical and cultural icon, and it's about time someone captured his story," said Gil Goldschein, Chairman and CEO of BMP. "We are experts in producing celeb-reality docu-series, and we couldn't be more excited with the opportunity to tell this story with the right broadcast partner."

"This series will give viewers unprecedented access to his life as he launches his first tour in years and lets the cameras capture this next chapter of his life and career," added Jeff Jenkins, EVP of Development and Programming at BMP, who will oversee production of the series.

"I'm excited for George to partner with Bunim/Murray. They are the best at what they do and he's the best at what he does. A cultural icon embracing the world we live in and opening the doors to his life as he moves to the States will capture the nation's heart," said Paul Kemsley.

"I could not be more excited to partner with a great group like Bunim/Murray and to let the world get a glimpse inside the man behind the icon. Get ready, you are in for a ride!" said Cindy Cowan.

Boy George's Manager Paul Kemsley, and Cindy Cowan, producer of such films as Very Bad Things, Savior and Red Lights, brought the project to Bunim/Murray Productions. Boy George, Paul Kemsley, Cindy Cowan and Bunim/Murray's Gil Goldschein and Jeff Jenkins will serve as Executive Producers.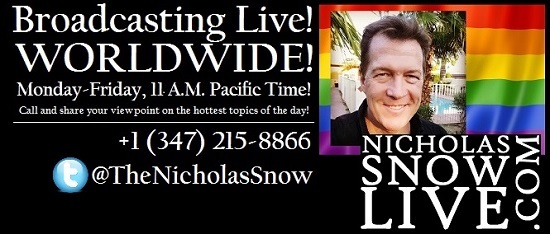 The new focus of Nicholas Snow Live, is the callers themselves! Monday through Friday at 11:00 a.m. Pacific Time, call (347) 215-8866 a few minutes before showtime (or during the broadcast) to comment on the hot topics of the day.
Over 1.7 million downloads in less than three years. The show's motto: "Connecting the Circuitry of Humanity."
Download Nicholas Snow Live podcasts for free from iTunes.
Like the official Nicholas Snow Live Facebook page here.