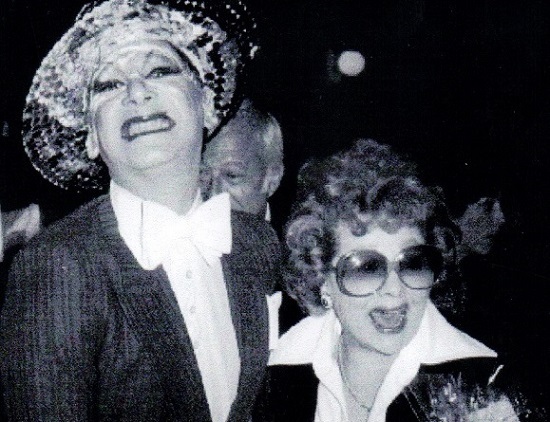 An historic photo of James GYPSY Haake with the late, great Lucille Ball.
In this episode of Nicholas Snow Live I welcome masters of celebrity female impersonation, the cast and crew members of Palm Springs' hit dinner show, Carnival Cabaret, starring James GYPSY Haake and produced by Dan Gore and his team. Also joining the broadcast, Alfie Pettit aka Arial Trampway, a new cast member and a powerhouse behind the April 1st, 2015 special edition of Carnival Cabaret to raise money for Gypsy's star on the Palm Springs Walk of Fame.
The show opened at Oscar's Cafe & Bar the last week of 2014, and sold out to primarily straight, wealthy conservative audiences for whom it's novelty appeal is strongest. It's been renewed twice with the aim of keeping the crowds entertained indefinitely. Performers rotate, gracing the stage (via impersonation) have been Marilyn, Liza, Pink, Katy Perry, Joan Rivers, Reba and Madonna.
Check Out Current Events Podcasts at Blog Talk Radio with
SnowbizNow
on BlogTalkRadio
Listen to this episode of Nicholas Snow Live on the BlogTalkRadio Network.
Rare footage of Gypsy
Gypsy was the original emcee of La Cage Aux Folles in 1981. He was discovered in this upscale cabaret revue by Mel Brooks and appeared in numerous film and television programs. Now, at 82 years old, he is ready to continue his reign as Master of Ceremonies in his own showroom. This is never-before-seen footage (above) of GYPSY in the deep south in July of 2013 performing in Pocola, Oklahoma, on the border of Arkansas. Gypsy knocks them out with his humor.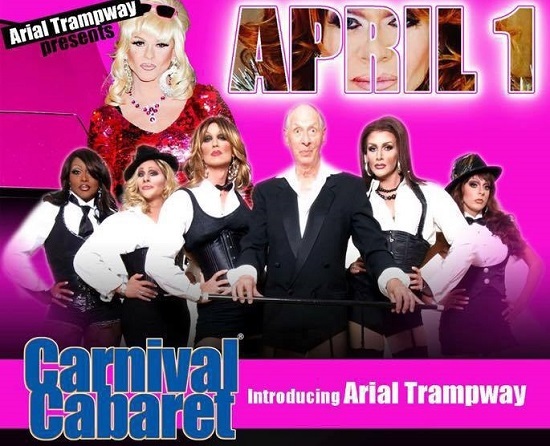 Announced during the broadcast:
Carnival Cabaret, in association with Arial Trampway Entertainment, Oscar's Cafe & Bar, Lulu California Bistro, and members of the drag community present a Gala Performance of Carnival Cabaret to celebrate the art of female impersonation and to honor film, stage and TV actor, stand-up comic and drag legend James "Gypsy" Haake,
Download Nicholas Snow Live podcasts for free from iTunes.
Like the official Nicholas Snow Live Facebook page here.