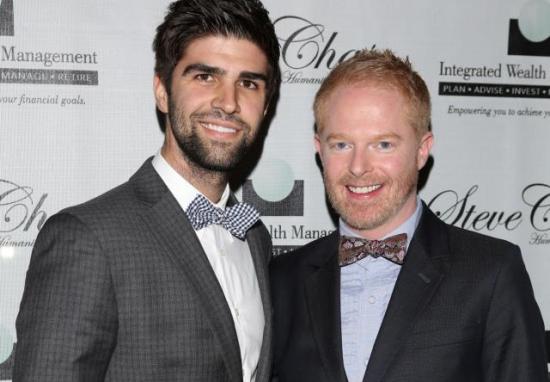 Jason Mikita with his partner, Modern Family star Jesse Tyler Ferguson
Palm Springs, California was once again aglow with stars on February 9th, for the Steve Chase Humanitarian Awards Gala benefiting the Desert AIDS Project, the signature fundraising event for the lifesaving agency which in 2013, through the contributions of generous sponsors, raised over $1,000,000 before a single ticket was sold. Hosted by Modern Family star Jesse Tyler Ferguson, D.A.P. presented Mario Lopez with the Arts & Activism Award, Jake Glaser with the Partners in Activism Award, Lorna Luft with the Community Service Award, Julian DiCiurcio with the Partners for Life Award, and Annette Bloch with the 100 Women Award.
In a night of spectacular entertainment, taking the stage were Matthew Morrison (Hairspray, Fox-TV's Glee), Melissa Etheridge, Stephanie J. Block (Wicked), Queen Latifah, and Megan Hilty (Wicked, 9 to 5: The Musical, NBC-TV's Smash). Plus, So You Think You Can Dance stars Chehon and Marko wowed the audience with the choreography of Ray Leeper, accompanied by Danielle Bisutti with her own original song.
In addition, Nicholas Snow gets the scoop on the red carpet from Melissa Etheridge about how she had safer sex conversations with her teenage kids; from Suzanne Sommers about when she first learned of AIDS; from Lucy Arnaz and husband Larry Luckinbill about the slow dismantling of Hollywood's closet; from Megan Hilty about how Planned Parenthood was her primary source of safer sex education; from Greg Louganis about evolving world attitudes toward people living with HIV; from Jesse Tyler Ferguson about his own gay TV role models; and from Matthew Morrison on what Glee means in the lives of LGBT youth. All this, plus moving speeches and more. It's time for SnowbizNow!
LISTEN:
You can listen to this episode on the BlogTalkRadio Network.
Watch Event Promo with Co-Chairs Jim Casey and Barbara Keller:
Download SnowbizNow podcasts for free from iTunes.
SnowbizNow can be found on Facebook at Facebook.com/SnowbizNow.