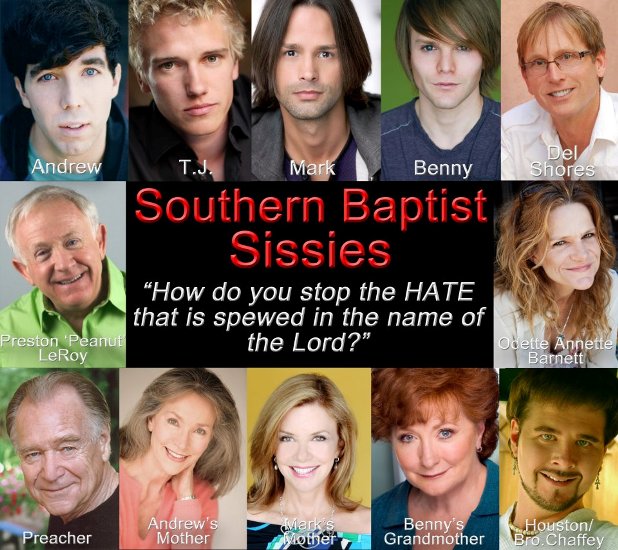 In this episode of my SnowbizNow online radio show, we hear from Southern Baptist Sissies writer/producer/director Del Shores, producer/star Emerson Collins and star Ann Walker about how the hit play is headed for the big screen. As we learn on the project's official Facebook page:
In 2000, Del Shores wrote a play called Southern Baptist Sissies exposing the painful journey of growing up gay in a church that preaches it is a sin. It has been produced by over 30 theatre companies across the country, and won countless awards for Del's productions and for other productions as well, including the GLAAD Award for Best Los Angeles Theatre. In 2006, a national tour starring Leslie Jordan, Dale Dickey and Delta Burke played to sold out houses across the country.

Del is returning to this piece because in the current political and social climate, as more and more people are accepting of the LGBT community, the rhetoric coming from churches, pastors and faith-based organizations is growing stronger and more hateful. This means that gay and questioning youth in those churches and families are caught in the conflict even more than before as they see a more accepting society while their church spews hate that is more and more aggressive.

This film is going to be a live film of the actual play. Del Shores is updating the script and will direct the play with multiple cameras in front of live audiences, and then film additional days for close-ups and coverage to make it so the final film feels as though it was shot in one live show with fifteen cameras. The audience and the response in the room is an integral part of the play experience and we want to embrace that for this film to share with the viewer in the movie theater and at home.
LISTEN:
Watch the team behind Southern Baptist Sissies explain why they're making the play into a film:
Listen to this episode on the BlogTalkRadio Network.
Download SnowbizNow Podcasts free from iTunes.
SnowbizNow can be found on Facebook at Facebook.com/SnowbizNow.