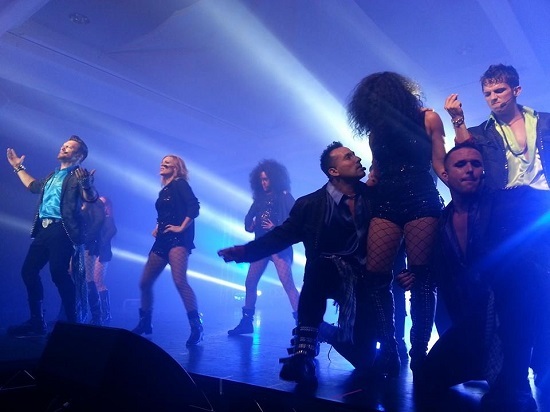 Cast members of Top Rock (an '80s and '90s interactive rock concert) perform at the Hard Rock Hotel Palm Springs, Friday, August 1st, 2014. Photo by Nicholas Snow.
In this episode of my podcast, Nicholas Snow Live, I welcome Top Rock cast members Brandon Alameda, Dani Armstrong and Victor Turpin, now in residence at the Hard Rock Hotel Palm Springs.
We learn on the Live It Up Productions website:
With edgy, elaborate costuming, spectacular light design, "in your face" choreography, unforgettable arrangements and an ensemble of hard-core, exceptionally talented performers, this show embodies the true spirit of Rock 'n' Roll with hard-hitting highlights from both current and classic rock hits. You will be taken on an epic journey of all things rock, as our totally awesome cast brings down the house with only the very best selections of powerful rock ballads and exciting dance-rock numbers including "Alone", "Open Arms", "Livin' On A Prayer", "Home Sweet Home", and many more! Audiences of all generations have hailed Top Rock as one of the most fun and exciting stage shows to be found. No one can throw a party like the truly stellar rock stars of Live It Up! Just try to stay seated during this show... we dare ya.
LISTEN:
Listen To Rock Music Internet Radio Stations with
SnowbizNow
on BlogTalkRadio
(Listen to this episode on the BlogTalkRadio Network.)
Watch the Sizzle Reel from a Previous Top Rock Production:
Download SnowbizNow podcasts for free from iTunes.
Join the new Nicholas Snow Live Facebook group here.