This post originally appeared on the World Bank's Conflict & Development Blog on October 14, 2010. Esabel Khoury co-authored this post.
After months of reconstruction, we are pleased this week to unveil our newly revamped WDR 2011 website. Designed to be more user friendly and to make the World Development Report 2011 accessible to a wider audience, we hope the new website will be a boon to anyone interested in finding out more about conflict and development.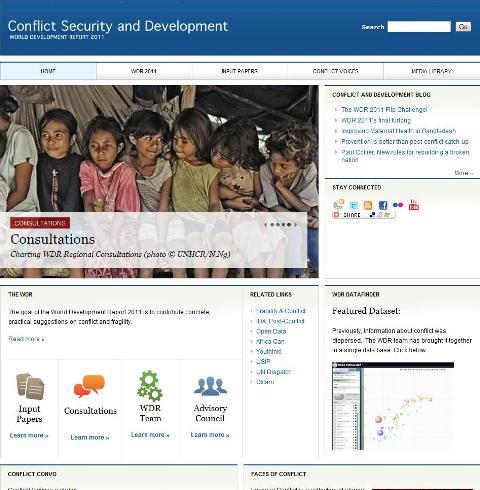 We are especially excited to introduce our Data Visualizer comprising our Conflict Database. Previously, information about conflict was dispersed. The WDR team has brought it together in a single database covering civil war, homicides, terrorism, and trafficking, as well as socio-economic, demographic and political data - more than 300 variables in one place available online through the Bank's open data initiative.
Among our other new features are Faces of Conflict, a series of video interviews with experts and people affected by conflict. We have also asked World Bank staff to use easy-to-use cameras to delve into the causes of conflict and explore the hypotheses of the WDR. We are now featuring footage from Afghanistan, the DR of Congo, Israel, and the West Bank and Gaza, and are constantly adding new videos.

Our new interactive map allows users to acquaint themselves with the consultations around the world guiding the WDR and its thinking. Flags in the map indicate meeting locations with summaries of the consultation sessions with national and regional organizations, policymakers, experts and civil society just a click away.

You can also read the Input Papers that inform the direction and scope of the WDR. We commissioned experts to submit Input Papers on various conflict issues ranging from Governance and the Onset of Civil War to Democratic Transitions in Fragile and Post-Conflict States. These papers are the building blocks of the WDR and provide new insights into conflict, security and development. Some 16 papers are already posted.

The new website is one way of accessing Conflict Convo, a multi-medium conversation incorporating social media, blogging, photos, video, and email to raise awareness of conflict and produce ideas to manage it. Our goal is to amplify the voices of people within and outside the conflict community and bring concerns to the attention of policymakers.

We look forward to receiving entries to our WDR Flip Challenge. We are distributing 10 Flip Cameras around the world to anyone interested in documenting their experiences with conflict and community efforts to reduce it. We will be putting up videos as we receive them, so be sure to check back for updates.

We redesigned our website with the purpose of bringing visibility to the conflict and security issues the WDR team is tackling. More important, it is an open invitation to the broader community to participate in the process. We sincerely hope you find it a useful resource, and good way to communicate your concerns and ideas about conflict.