HAPPY HALLOWEEN!
For those in New York this weekend, you have no excuse not to go to the Village Halloween Parade,
one of the best New York City events of the year. The parade marches up
Sixth Ave, beginning at Canal St and ending at 21st Street. The
festivities begin at 7pm, though an accurate schedule is the last thing
you should expect.
Anyone can march in the parade, whether or not you have a costume (though you should really have a costume!). All you have to do is enter Sixth Ave between Canal & Spring Street coming from the east side. If you just want to watch, I still recommend joining in the parade. You can take much better pictures, see the costumes up close, and enjoy the parade at your own pace. That said, be forewarned: because Halloween is on a Saturday night, Sixth Ave is going to be packed.
The Village Halloween Parade began 35 years ago, started by a Ralph Lee, a Greenwich Village mask maker and puppeteer in 1973. The following year, it was expanded as a theatrical event of sorts, with the intention of creating a mile-long line of masked performers, puppeteers, and musicians on the streets. People noticed and wanted to join in, and the parade grew. Today, over 2,000,000 people attend.
To this day, the parade features hundreds of incredible puppets, operated by dozens of volunteers.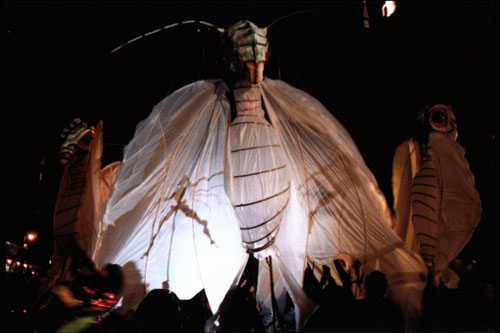 A brilliant T-Rex puppet:
You never know who you're going to meet in the parade...
Be sure to check out the pumpkinized Empire State Building:
And make sure to check out the spider crawling up the Jefferson Market Library clocktower at 10th Street:
Finally, nothing beats the subway on Halloween...
Staying in for the night? Rent a movie off of our new list of the best New York City horror movies!
Finally, in light of Halloween, here are some posts I probably should have saved for October from the Scouting NY archives...
-SCOUT