The Recent Dismissal of a University of Miami Dining Hall Cashier Has the Potential to Ruin the Reputation of the School's Food Service Provider.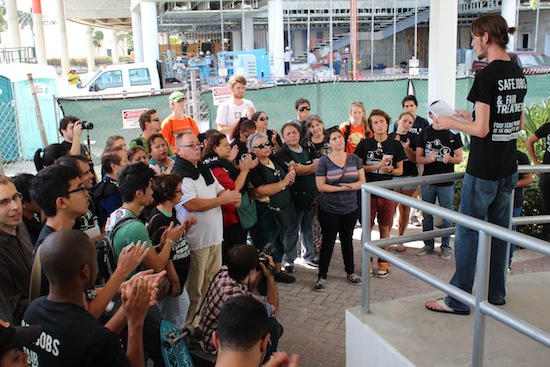 Students and other members of the UM community gather outside of the UM dining services office to submit a petition to reinstate Betty Asbury. The petition has more than 3,000 signatures. Photo by Ernesto S. Vargas Mendoza.
University of Miami students rallied in front of their university center on Tuesday afternoon in support of the reinstatement of a food service cashier who they say was wrongfully fired.
Betty Asbury, whom students affectionately call "Miss Betty," was dismissed on Oct. 10 by the UM food service caterer Chartwells. According to Asbury, she was dismissed the day after a BankUnited Center employee walked past the cashier at the Hecht-Stanford Dining Hall without paying $6.80 for breakfast. Asbury said that she simply made a mistake by overlooking the customer.
Asbury appealed her dismissal by contacting Leland Rapport, the resident district manager of Chartwells. According to Asbury, Rapport told her that the man who walked past her only entered the dining hall to use the bathroom, but that Chartwells could not reverse its termination decision.
Chartwells has not disclosed much information on their decision to fire Asbury. It released a statement claiming that Asbury has not given, "complete information to the community," but did not clarify what information is missing. The statement says, "due to privacy concerns and confidentiality laws, our ability to discuss or comment upon specific associates or issues surrounding their employment is quite limited." Chartwells agreed to conduct an investigation into the matter through a corporate human resources team. On Monday it sent personnel to UM.
Personally, I feel skeptical of the Chartwells investigation, because they are claiming that Asbury has not provided complete information, even though the investigation has not been completed.
I believe that it is an injustice for Chartwells' to dismiss Asbury over a mistake that only costs $6.80. A zero-tolerance policy is unfair to any employee, especially to one such as Asbury, who had the highest evaluation of all employees at her dining hall last year. The injustice is aggravated assuming that Asbury's claims of the BankUnited Center employee only using the bathroom are true.
Even though UM cannot select the labor policies for Chartwells, as their contractor they must not tolerate unjust labor practices on their property. UM must honor their own core value, "we will provide our students with the foundations for ethical citizenship." Asbury's dismissal is not demonstrative of ethical citizenship.
The student organization, Students Toward a New Democracy (STAND), is leading a student movement pressuring Chartwells to guarantee better labor practices for their UM employees. One of their initiatives is a change.org petition, which as of Tuesday morning had more than 3,000 signatures.
Based on the available information, I believe that Chartwells must reconsider Asbury's dismissal for the following reasons:
First, the dismissal of Asbury cannot be justified from an economics standpoint. In a liberal market economy, corporations are able to hire and fire workers relatively easily. This leads to formation of a competitive, yet efficient workforce. Competition also allows corporations to implement lower wages. However, Asbury was not fired for being an inefficient worker or for having a high salary. She had high evaluations and was paid only $9.58 per hour. By firing Asbury, Chartwells breaks its promise to "make a point of recognizing and rewarding associates who go above and beyond."
Second, just because Chartwells has the legal right to fire its workers at will, that does not give them a moral right to do it. Chartwells claims to "provide the opportunity, support and training for associates to develop, learn and succeed." By firing an employee with a spotless record and a high evaluation for an alleged minor mistake, Chartwells does not provide her with the opportunity to develop, learn or succeed.
Third, Chartwells cannot claim that its decisions are irreversible, because it has reversed similar decisions in the past. According to the Miami Hurricane, two separate cases of workers who were dismissed were reversed in 2007 and 2011.
Additionally, Chartwells must consider that its actions reflect poorly on the image of UM. Asbury's son, Brian, played on the UM basketball team from 2005 to 2008. Asbury's dismissal reflects poorly on UM's treatment of parents of alumni, regardless of the fact that it was Chartwells that fired her, and not the university.
Finally, Chartwells must consider that UM at-will employees have a history of unionization movements. In 2006, UM custodians employed by UNICCO rallied against unfair labor practices. If Chartwells is committed to maintaining a positive image, it must consider giving its employees greater protections before the demands made by the UM community become more intense.
Tuesday's rally concluded with students and other members of the UM community submitting the change.org petition to the UM dining services office.
If Chartwells ignores the petitions, I believe that students must hand deliver the same petition with even more signatures to UM President Donna Shalala. As UM's most prominent figure, Shalala should have authority and the integrity to pressure Chartwells to bring Betty back.
Nick Swyter is a second-year broadcast journalism and international studies student at the University of Miami. He is a citizen of Panama and the United States. Before attending UM he lived in Indonesia, but has also lived in Ecuador and Alaska. He is a Community Assistant for STRIVE, a UM community service and leadership program.