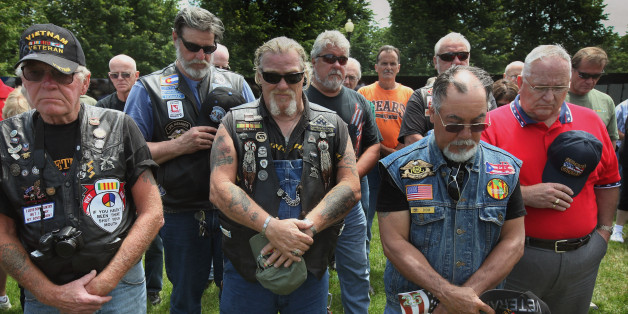 Cross-posted with TomDispatch.com
More than a few times I've found myself in a crowd of Vietnam veterans, and more than a few times at least one of them was wearing a curious blue or yellow t-shirt. Once that shirt undoubtedly fit a lean physique of the late 1970s or early 1980s, but by the time I saw it modeled, in the 2000s, it was getting mighty snug. Still, they refused to part with it. On it was some variation of the outline of a map of Vietnam with bit of grim humor superimposed: "Participant, Southeast Asia War Games, 1961-1975: Second Place."
I was always struck by it. These men of the "Me Generation" had come home to the sneers and backhanded comments of the men of the "Greatest Generation," their fathers' era. They had supposedly been the first Americans to lose a war. However, instead of the defensive apparel donned by some vets ("We were winning when I left"), they wore their loss for all to see, pride mingling with a sardonic sense of humor.
Today's military is made up of still another generation, the Millennials, representatives of the 80 million Americans born between 1980 and 2000. In fact, with nearly 43 percent of the active duty force age 25 or younger and roughly 66 percent of it 30 or under, it's one of the most Millennial-centric organizations around.
As a whole, the Millennials have been regularly pilloried in the press for being the "Participation Trophy Generation." Coddled, self-centered, with delusions of grandeur, they're inveterate narcissists with outlandish expectations and a runaway sense of entitlement. They demand everything, they're addicted to social media, fast Wi-Fi, and phablets, they cry when criticized, they want praise on tap, and refuse to wear anything but their hoodies and "fuck you flip-flops" like the face of their generation, the Ur-millennial: Mark Zuckerberg!
At least that's the knock on them. Then again, when didn't prior generations knock the current one?
The National Institutes of Health did determine people in their 20s have Narcissistic Personality Disorder three times more often than those 65 or older and a recent survey by Reason and pollster Rupe did find that those 18-24 are indeed in favor of participation trophies unlike older Americans who overwhelmingly favor winners-only prizes. Still, it's a little early to pass blanket judgment on an entire generation of whom the youngest members are only on the cusp of high school. The Millennials may yet surprise even the most cantankerous coots. Time will tell.
The Millennial military, however, isn't doing the generation any favors. Despite its dismal record when it comes to winning wars and a recent magnification of its repeated failures in Iraq, today's military seems to crave and demand that its soldiers, sailors, marines, and airmen be thanked and lauded at every turn. As a result, the Pentagon is involved in stage-managing all manner of participation-trophy spectacles to make certain they are -- from the ballpark to the NASCAR track to the Academy of Country Music's "An All-Star Salute to the Troops" concert at the MGM Grand in Las Vegas earlier this year.
And like those great enablers of the Millennial trophy kids, so-called helicopter parents, the American public regularlyprovides cheap praise and empty valorization for veterans, writes Rory Fanning in "Thank You for Your Valor, Thank You for Your Service, Thank You, Thank You, Thank You..." A veteran of the war in Afghanistan -- having served two tours with the 2nd Army Ranger Battalion before becoming a conscientious objector -- Fanning explores America's thank-you-for-your-service culture, what vets are actually being thanked for, and why Rihanna's hollow patriotism left him depressed. His moving new book, Worth Fighting For: An Army Ranger's Journey Out of the Military and Across America, captures his 3,000-mile trek through and encounter with this country, an unforced march meant to honor Pat Tillman and question the nature of our recent wars.
I don't get to hang out with Vietnam vets as much as I used to, but late one night a year or two ago I found myself with a few of them in an almost deserted bar. Having ducked out of the annual meeting of a veterans' group, we ordered some beers from a Millennial-age waiter. He asked if my 60-something compatriots were attending the nearby conference and they mumbled that they indeed were. The waiter seemed to momentarily straighten up. "Thank you for your service," he solemnly intoned before bounding off to get the beers. One of veterans -- a Marine who had seen his fair share of combat -- commented on how much he hated that phrase. "They do it reflexively. That's how they've been raised," I replied. "I hope they wise up," said another of the vets. Time -- as with all things Millennial -- will tell.