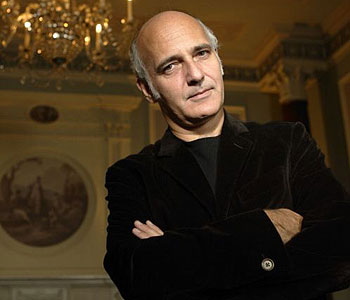 "Talk about surround sound," the woman sitting behind me whispered to her date as men clad in all black made their way down the aisles of The Broad Stage playing violins. In complete darkness, they maneuvered onto the stage and took their places in anticipation of the man we were all there to see - Ludovico Einaudi. Already a very well known and celebrated pianist in Europe, Einaudi came to perform two concerts in the US promoting his latest album Nightbook - one at the Broad Stage in Santa Monica and one in San Francisco. Masterful on the piano and as a ringleader of sorts for the other musicians on stage, Einaudi's music is experimental without being too esoteric.
The Broad Stage billed the performance as Ludovico Einaudi joined by guest artists playing pieces from his forthcoming album. But these guest artists seemed less like individuals who came to perform a song or two with Einaudi. These musicians were more like his pupils whose playing only enhanced the pianist's compositions; worshipers in the house of Einaudi, if you will. There were five of them: Federico Mecozzi, likely the youngest on stage, playing violin, electric guitar, and acoustic guitar, Robert Lippok merging all the sounds together with live electronics, Svetlana Fomina on viola, Mauro Durante playing the violin and percussive instruments with particular intensity, and Marco Decimo, a virtuoso on the cello.
Each piece started off deceptively calm and as they made their subtle crescendo, you suddenly became aware that the sounds were washing over you; that your temperament had shifted away from hunger pangs and daily stresses almost as if in a trance. The stage was dark, everyone dressed in black, and they only sparingly used any sort of lighting design, but the bare production left room for the music to take over - and it did. Having been associated with such musicians as Erik Satie and Sigur Ros, you can imagine the brand of simplicity on offer with Einaudi. It's less minimalist-like-Eyes Wide Shut and more just familiar, beautiful tones that, upon hearing them, transport you. His piano is lyrical and expressive and while it would be quite enough on its own, it also provides a canvas, on which the accompanying instruments shone.
It's not easy to categorize Einaudi's music. Saturday evening's concert was squarely "post-classical," or experimental classical music, but his compositions have made their way into a plethora of film and TV scores, including The Reader, and even into the realm of the NBA. At the very least, newcomers to Einaudi's music have a new name to remember and Italian-Angeleno imports felt as if they'd tasted a bit of home.
From the first standing ovation to the fourth (yes, fourth) encore, Einaudi seemed humbled but unsurprised by the audience's reaction. He has carved a place for himself in the wide spectrum of musical styles and genres where lyrical and emotional expression meet simple, relatable beauty. It seems like an obviously covetable spot, really, but it would take someone as innovative and multi-faceted as Einaudi to find it and make it his own.