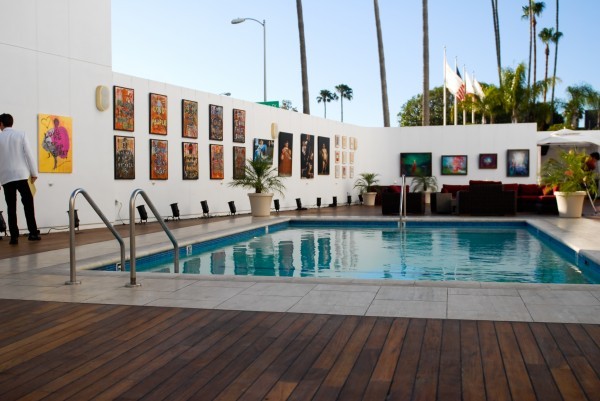 Image courtesy of Gallery For The People
As a merciless heat wave swept much of the rest of the country, confining many to air-conditioned interiors, Angelenos mingled with alacrity in the pleasant vernal air during Gallery For The People's poolside pop-up collection preview at Mr. C Beverly Hills, hosted by Hollywood super-producer Harvey Weinstein.
Starlets and art aficionados alike turned out to support the event, a benefit for The Art of Elysium's Fine Art Program, taking in new works by artists Antonio "Nino" Del Prete, Jordi Mollà, Vanessa Prager, Sage Vaughn, Davyd Whaley, and Domingo Zapata. Gallerists Ally Canosa and Eva Maria Daniels conceived the event as an opportunity for collectors to preview the latest offerings of
their online gallery in an immediate, palpable way.
Suspended from the pool deck's white stucco walls, multi-colored canvases offset the hotel's turquoise swimming pool and the palm tree-framed blue sky. Evocative of a uniquely Californian brand of glamour, the event took full advantage of Los Angeles' dry air, open space, and mild temperatures.
I caught up with exhibiting artist Vanessa Prager, a native Angeleno, who shared some of her favorite summer traditions.
On getting outside: Summer in L.A. is really magical. It has this special quality that you don't find anywhere else. I try to get outside as much as possible, especially to go hiking or biking.
On not going to the beach: You would think I go to the beach more often, but it's so far [from Los Feliz] that even in the summer sometimes I don't. On vacation though, I try to get into the ocean a lot more.
On 4th of July: We always go to my friend's house for Fourth of July. He has a cute little house with a pool and a really nice view up in the hills of Los Feliz. He brings in Maryland crabs and we go every year, so it's become a tradition.
On escaping the familiar: I like to drive up the Angeles Crest every summer, just to get in the mountains. You can get there within twenty minutes, and in twenty minutes, you're lost. Not 'lost' but deep within another world.

On her go-to summer style: I have a couple rompers that I wear -- I hate that word, but I love them, so I can't get around it! One of those with a tank top underneath, just loose, is perfect for throwing on. I love wearing skirts and summer dresses, too. I'm kind of obsessed with those all year long.
On her barbecue specialty: I'm really big on cooking what's on hand. I get Farm Fresh To You, which is awesome because they give you whatever's in season. But when we started getting that, we were like, 'What do we do with this?' I love making fresh vegetable medleys with quinoa or pasta. You can't really go wrong throwing any vegetables in together, and it never gets boring. The freshness of the vegetables is key. It's perfect for the summer to make a cold version and bring it to barbecues.
Click below to see a slide show of photos from the event.
PHOTO GALLERY
Gallery for the People's Summer Pop-Up at Mr. C Beverly Hills