Is going sans makeup the new posing for Playboy?
When 90210 actress AnnaLynne McCord was caught cruising a Vancouver mall sans makeup last month, she didn't get mad. She didn't even get embarrassed. She got on Twitter.
She tweeted a photo of herself totally makeup-free. That gutsy move has earned a lot of support from fans, who related to her authenticity in the same way fans also applauded similar moves from Jennifer Love Hewitt, Taylor Swift and Snooki.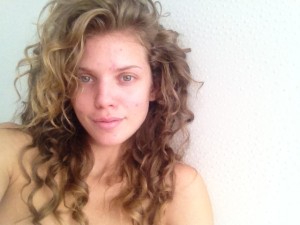 But in a world where celebrities bring in $500-$15,000 per tweet, celebrity endorsement experts say there could be a strategy to the seemingly sudden moment of candor. "There's a science in the way celebrities send their tweets out," said Mike Heller, CEO of Talent Resources.
Heller worked on deals with McCord in the past in which, he says, she usually brings in $3,000-$5,000 per tweet, which are typically lumped into a series of tweets that will net her more money.
Even if McCord or others don't make money off a tweet by going barefaced now, it could lead to endorsement deals from make-up removal companies in the future, according to Jane Buckingham, trend forecasting expert at Trendera, who said "celebrities are wanting to go barefaced and show their 'true selves' to their followers."

Such makeup and soap endorsement deals have netted similarly popular actresses six-figure endorsements, according to Buckingham. For example, Kristen Bell recently signed a $500,000 deal to become the face of Neutrogena's latest line, Neutrogena Naturals.
Baring it all for a celeb used to be posing for Playboy. Now, it's about going au natural -- albeit with a similar business model.
Magazines, after all, are positioned to make significant money off celebs going barefaced. US Weekly has its "Stars Without Makeup!" section, and Star and Life & Style both put out "Stars Without Makeup" issues. According to publishing experts, those sections account for a small, but significant portion of advertising revenue for a magazine industry that survives on small profit margins from ad dollars.
The tabloid photo industry has grown on the backs of the business of finding celebs in candid moments, baring it all. It's estimated that 50-60% of photo images sold in the media are celebrity photos, likely taken by a paparazzi. One such agency, Splash News, reportedly grew 20% just last year from selling such images.
But as the barefaced trend morphs into big business, stars are more incentivized now than ever before to take control of the opportunity to expose themselves on their own terms, likely through their own social media channel.
"If that social conversation continues and their image is softened, ultimately that does help creative departments, PR firms, and brands when they are deciding who will help on celebrity campaigns," said David Schwab, a talent brand expert at Octagon Entertainment, who pointed to example of Zooey Deschanel recently appearing sans without makeup on People's "Most Beautiful" list as evidence that the trend is here to stay.
Schwab says that Twitter is a powerful way for smaller names like McCord to make a splash. And, even if there is no direct monetization associated at the moment, a tweet like the one she sent likely increases her followers. And more followers means more money for deals or press down the line.
Laying the foundation for the bigger bare-faced deals, like the Real Beauty campaign that Dove has funneled millions of dollars into since 2004, stem mostly from social media reach and relevancy these days, according to Heller.
"Rates companies are willing to pay for celebrity tweets has risen exponentially in the last year and will only continue to rise. Celebs with business on the mind don't tweet for nothing these days."