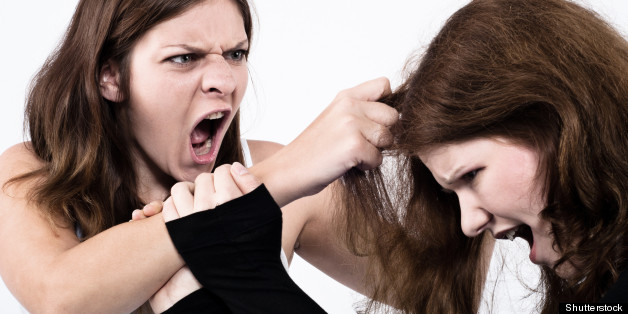 I am a huge fan of New Girl. (See my blog post from 1/28/2013 and the post from 10/29/2012). I always look forward to each episode and how female friendship is portrayed in a positive and fun way. However, some recent episodes have been less adork-able, more stereotypical and well, not funny.
This last episode ("Girl Fight," which aired December 2nd on Fox) explored how female friends fight versus how male friends fight. The episode showed Coach and Schmidt resolving their issues by punching each other, whereas Jess and Cece portrayed their fighting through passive aggressive comments and behavior, and then full out fighting towards the end of the episode. Instead of enjoying this half-hour comedy, I was frustrated at the stereotypical portrayals of female friendship (i.e., that when women argue, they are are catty, emotional, passive aggressive... shall I go on?).
I'm not sure how you resolve conflict with your friends, but I don't A. punch my friends and B. don't bottle up my feelings and never express them to my BFF. Both are not healthy or effective ways to cope with issues in a friendship. In this last episode, the issue was about a purse that both Jess and Cece liked, but since they both wanted it, they agreed that it wasn't worth it and neither of them would have it. (This seemed an appropriate and mature way of handling the dilemma.) After witnessing Coach and Schmidt resolve their argument by Coach punching Schmidt, Jess and Cece proudly stated how they never fight. Schmidt (as his usual ridiculous self) mentioned that he saw the purse in Jess' closet, and so the tension started to unfold in Jess and Cece's friendship; years of pent up anger and unresolved issues came bubbling to the surface. Almost immediately these adult women became impaired of discussing the issue (which again, was about a purse), which I found a little absurd.
Many women I know, especially through writing the book (Surviving Female Friendships, The Good, The Bad and The Ugly), find conflict challenging to approach in their friendships. Sitting down with another woman and letting her know that you're hurt is difficult to do; it's also hard to hear when your friend shares her upset feelings about something you said or did. But to portray these intelligent women as resorting to such extreme ends of the spectrum (passive aggressive comments to having bruises and black eyes after attacking each other) felt a little excessive and quite demeaning. I believe... no, scratch that, I know there are a lot of women out there who resolve conflict in a more mature and respectful way: having an actual conversation and sharing their feelings without it resulting in needing stitches at the ER.
Furthermore, I don't believe that men resolve their conflict by punching each other, but I'm not an expert on male friendships, so I'll stick to what I do know. Females should be portrayed with more dignity and respect on television. I'll continue to watch New Girl but I may hold a slight grudge for a few days, but don't worry, I won't resort to violence.