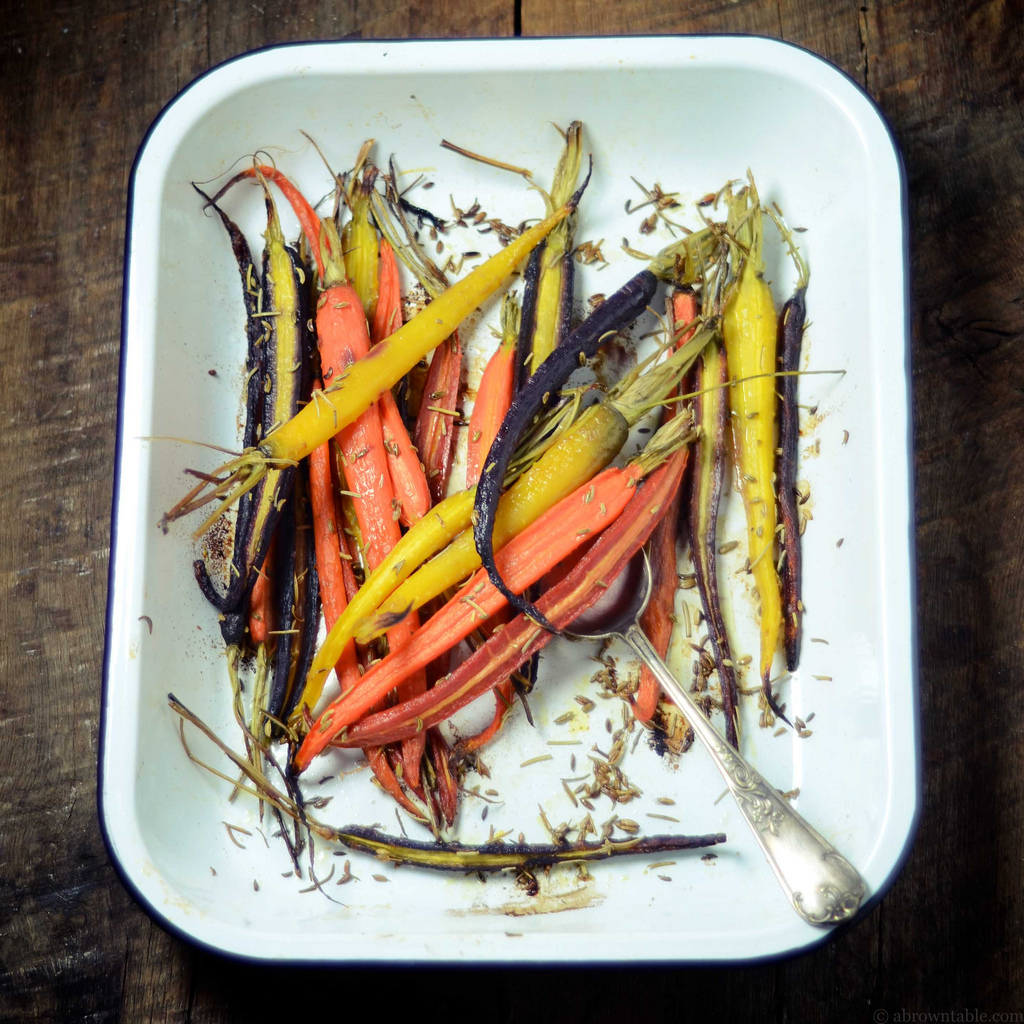 It might be chilly outside here in Washington D.C. but spring is here. The flowers are resiliently blooming despite the cool and crispy air and there are already some wonderful signs of delicious and fresh produce from the local farms in the area. When I saw these gorgeous rainbow carrots, I knew I had to have them at my dinner table.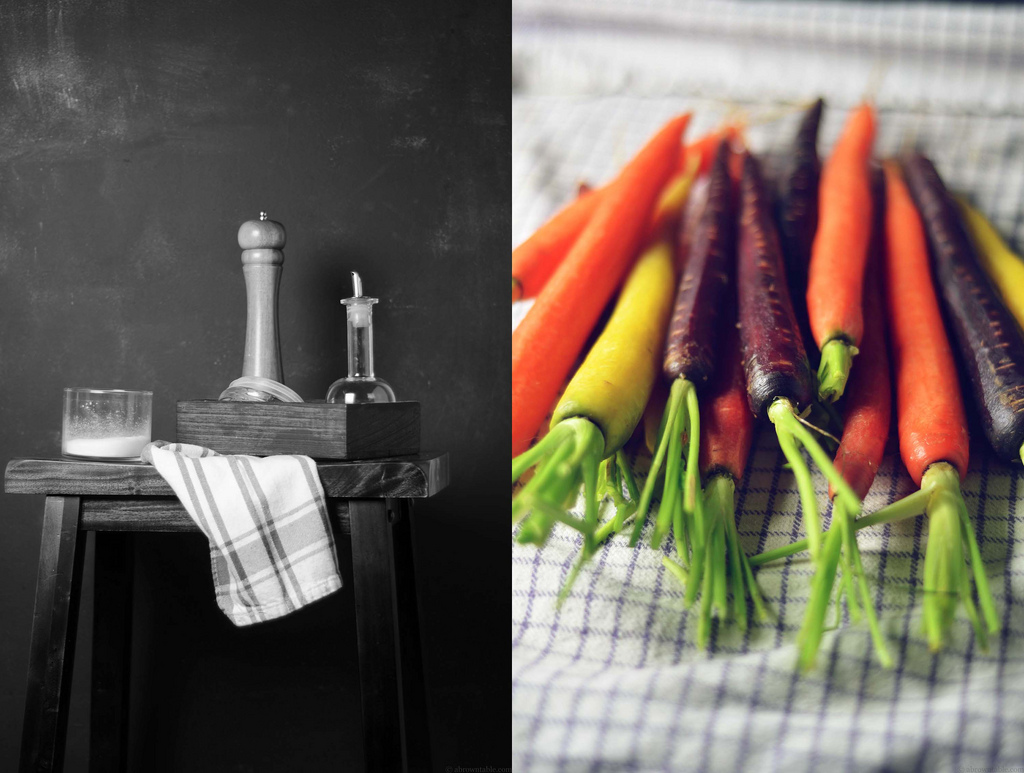 I roasted these carrots in the oven with a slight sprinkling of fennel seeds, dried rosemary, sea-salt, and a little splash of olive oil. The roasted fennel seeds go really well with the rest of the ingredients in this simple dish. In Indian cooking, fennel seeds are often dry roasted in pans and then ground to make a variety of spice rubs and mixes, but it is also common to find them served after a meal as a digestive and mouth freshener. You might sometimes find this in the form of tiny sugar-coated fennel seeds in an assortment of different colors at Indian restaurants.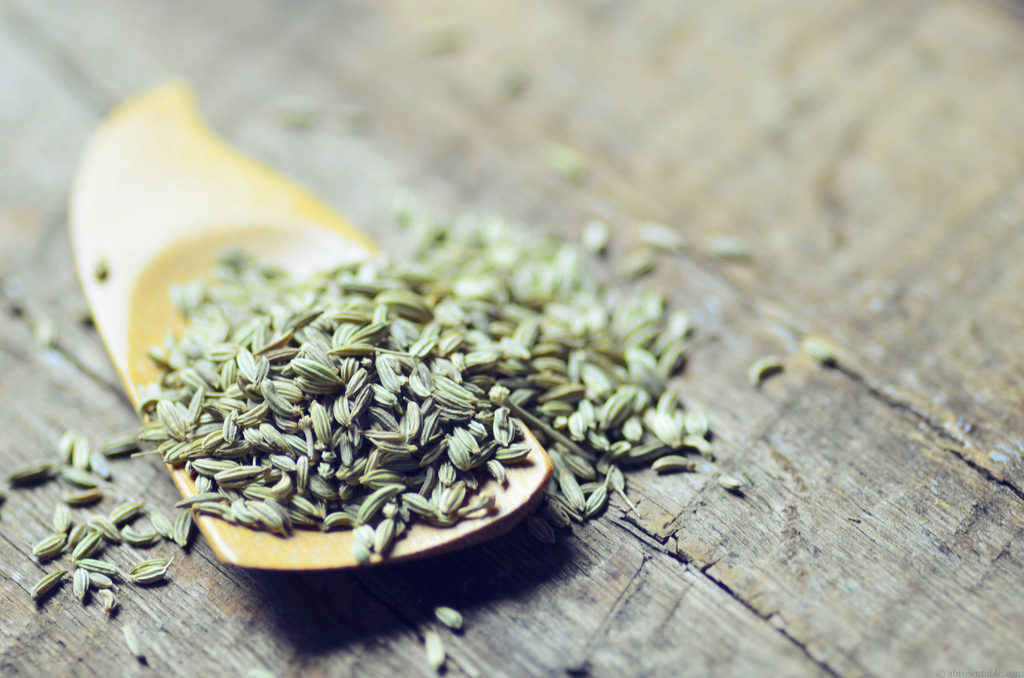 If you use rainbow carrots, be careful with the dark purple variety, they tend to caramelize faster then the lighter colored kind and can burn (This always reminds me of a physics class I took -- Ferry's perfect black body and the rules around it, darker matter absorbs more energy like heat). If they cook earlier than the rest, I would suggest taking them out of the pan and then cooking the rest of the carrots a little longer. You can mix them together before serving.

Oven-roasted Carrots with Fennel
Servings: 4
Ingredients
2 bunches carrots
1 teaspoon fennel seeds
1 teaspoon dried rosemary leaves
1 teaspoon coarse sea-salt
1 tablespoon extra virgin olive oil
1. Position a rack in the middle of the oven and preheat to 400F.
2. Wash and peel the carrots. Pat the carrots dry with a clean kitchen towel or paper.
3. With a sharp knife, slit the carrots in half across their length. Place the carrots in a roasting or baking pan. Sprinkle and drizzle the rest of the ingredients over the carrots.
4. Place the pan with the carrots in the oven and roast the carrots until tender for about 25 minutes. You can check the tenderness of the carrots with a fork. Serve warm.
For recipes like this and more, please visit A Brown Table. (This recipe first appeared on A Brown Table on March 26, 2013)