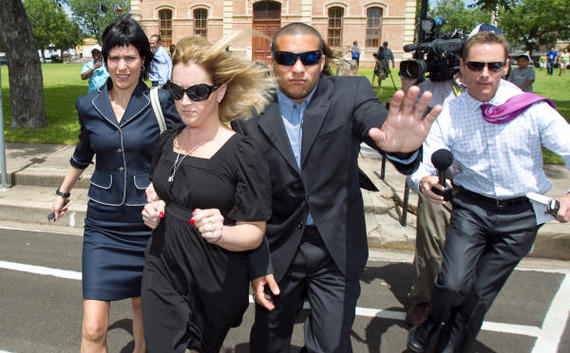 Five years ago I was the biggest transgender story on the news. They called me the "Transgender Widow." My husband was a firefighter killed in the line of duty, and his first wife was of the understanding that I was a man and our marriage was a same sex marriage, which of course was illegal in Texas. She subsequently sued me for the widow's benefits. The media chased me. I too, was on 20/20. In fact, 20 years ago, I was one of the first transgender adolescents to go on national television: five talk shows before age 19 discussing being transgender.
And yet, very few people circled around to support me. Laverne Cox, Janet Mock, Carmen Carrera and Kristen Beck were not people we knew. They had not yet found their voice. The major story was that I must have tricked my husband -- why else would he marry me? In the last five years a lot has changed. I have remarried, and I am no longer the biggest transgender story, thank you to the courageousness of so many people, including the aforementioned women, and mostly assuredly and loudly, Bruce Jenner.
As I sat watching alongside 17 million other people, I cried. I felt for once in my life, after literally hundreds of interviews and educating sessions on television and at schools and businesses, that I am finally going to be able to just live. Although my story is completely different from Jenner's, I related in so many ways. I recalled what it was like for me when I had no choice but to express my gender difference, or I would surely die. In fact, I attempted suicide at 18 in fear of never being able to live my life authentically. I am thankful I failed. That was a turning point for me. Another thing I related to was the support from Jenner's family. My family also supported me. With that support, I have been able to live a productive, loving and fulfilling life.
We have heard of the transgender tipping point. Well, I can say after having worked so hard at building up to this time, it couldn't have come soon enough. This 20/20 episode was more of a Transgender 101 session, educating the world on gender pronouns and showing the world a multi-dimensional family and their unconditional love for one another. This is the world I want to live in.
I woke up today watching every news channel echo the same supportive and loving message: We all need to honor and respect the fact that being transgender is not a choice. While my legal battle for the right to transition and marry in Texas is ongoing, currently in front of the Texas Supreme Court, and the country awaits the next big ruling for marriage equality in America, hearts and minds are changing.
On May 13th, I am being presented with a congressional flag in honor of my late husband in Washington D.C.; after all these years I am finally being recognized as his widow by the LGBT Fallen Heroes fund. Times are changing.