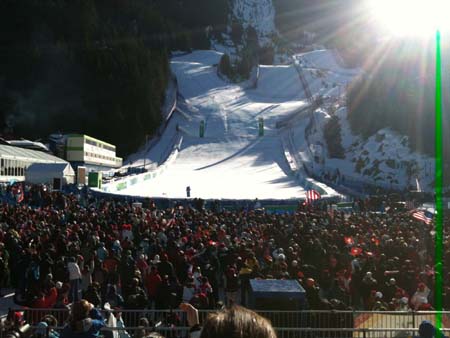 Anyone who has been to an Olympic Games knows that it's about much more than the medal tally at the close of the games -- though this does add to the enthusiasm; particularly knowing the athletes personally.
To me, the Olympics are just as much about the fans who travel across the world, sport the silly hats, paint their faces patriotic colors and are wrapped head to toe in their home nation's flag for the mere experience of cheering on their countrymen. These fans who lose their voice because they are chatting U-S-A or Can-a-da or Ger-man-y or I-ran until the bitter end.
When the athletes see the sea of their countries' flags and hear the chats urging them on, it gives them this little extra boost. It lets them know that they aren't the only ones out there in the rink, on the slopes, or on the track. The support makes a world of difference to the athletes.
I know there is a reason that the Canadians won fourteen gold medals at their home games. I know that the lines wrapped around the block just to get into a local PUB to watch the gold medal USA vs. Canada game helped give the host country that little edge to push them onto the top of the podium.
I know that the hoards of Americans screaming Billy Demong's name made a difference as he surged forward on the final lap of the Nordic combined event to win America's first gold medal EVER in a Nordic skiing event.
And I know that there is a reason that Bode Miller has won all of his Olympic medals on North American soil where you will surely find a plethora of stars and stripes waving at the bottom of the run.
I always say that no one gets to the top alone. It takes a team. And often a stadium of support. But if you ask most athletes who truly led their rally cry, it's often their parents.
I know that my parents sacrificed as much as I did to get me to those Olympic Games. I know that my gold medal win meant just as much to them, if not more, than it meant to me. And it truly meant a GREAT deal to me.
I love the new commercial out for Olympic sponsor Proctor and Gamble that asks, "Is there anything better than being a U.S. Olympian? There is, actually. Being that U.S. Olympian's mom." The commercial brought me to tears, because now being a mother myself, I know this must be true.
I think the sentiment for me is best summed up in a short excerpt from my book, When Turtles Fly: Secrets of Successful People Who Know How to Stick Their Necks Out -- that also happens to be the introduction I share leading into Shaun White's chapter about the support that made a difference for him.
For some reason, I would often have an awful performance whenever my parents came to a competition. I think it must have been nerves. I never wanted to let them down after they had put so much into my aerial career.

But when they suggested they stay home from the Olympics so they wouldn't put any extra pressure on me, I laughed. I explained to them that I wouldn't be going to the Olympics if it weren't for them. They deserved to be there just as much as I did. Plus, if I couldn't handle the pressure of having my parents watching, how was I going to handle all the added pressure associated with the Olympics? In a foreign country, with forty thousand strangers at the bottom of the hill, I would find it reassuring to know that there were at least a couple people rooting specifically for me.

Additionally, I could be sure that I wouldn't be the only one moved when my country's flag was raised during the podium ceremony. This would be the same red-white-and-blue banner that would be raised eight [and twelve] years later for a proud Shaun White and his family...
A big thank you goes out to the fans for helping this U.S. Team garner the most medals ever won by a country in a single Winter Games.