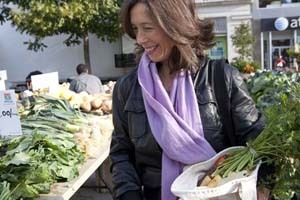 Like my mother before me, I believe in starting with good-tasting varieties picked at peak maturity, and I rarely use recipes. For each vegetable, I typically add one fat (butter, olive oil) and one flavor (feta, basil), and perhaps a contrasting texture (walnuts). I'm averse to any complex sequence, so I'll use one cooking method, seldom two: boil, sautᅢᄅ, roast, or braise. (The brown braise is an exception well worth the time. First sautᅢᄅ parsnip sticks in butter, then braise in cider.)
Salt is indispensable with the colorful, starchy things we call vegetables. When you boil a vegetable, salt also serves to keep the proteins and other flavor agents in it, rather than allowing them to leach into the water, where they are wasted.
Braised Red Cabbage and Apples
Shred a red cabbage. Slice 2 onions and 2 or 3 apples. Heat plenty of olive oil in a large, heavy pan and sautᅢᄅ the onions and cabbage until they are half-soft. Add the apple slices. Keep stirring until all the pieces are completely soft; it will take a solid 30 minutes.
Add 4 or 5 cups of cider, a cinnamon stick, perhaps a splash of red wine if you have it. Simmer until everything is very soft and the flavors have melded. Add 1 tablespoon of butter.
The sauce should be thick and shiny. Season. Serve with sour cream and fat sausages.
Why sautᅢᄅ the vegetables for so long? If they are soft, you've already sweetened the dish by removing the water; if they are undercooked when you pour in the cider, you will make boiled cabbage, something else entirely.