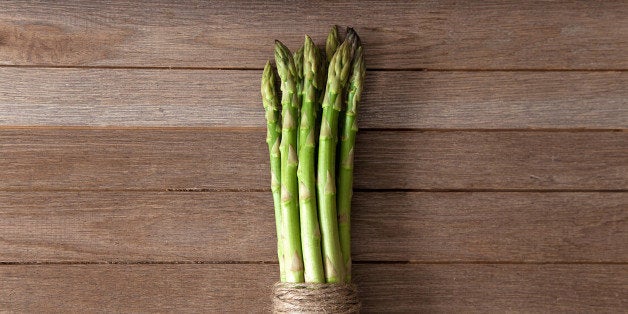 There are dishes I can eat again and again, like a grateful starving person, for a few short weeks, and yet during all the other long months, I live quite happily without them. This is one of those dishes. The mild spears are velvety, the yellow-cream-orange eggs rich and silky. Leaves add a crunch. Rob and were alone at Small Farm for two days while the children are in school in New York City -- a first -- and we have just met for this very lunch.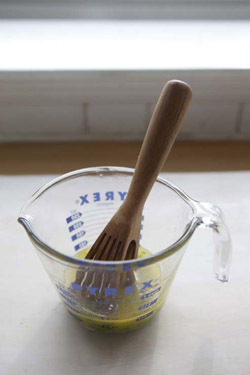 Our leaves are Troutback Romaine, a red-speckled lettuce with exceptional flavor first grown in Holland in the 1600s. What is important about the dressing is the ratio of four parts oil to one part vinegar. You will have more than you need. Make less if you like, but the leftover dressing is handy. The work is in the whisking, and the dressing tastes good on everything from chicken sandwiches to egg salad.
In my perfect salad, the egg yolks are dark yellow and moist in the center, somewhere between soft- and hard-cooked. The only variation on this dish I make as often, and love equally, features poached eggs; their golden liquid dresses the asparagus. On that dish, shave large scrolls of Parmigiano over everything.
Serves 2 for a light lunch and 4 as a salad or first course
4 eggs
1 lb asparagus
1 tsp Dijon mustard
2 T white wine or Champagne vinegar
8 T olive oil salt and pepper
1 head romaine or Bibb
Put the eggs in a pan of cool-to-warm water. When it boils, turn off the heat and let them rest, covered, for 8 minutes. Take the eggs out, rinse them under cool water, and peel -- don't delay. Even 2 more minutes resting (before rinsing) and the yolks will be fully cooked. Cut the eggs in half, leaving the yolks in place.
Meanwhile, boil salted water in another pan. Trim the ends off the asparagus. You can whack off all the ends in one blow while the stalks are still bunched, or bend each end sharply. Where it snaps is a good indication of the place where the tender parts end and the tougher ones begin.
Drop the spears gently into the boiling water and cook for 4 minutes. Lift the asparagus out immediately, drain, dress with a little olive oil, and set aside.
Whisk the mustard and vinegar until smooth, and then dribble in the oil little by little, whisking steadily. Season.
Tear the lettuce by hand, toss well with most of the dressing, and lay the leaves on a serving platter. Arrange the spears and open-faced eggs atop the salad, and drizzle a little more dressing on the eggs and asparagus.