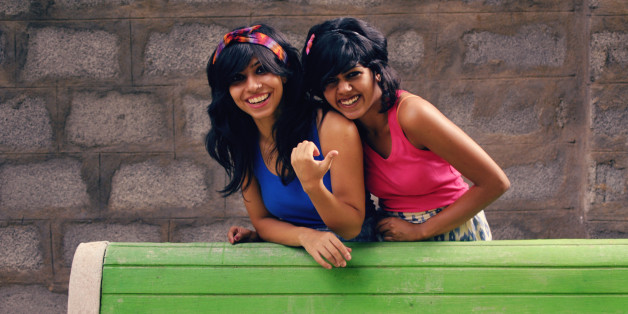 This story was produced in partnership with Facebook Stories. The company announced yesterday that more than 100 million people access Facebook in India each month. Submit your own Facebook story here.
Nikita and I met on the first day of school at India's National Institute of Fashion Technology. We were from two different ends of the country but we bonded right away.
We were both studying accessory design.
We were always interested in hair accessories but everything in the market was either too expensive or didn't provide us with good options. So I bought a glue gun and got some lace and fabric from my mom, and made something of my own. I haven't parted with my glue gun since. We started making more hair accessories for ourselves, and soon our friends wanted them too.
We decided to try selling our accessories to a wider audience in September 2011. We named our brand Pigtails and Ponys, and created a cute pig logo to represent our unique and playful items. We went to a local flea market in Bangalore and put up a stall with around 60 headbands that we'd made in our spare time. The headbands were decorated with scrap materials like fabric, lace, ribbons, yarn, coconut shell, paper and buttons. We had no clue what kind of response we'd get, so it was great to see that people were happy with our designs and our prices.
We decided to keep going to flea markets to sell our work, and more and more people started asking us how they could get in touch with us or where we would be selling next. We created a Facebook Page as a way to update people on our new items and where we would be setting up stalls to sell them. People started to contact us about the things they wanted us to make, and even place orders through Facebook.
We expanded to make hair clips, rubber bands, extensions, comb clips and wreaths. In school we were learning about design for everything from shoes and bags to furniture and jewelry. Our courses gave us a chance to explore materials and techniques for our products and also taught us how to integrate fashion into everything we did.
At the same time, it was pretty hectic trying to run a business and do well in school. We didn't have a life outside of either, but we didn't care. We were doing something we loved. Thankfully, our teachers and families were very supportive. Nikita and I had a lot to learn about to take Pigtails and Ponys from a hobby to a proper business, but one by one, we tackled all our obstacles. Nikita and I got on really well and had a very symbiotic relationship, which was important as we grew.
Being a small business started by college students, we relied on word of mouth and Facebook advertising to get new customers. This turned out to be more than enough. With only two of us making the accessories, we soon had more demand than supply. We also started to get attention from other businesses and had local boutiques in Bangalore asking to sell our products.
Now we're in a number of retail locations and online stores. We also added online sales to our own website. To keep up with demand, we have hired three women who are from the area and were previously unemployed housewives from a lower income bracket. We plan to extend our workforce by collaborating with NGOs who help underprivileged women and give them a chance to be integrated into the society and to have a livelihood.
Having graduated this year, I can now focus full-time on developing new designs and expanding our business. Nikita is currently pursuing other independent projects, but Pigtails and Ponys continues to grow along with new designers and collaborations. This year, we're looking to add a range of pet accessories and couture, as well as bridal accessories and hair accessories for babies and toddlers.
In the future, I see Pigtails and Ponys growing beyond profit and products toward progress. We're currently training a few uneducated women to provide them with skills and a stable income source. We are looking forward to working with a few local NGOs to help train more such women in the near future.
Nivedha Charles lives in Bangalore, India, and runs Pigtails and Ponys. Like their page on Facebook.