In 2007, I joined my local Rotary Club in Coral Gables, Fla., and immediately became very involved with Rotary International's primary worldwide initiative -- The Global Eradication of Polio. Five years later, I'd been on five trips to India and led more than 100 folks from around the world to collectively vaccinate more than 2,500 children in some of northern India's most impoverished slums and helped raise from my local community -- $325,000 toward the cause.
For those of you who actively participate in this sort of on-the-ground, direct service where you have the opportunity to touch another human being's life in a way that leaves an indelible mark on both of your lives, you'll understand when I say that there is no substitute; for me, there is no substitute, no equivalent way to connect with the greater human cause than putting two life-saving drops of polio vaccine into the mouth of a 3-year-old child.
And after each trip, I've returned to speak to Rotarians across South Florida to share the message, to bring firsthand testimony that bears witness to the fact that slowly but surely our efforts are eradicating this debilitating disease from the face of the earth. Twenty-five years ago there were 125 polio-endemic countries, and now there are three. And in fact, since I began going to India in 2007, it has been removed from the polio-endemic list!
These talks helped our South Florida Rotarian community raise more than $325,000 toward Global Polio Eradication. And again, for those of you who actively participate in philanthropy both raising money for and giving to causes important to you, there is little that compares with the feeling of knowing that you've worked to create resources to give to another to improve their life condition. And in doing so set the example for and ask the same of your colleagues such that they give too. It can be extraordinarily gratifying to support a cause in this way.
But the more I thought about lasting impact, about how to truly be a transformative force and make game-changing difference in our world, the more I realized that I was going to have to engage a whole lot more voices that I could through direct service and philanthropy alone.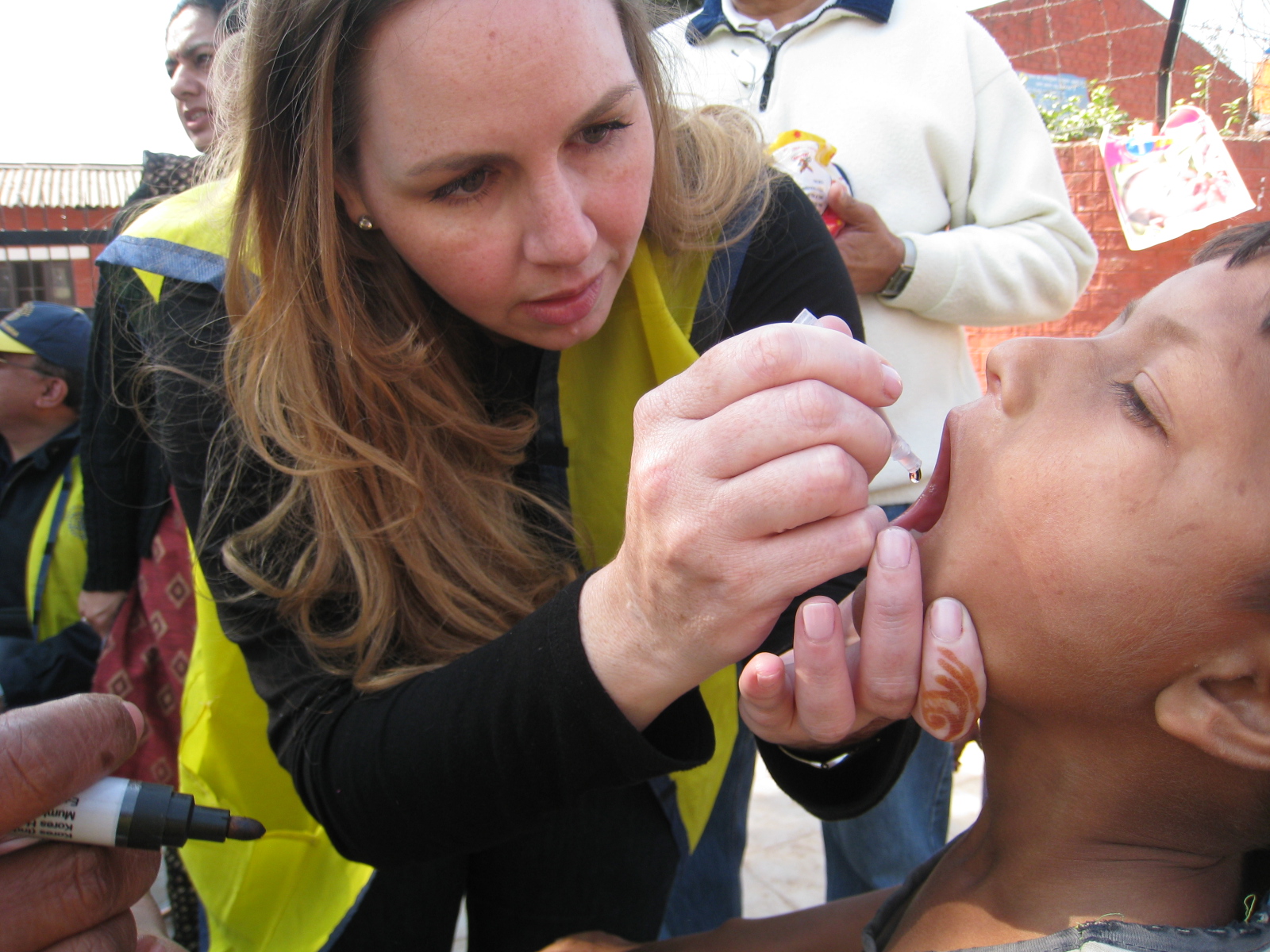 So when I came across this post on an HBS job board: "INAUGURAL FUSE CORPS FELLOWS will have the opportunity to leverage key stakeholders, government and community leaders, across the public, private & non-profit sectors to harness resources and drive meaningful community impact through innovation while employing an entrepreneurial growth mindset," I thought "WOW! I want to do that!"
Here was my chance to learn about political advocacy from Children Now, a highly respected organization that had been in the advocacy business for 25 years. They tasked me with growing The Children's Movement of California from a studied concept to a well structured, working business model. And frankly, who better to build a game-changing advocacy model for kids in California that is capable of harnessing the dizzying array of complex issues surrounding supporting kid's education and health care in one of the most politically-complex states in the U.S. than a childless political neophyte from Miami, Fla.?
Thus I began my journey to learn about what political advocacy means and how to build a movement piece by piece -- how to harness the voices of hundreds and eventually hundreds of thousands of people and organizations across the state to speak with one "Pro-Kid" voice.
I invited people to breakfast, lunch, dinner; I talked to people on the bus, in the supermarket, friends and friends of friends; I called and emailed and met with tens of thousands of people in organizations across California (well maybe just a few hundred, but it felt like tens of thousands); I walked Main Street in Half Moon Bay to get the kitchen supply store and the frame shop and Half Moon Bay Brewing Company to sign up for The Children's Movement.
At first, all I got was "no'"s:
No... I don't know Children Now.
No... we don't participate in political advocacy.
No... we don't believe a movement for kids can make a difference.
Until I got a "yes":
Yes... I want to learn about how to change the fate of kids across the state.
Yes... I will stand up and have my organization counted amongst those who are working to compel the California state legislature, representatives of the ninth largest economy in the world, to move kids from being ranked 40-something amongst the 50 states on every measure related to children's education and well-being.
Yes... I am PRO-KID!
I got a YES from almost 600 organizations and 4,500 individuals across the state.
And all of a sudden, this childless political neophyte from Miami was building the cornerstone of The Children's Movement of California. In addition to harnessing thousands of voices, I brought strategic guidance, a management structure, goal tracking, and a team to the Movement. I helped prove to Children Now that the Movement could be all it hoped for and more. And I leave having constructed the foundation for something that I have no doubt will impact millions of kid's lives across California and eventually the United States.
And it hit me, that more so than the one-to-one direct service I'd been engaged in when vaccinating kids, more so the philanthropic contributions that I'd helped raise, political advocacy can create macro-level sustainable changes -- and that's what high-impact, game-changing stuff is made of!
Harnessing the voices of like-minded people to speak on behalf of what they believe is one of the core principles our nation was founded on. And if many things in our political system are broken today, my ability, my right in fact, to talk to others about what I believe in is not broken. It's simple, it's powerful, and it can be revolutionary. Advocacy can be revolutionary!
I'm honored to have had the opportunity to help turn The Children's Movement of California into a voice loud enough to be heard in Sacramento, in D.C., and eventually across our great land. If you are a regular Huffington Post reader, you most likely already knew the power of advocacy. The Fuse Corps opportunity gave me the gift of knowing that I, even as a private-sector entrepreneur, can change anything with my voice. Stay tuned -- you'll be hearing more from me!