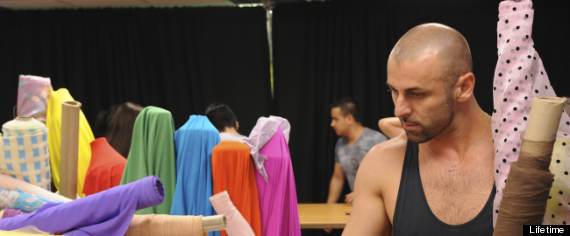 Note: Do not read on if you have not seen Episode 4 of Lifetime's "Project Runway All Stars."
Faced with a "wagon wheel coffee table" in "When Harry Met Sally," Carrie Fisher's character Marie famously quips, "Everybody thinks they have good taste and a sense of humor, but they couldn't possibly all have good taste."
Truer words were never spoken, at least when it comes to this week's episode of "Project Runway All Stars." The challenge is supposedly "all about taste" on many levels, but everyone seem most concerned with the pun.
Angela Lindvall announces that the designers are to "create a tasteful outfit inspired by the colors and flavors of a seriously tasty dessert: gelato!" Really? It seems to me that there are more inspiring sweets, but what the heck?
On the runway, they feature a cart bearing the brand "L'Arte del Gelato" and ask the designers to pick flavors. Michael chooses grapefruit, Mondo picks cantaloupe, Rami -- who, for some reason, expects to be picked last because the designers choose their own order a la teams in gym class -- gets his beloved kiwi anyway.
That's when they roll out the big guns: Diane von Furstenberg. Yup. She's a guest judge this week and, while I'm still trying to figure out what she has to do with gelato, she announces that this is "the fastest challenge in 'Project Runway' history."
[Note: I may suggest that you turn this episode into a drinking game, taking a shot every time they repeat that phrase over the course of the hour.]
Anyway, the designers have only six hours in which to complete their ice cream-inspired garment. They sketch for 30 minutes as per usual and then off they go to what seems to be an annex of Mood, where April can't find any black jersey and Mondo accidentally doesn't get enough fabric.
Mila says she can imagine making a pair of leggings in six hours, but a whole outfit? Not so much. Kenley says her strategy is not to try anything new because she really just has to get something done. Don't get me wrong, I think she makes sweet dresses, but isn't that kind of always her strategy? Doesn't she always do a variation on the same thing?
Kara is left with chocolate and cayenne pepper flavored gelato and is disappointed. She wants to work with colors anyway, focusing less on the obvious brown and more on the chili flavor, which she describes as, "Chocolaty, spicy and then this furnace of fire." On the whole, the designers are taking this challenge super literally -- just going on color -- so I like that she's making that leap at least.
Austin laments, "Normally a fashion designer would never be in the predicament of having to design something in six hours." But Michael disagrees. He says this challenge is not a big deal because he works super fast and often has to whip things up for clients last minute. Jerell says that Michael's dress is "so easy a chimpanzee could do it." He also says April is going to need to "soften up" her layered purple strapless number.
That's when Joanna Coles walks in to mentor the designers and my husband looks up from his laptop long enough to ask, "Why is Tilda Swinton on 'Project Runway'?" Good question.
The Marie Claire editor announces that this is "the fastest challenge in 'Project Runway' history!" [CHUG!]
Joanna meets first with Kara, who explains that the colors on her dress will go from neutral to fire red like the flavor of her chocolate and cayenne gelato. The idea seems okay, but the colors look kinda drab.
Next, Joanna asks April: "How can you have a fashion moment if you stay with what you're comfortable with?"
She asks Mondo, "How on earth do you accessorize [with this type of dress]?"
She commands Austin, who has vanilla Madagascar flavor, "Don't channel the wedding thing; channel the fabulousness!"
She asks Rami, who is making a wrap skirt, "Are you sucking up to Diane von Furstenberg?"
Suddenly, it feels as if maybe the producers have given her questions and she's interviewing them? She asks Michael about his speed, "What is your secret?"
Then, the designers get catty for a moment. Anthony calls Mila's dress a "color block Christmas ornament disaster." Mila feels that "Rami's look is of questionable taste." Kara pisses off Austin and suddenly, it almost turns into sewing machine wars. Is anyone else starting to feel like Kara is sort of unconscious and not that considerate?
Anyway, the models show up and disaster strikes: April's dress doesn't fit her model and she doesn't have enough fabric to fix the problem. Tush will be exposed.
Jerell is into Mondo's dress. Wait? A designer has something positive to say about another? How nice and novel! He thinks it really embodies the fruit, but in a "modern abstract way." I agree.
April admits, "I'm definitely nervous because of how short the dress is. The bottom is not symmetrical." Kara says her dress' proportions are off. Jerell adds, "She had her [model] looking like a pregnant cupcake -- that's not the business." Well, he can't be nice about everything.
The Runway:
And just like that, they're back at the runway. Angela makes her first joke: "Seems like I just saw you a few hours ago!" You did, Angela! Because, as she reminds us again, this is "the fastest challenge in 'Project Runway' history." [BOTTOMS UP!]
The judges are Marchesa's Georgina Chapman, Isaac Mizrahi, DVF (mais oui!) and model Miranda Kerr, who will wear the winning garment to ... something.
For me, Mondo's dress looks best coming down the runway. It moves, it's very resort and it really does evoke a cantaloupe. I'm with Jerell. And actually, Jerell has made a nice maxi dress too -- a little less literal with a pattern evoking his quirky flavor "Fruits From The Forest." I sort of feel bad for Rami because I feel like he's choking a little, but I think his kiwi number is a hot mess. Kara's dress is obviously not working: It looks like an ice cream cone with ruffles all the way up the front. And, when it comes to April's strapless frock, there's definitely some butt action showing.
The Highest & Lowest Scores:
Kara is on the bottom. Georgina says, "I couldn't quite get the passion in the dress. I think the colors are letting you down." DVF adds: "It's just not flattering." hey all think it looks kind of pregnant.
Anthony is also in the bottom, though Isaac likes his explanation about melting green tea gelato. The construction is messy. DVF loves the skirt and concept, but that's about it.
For Mila, Isaac says, "I think this says cherry ice cream so clearly." I'm sort of surprised this dress is on the top with it's strange sheer red and white effect, but I think it was slim pickings this week since the designers had only six hours. (The only thing I can effectively complete in six hours is a "Project Runway" marathon.) DVF comments, "It's beautiful and the design is nice, but it kind of looks like it was done in short time." I agree.
Michael kisses some DVF butt and calls her an idol. She loves his dress, calling it "very fluid" and tells him to "call her." Georgina and Isaac think a "tartness" is missing from the color. I sorta think it looks like nicely draped satin pajamas, but whatever.
April's dress is a problem. "The back is scary," says Isaac. "The colors are nice," the judges offer. These guys are so nice and gentle compared to Nina, Michael and Heidi. It's so different.
Mondo's cantaloupe dress is a hit. DVF says, "I think it's great. It does look like a cantaloupe." Georgina says the colors and patterns shouldn't work together, but they do. They aren't sure about the bright orange he used, but -- I mean -- it's cantaloupe, so.
Deliberation & Decision:
They mostly agree: Anthony was ambitious, but his piece looked amateurish. Kara designs sweet clothing, but got stuck. Angela feels that Kara got scared of using brown and says, "What's wrong with chocolate brown?" Isaac retorts, "There is plenty wrong with chocolate brown." A bit of a disagreement -- finally! DVF says April's dress was like Halloween.
Michael's fabric was questionable. Mila's styling was heavy. Mondo's dress was gorgeous, but didn't show enough skin for Isaac. Then, Miranda Kerr comes up with my favorite reason yet for not picking a dress to win, saying that she's concerned about wearing Michael's dress without a bra while breast feeding. I love it! Now that is reality. (She is crazy pretty, by the way.)
Anyway ...
The Winner: Michael!
Going Home: It's between April and Kara and ultimately, April is out. And yet, it's Kara who flips. She turns to the judges through rising tears and practically shouts, "I am really passionate about what I do!" Wait a minute, girl: You're not the one going home! Backstage, when she screams with happiness at getting to stay, Anthony has to remind her, "But that means April is going home." Tacky tacky all day long.
And that's all she wrote for this week's PRAS!
"Project Runway All Stars" airs at 9 p.m. EST on Thursday on Lifetime.