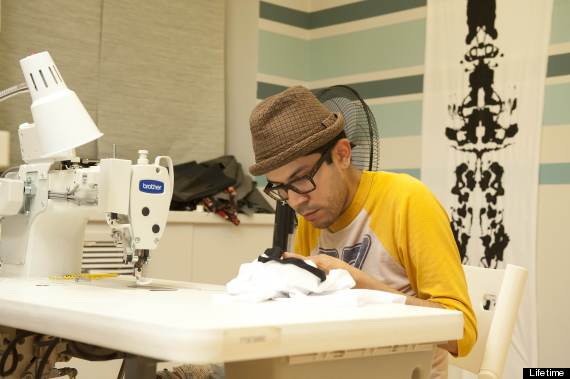 Note: Do not read on if you have not seen Episode 10 of Lifetime's "Project Runway All Stars."
And then there were four.
This week's episode of "Project Runway All Stars" features the final challenge before the finale and Kenley, Mondo, Austin and Michael seem edgier than usual, which is kind of saying a lot for this neurotic bunch.
"There's Team M & M and Team K.A.," says Mondo, as we're shown footage of Michael and Mondo and then Austin and Kenley coupled off (so to speak).
Angela Lindvall tells the designers what they'd have to be comatose not to know: "You're all now be battling it out for a place in the finale, where one of you will win the grand prize." Then she adds something about how Neiman Marcus is "the finest luxury retailer in the United States." Totally her own words, I'm sure. "Oh no you di'int," exclaim Barneys and Saks fans everywhere.
This week's "client" is designer Nanette Lepore, whose aesthetic is described as "romantic, feminine and modern ... and affordable to women all over the country." Well, sort of. Women all over the country with money, that is.
Don't get me wrong: I love me some Nanette. I literally wore my favorite raincoat by her today. And she's no Rodarte in terms of exclusivity and price. But, while her clothing is ready-to-wear, it's hardly affordable to the average American woman who shops at K-Mart or, on a good day, J. Crew and Gap.
Austin describes Nanette Lepore's style in his own words as "approachable, wearable, sort of Bohemian chic." And again I have to take a moment because on what planet is her style "bohemian"? It's as girlie as girlie can be!
So far, this week, "PR All Stars" and I are not seeing eye to eye.
The Assignment
Nanette Lepore (who looks totally different than I would have imagined-- wait, she's not golden tan and exotic?) describes the challenge for the remaining designers: "I want you to make a garment that is irresistible, feminine, timeless and, because this is a ready-to-wear challenge, you're going to be under the real test of the retail customer."
The winning look will be manufactured locally, sold at her stores around the US and profits will go to a charity called Save The Garment Center because apparently the whole NYC district is in danger of extinction thanks to high rent prices, etc.
Kenley is ever humble. "I feel like this is really my kind of challenge. I have designed for a mass market before, I've designed my own line," she asserts.
Michael says he's making a caftan again, but, he qualifies, "This one is more of like a gay dress." I know. I don't understand either, but I rewound and replayed like four times and it still sounded that way, so there you have it.
Austin is making a "fun, glamorous swing coat," which is like a raincoat with a high empire waist.
Mondo is feeling challenged because they all have to show Nanette their sketches, so her cohort Kelly can give them a sense of their price range, but he doesn't sketch.
And this part kind of gets interesting, as Kelly gives them each a ballpark retail price for their designs and then how much that realistically leaves for their actual fabric after labor, cutting and shipping:
For Michael, they recommend he add seams, so he can get better use from his fabric and they put the price of his dress at about $380, which means a $48 budget for fabric. (P.S. Big difference between retail and fabric prices, right? Kinda fascinating to me.)
Kenley says she's going to sex up her design with a cutout "keyhole" and the dress is priced at $350, which leaves $41 in fabric. "I nailed it," says Kenley. We should all have such a healthy ego.
Austin is allotted $65 for fabric and trim because his jacket, which needs to be lined, will retail for about $500. (P.P.S. See what I mean? The average American woman does not spend $500 on a raincoat. I do apparently. But then, I have issues.)
Though they do in fact seem skeptical about Mondo's lack of sketch, they price his dress at $300, which leaves $32 for fabric and trim. "I promise you this will come together," he says. Nanette Lepore and her pal Kelly look dubious.
That's when Kenley decides to tell Michael that he should teach Mondo how to sketch, saying that you can't be a "real designer" without that ability. I think she earnestly believes what she says and, to that point, she's flummoxed when Mondo overhears and gets angry. Kenley can't understand why he's offended. She's totally one of those people with super thick skin, who doesn't get hurt easily and therefore, doesn't understand when other people do. Anyway, she and Mondo argue. Me thinks this will come back to bite one of them in the ass, right?
They all pick their fabrics from Nanette's stash.
Back at The Work Room
Mondo says he's scared for some reason, "like something I love is pushing me away." He's so drama.
About Mondo, Michael says, "It pisses me off that he's not feeling it. It's a lot of negative energy." So much for team M & M.
Kenley says she's nervous and she never gets nervous.
In walks Joanna Coles to give the designers advice and she announces that, "This is the most important challenge" thus far in the competition because someone will go home pre-finale, which was also arguably true of every episode leading up to this. She adds, "This is also where art and commerce meet." She peers irritably at Kenley, who hasn't paused her work to listen: "Kenley, I'm talking to you." I would have felt totally shamed, but I have a feeling Kenley was just fine.
JC has brought Nanette with her and they begin with Kenley. Immediately, they're concerned that the actual dress is less "body-fitted" than the original design, but Kenley won't hear it. "This is gorgeous the way it is," she says. "Once you see it finished, it will flatter her body."
They warn Michael that they can't sell something that's plunging to the naval, which is his signature, it seems. JC brings up the notion of wearing a bra with the dress, which I appreciate, and they come up with some hook and eye solution. "It's just really hard to wear Michael's clothes if you're not a model," says Austin, before expounding the virtues of his maroon raincoat, which he feels looks expensive. "I feel like I've seen that dress on 14th Street at a Bargain Basement shop. I think it should me myself, Mondo and Kenley in the final three," he adds. (He also describes Nanette as, "Direct, no nonsense, to the point," which I feel like is code for something, but he says he likes it.)
Michael returns the trash-talking favor, saying about Austin, "I just don't know what the judges constantly see in his work." Meoooooow. Things are getting catty up in here. He adds about his own garment, "I felt more like myself with this dress. It's so simple, so beautiful and it's me."
Mondo says he's seen this dress from Michael before. Meanwhile, he has his various mixed and matched fabrics laid out in stripes on the table, but the actual design still seems up in the air. "You have to figure it out, but I know you will," says JC.
He compares his dress to "Pit Bull dogs that are so ugly that it's cute." I think he means Pugs, but whatever.
Austin says, to be eliminated on this challenge would be heart-wrenching because that's what happened to him on his season. Michael says something similar.
Runway Day!
"Who's a bigger diva, me or Austin?" asks Kenley as they ready for the runway.
"Austin!" answers Mondo. Austin's pleating seems very Nanette to me, but he's noticing rumpling with the taffeta.
Mondo is having issues with his dress: "I've never felt so wishy-washy," he says. It does look kinda hein. Ruh-roh, Scooby. He says, "For me to get eliminated right now would be different." Yes. It would.
Mondo also notes that Kenley didn't take the time to match up her patterns.
Runway Time!
Angela goes through her usual spiel, "As it's been said, 'One day you're in and the next day you're out and that's never been as true as it is on 'All Stars.'" It's actually the same amount of true as at any other point. And I'm still curious if she can't legally say the "Project Runway" catchphrase without qualifying it. Who knows?
The judges are, as expected, Georgina, Isaac and Nanette Lepore. The show starts and Michael's dress is dragging on the floor, which is weird, and Kenley's dress is too long, I think. I think the pattern is beautiful, but it's just a little dumpy.
Otherwise, whatever.
Critique & Deliberation
First comes Mondo: Isaac says, "I really like this dress. I wish it could just get a little slimmer at the waist." I still think it's sort of ugly, but I think it may be the only thing on he runway that didn't put the judges to sleep. Angela would like to see it with flats. Nanette says, "I worry that it's hard to get a woman with curves into that silhouette."
Second is Michael: Nanette says she would put it in her suitcase and take it away, but backless dresses don't sell as well. They all agree that it's too long. (Duh--it's dry swiffering the floor.) Isaac says, "The one thing that seems Canal Street to me is the strap across the back."
Third is Kenley: I for one wish the dress was a little more flattering. Georgina says, "I love your quirk, but I think with this print, it's a little problematic." Angela says that the seams throw off the eye. Isaac says, "It's a good dress, but I kept waiting for it to change into something more inspired on the runway." (Then in deliberation, Nanette calls her "haughty," so she obviously didn't score personality points during the critique.)
Four is Austin: Isaac says, "I really like it, [but] even a raincoat needs to be a little more pressed up." Nanette laments, "Some things that look great for retail, don't look good on the runway."
The Outcome
The Winner: Mondo wins! (I think, because the rest is so damn boring.) And I sort of want to see the resulting dress because I feel like they probably gave it a waist.
Going Home: It's bye bye, Kenley, which I guess makes sense, except I don't understand how they can keep Michael when they say they still don't understand his POV. But I guess he's more high fashion to them.
"I don't really compromise what my vision is," says Kenley without shedding a tear, proving that she dishes, but she can also take.