With Greenpoint's large Polish population, you can close your eyes, inhale the scents from nearby bakeries and feel like you're in Europe. But then a hipster walks by and you're immediately reminded that you're merely in the cool epicenter of the universe. But, truth be told, sometimes it's hard to tell the difference between ironic and sincere "Members Only" jackets.
The northernmost neighborhood in Brooklyn, Greenpoint sits at the confluence of the Newtown Creek and the East River. The Newtown Creek (and its dubious Nature Walk) has a pungent reputation that literally precedes it; the Newtown Creek Sewage Treatment Plant sits on the site of a decades-long underground oil spill three times larger than the Exxon Valdez.
Once a vital part of shipping and manufacturing for the entire New York area, Greenpoint still has an active manufacturing base, especially east of McGuinness Boulevard. That said, Greenpoint has really flourished as a pressure valve for Williamsburg's gentrified excesses, and although the streets closest to the waterfront have seen an influx of higher-end restaurants, bars and boutiques, Greenpoint still retains its working-class affordability; there are many bargains, especially when measured against Manhattan prices. Film and television productions have also flourished in Greenpoint, thanks in part to its convenient location near Long Island City, a stone's throw from the northern end of Manhattan Avenue; HBO's Boardwalk Empire built its waterfront set on the Greenpoint banks of the East River.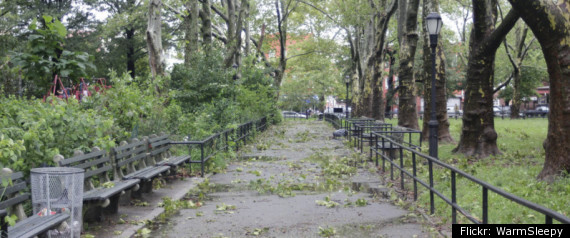 Most of the action in Greenpoint is centered on four main streets: Manhattan Avenue, Nassau Avenue, Greenpoint Avenue, and Franklin Street. Manhattan Avenue is the main artery -- buses and the G train stop along Manhattan Avenue and amenities abound. At the southern end, hipsters converge at Enid's, just across the street from McCarren Park, while farther north, blue collar immigrants attend mass at Saint Anthony of Padua Church. Turning down Greenpoint Avenue from Manhattan Avenue toward the East River will take you past great bars like the Black Rabbit and the Pencil Factory. Franklin Street intersects Greenpoint Avenue and is a relaxing antidote to the Manhattan Avenue's bustle. Head north on Franklin to grab a bite at Brooklyn Label or a glass of wine at Dandelion Wine. Or head south and shop at Alter 140 or Word, the area's only English language independent bookstore. And don't forget to visit Greenpoint east of McGuinness Boulevard where you can find cheap bars (like Palace Cafe), liquor stores, and restaurants (like Relax) that locals frequent.
Eat ... at Calexico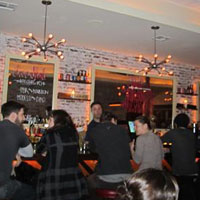 SoHo's revered taco truck, Calexico Carne Asada, opened its second brick-and-mortar outpost in Greenpoint in 2010. In addition to the Vendley brothers' award-winning tacos and burritos (they took home the Vendy in 2008), the sit-down establishment brings with it the welcome addition of margaritas, micheladas, and $4 Tecates. Exposed brick and clapboard walls give the space a part downtown, part taco shack feel fitting for a Cal-Mex eatery in New York while the restaurant's metal exterior pays homage to its food truck roots.
Shop ... at Fox & Fawn
With its well-edited selection of both vintage and contemporary pieces, Fox & Fawn has become one of Brooklyn's most reputable vintage stores. Formerly located on the LES, the store relocated to the 11222 zip code in 2010 when it moved in with Heaven Street Records. While Fox & Fawn's loyal Manhattan clientele may grumble about the erratic G, the shop's eclectic blend of unique and high-end clothing are well-worth the 10-minute subway transfer. Vintage leather boots and purses line the store's walls while racks are filled with nautical tees, chunky sweaters, and whimsical button downs. The store is conveniently located near brunch hot spots Enid's, Matchless, and Five Leaves making it ideal for pre- or post-Bloody Mary shopping.
Reclaim Waterfront ... on the Newtown Creek Nature Walk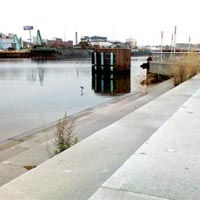 The end of the Greenpoint frontier -- the upper lobe of Brooklyn nesting beneath Long Island City -- is unforgiving territory. The strong winds that blow through this oil-sluiced industrial wasteland often carry the stench of diesel, fish and sewage, but new life breathes in the edge of this desolation within the confines of the Newtown Creek Nature Walk. The improbability of the park is mirrored in its design: young trees and shrubbery take tenuous root next to the Brutalist concrete walls undulating along the perimeter of the sewage plant. Slab-stairs engraved with geologic epochs descend to the primordial ooze of the Creek, and yet flowers still bloom even in the twilight of autumn as Manhattan etches a twinkling horizon.
Greenpoint and 34 other great neighborhoods are featured in Not For Tourists' brand new 2012 Guide to New York City, available now from NFT.