It's true, Williamsburg is the white hot center of New York's hipster scene. The stretch of blocks from the river to the BQE are rarely lacking in skinny pants or ironic record collections; you can usually buy both at the sidewalk sales along Bedford Avenue. But the art school crowd isn't out here all alone: luxury condo buyers -- and their strollers -- are quickly filing in, while the deeply-rooted Italian and Polish locals still shape the neighborhood's contours (and still sell the best pastries). For now, there's something in the area for everyone -- signless speakeasies for the too-cool kids, locally designed baby gear for new parents, and bowling alleys (The Gutter, Brooklyn Bowl) for the rest of us.
Williamsburg is a neighborhood partially frozen in transition. The boom brought in a new set of glass-and-steel high rises, but the 2009 bust stopped much of the development in its tracks. Around the construction sites, hundred year-old brick storefronts and residences still dot the tree-lined streets, and hints of the area's grittier past can be found poking up along the way.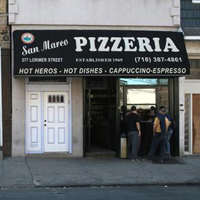 To find out more about pre-gentrified Williamsburg, start at City Reliquary, a clever little museum filled with New York City artifacts and historical tidbits. Better yet, pick up that requisite copy of A Tree Grows in Brooklyn at Spoonbill & Sugartown, and learn about the neighborhood's tenement days.
As it's currently one of the most influential zip codes in the indie rock world, Williamsburg draws in young musicians and their blog-writing fans like a vortex. For anyone who loves new sounds and intimate venues, the 'Burg is the jackpot: there's rarely a night around here without at least one decent show. The legendary Knitting Factory -- relocated in 2009 from TriBeCa -- joins the Music Hall of Williamsburg in hosting slightly better-known acts; those who prefer their bands firmly below the radar will feel at home at Zebulon, Pete's Candy Store, Trash, and Bruar Falls. After the show, head to Spuyten Duyvil for rare beers, Hotel Delmano for spiffy cocktails, or Barcade for retro-game goodness.
As for eating, Oasis has perfect falafel and nothing soaks up booze like a Vinnie's slice, but the real gems are the dressed-up American spots (Walter Foods, Dressler, Rye). Diner and Egg elevate breakfast to an art; Fette Sau and Peter Luger do such joyous things to meat that all carnivores must pay their respects.
Eat . . . at San Marco Pizzeria
With the trend these days being wood-fired pies, those looking for an old-school Brooklyn pizzeria will not be disappointed by San Marco Pizzeria, which has been serving the neighborhood since 1969. The pizzas are what you would expect: thin, foldable and fresh from a gas oven. The regular slice alone is a testament to the format, reminding the eater what makes New York pizza so perfect. Those who enjoy Sicilian style pizza will die for San Marco's hearty grandma slice.
Shop . . . at 10 Ft. Single by Stella Dallas
While most vintage stores pride themselves on being carefully curated, few carry it out with the precision and dedication of 10 Ft. Single by Stella Dallas.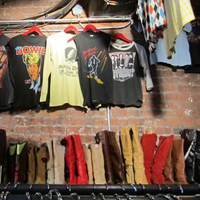 Tucked under the BQE, a short walk from the Lorimer L stop, the Williamsburg store is a bohemian bazaar filled with flannel shirts, lace-up boots, and a massive selection of Converse. Unlike other vintage stores which often jumble retro items with newer designer pieces, 10 Ft. Single sticks firmly to its '70s glam, rock star aesthetic -- think Matthew McConaughey in Dazed and Confused or Kate Hudson in Almost Famous. Faux fur leopard coats for women and brightly colored vests for men dominate the racks in the winter while concert-ready gear such as airy sundresses, denim cut-offs and ironic tees take over in the warmer months. If nothing else, the store's collection of iconic concert tees from the '70s and '80s is worth a visit.
Recreate . . . at East River State Park
Many New Yorkers are consumed with dread when trudging around Midtown, yet it always looks so beautiful from a distance.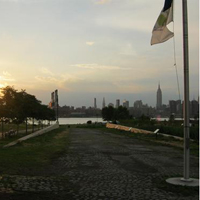 Thankfully, the East River State Park is one way to enjoy that iconic skyline without setting foot in Manhattan. This welcoming green space boasts many qualities: clean, spacious, ideal for picnics, family friendly, and if it didn't sadly close at dusk, it would be a romantic place to watch the sunset. Be prepared on sunny days as there's little in the way of shade and watch out for the occasional (adorable) waterfowl coming ashore. It's also perfect for out-of-town guests, allowing them to see a picturesque snapshot of the city without you guiding them through 42nd Street.
Williamsburg and 34 other great neighborhoods are featured in Not For Tourists' brand new 2012 Guide to New York City, available now from NFT or at your favorite bookstore.