Hellooooo 1965! The times they are a-changing but it seems the L.A. vs. New York style has not. We all know that nowadays everyone dresses up a lot more and wears a whole lotta black on the east coast, but on the west coast the color palettes are definitely lighter and the heels are usually, well... flats. Seems like that was also the case forty-five years ago!
New Yorker Don, traded his hat and suit for Los Angelan Dick, who prefers aviators and short-sleeved button ups while dressing up in plaid blazers. Okay, so I know it has to do with the warm California weather but as we all know, climates and subcultures affect fashion. Don in New York usually prefers the dark the palettes and thicker fabrics. That may not only be due to the frigid weather in New York during January but also the fact that he feels alone and depressed. But when Don is in southern California, he is his true self: Dick Whitman. So the California sun may not be the only reason Don chooses brighter suits, short sleeved button ups, and less gelled hair. But it also could be because of Anna, the one woman that truly knows and loves him for him. Let's take a closer look at the different styles of Don in New York and Dick in Los Angeles:
Don Draper in New York (Photo by Mike Yarish/AMC)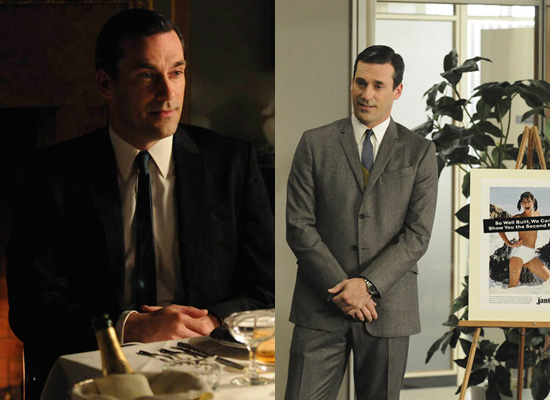 Don Draper in L.A. (Photo by Mike Yarish/AMC)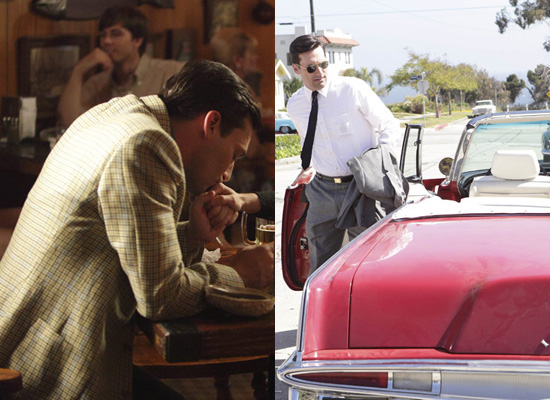 Finally! We finally see the first appearance of the hot pants! Yes, the hot pants and that's thanks to Stephanie, Anna Draper's niece. The Berkeley student appeared in what Katy Perry described very well in her song, daisy dukes and bikinis on top. Stephanie also donned a knit sweater for those cool California nights. Not surprised Don tried to make a move on her! But then again, Don makes a move on everyone.
Anna Draper and Stephanie (Photo by Mike Yarish/AMC)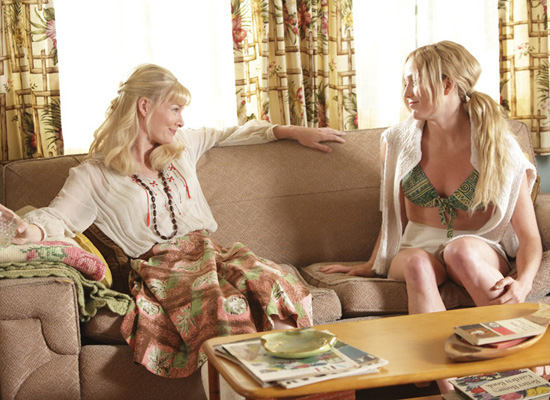 As I end this week's post I have to say I'm super depressed. I just finished watching the episode for a third time and everyone's lives pretty much suck right now. Joan and her hubby can't find time to start a family. But of course, Joan always looks amazing despite the troubles at home. Her black sheath and Hawaiian kimono have been added to my wish list. Which brings me to my next person. Is Lane Pryce blind? How could Lane yell to Joan, "I understand that all men are dizzy and powerless to refuse you but consider me the incorruptible exception." Lane doesn't need to be dumping his own marriage troubles on Joan. And, Anna Draper is dying and she doesn't even know it. But she also looks good in her lax California style with her flowy skirts and blouses.
As the country goes through one of its most volatile periods with the escalation of the Vietnam war, we most certainly can expect some of fashion's most daring ensembles to arrive anytime now and I think the appearance of the hot pants is the just the beginning. As Joan said, "Gentlemen, shall we begin 1965?" We all most definitely shall!
Bring out your inner Don, Stephanie, and Anna with this week's Mad Men look of the week.