What a rough few days for the ladies at Sterling, Cooper, Draper, Pryce. It's tough being a woman. They say that behind every great man is a great woman, which is true...just ask my husband! But the honest truth is that there is no way in hell Don, Roger, Bert, Pete, Lane and the rest of the men at SCDP can survive one day without those women that support them.

And with all the troubles facing Joan, Peggy, Sally, Faye, Betty and Miss Blankenship (God rest her soul), these women always look amazing. I don't know about you, but if my husband was going to Vietnam, I definitely would not look as put together as Joan. That woman even looks amazing in striped pajamas. Now I know it's TV, but let's face it, back then women and men were perfectly put together.
Given the somber tone through Sunday's episode, most of the women wore pretty and bright ensembles. We saw Sally, Joan and Betty in delightful floral print dresses. According to Janie Bryant's twitter, she made Sally matching bloomers with green eyelet ruffles to match her vintage floral dress. She is Betty's daughter so of course she'd have matching bloomers. But I find it ironic to see Sally, who is still a little girl in bloomers, vying to play more adult roles from cooking breakfast for Don to her sexual experimentation we witnessed many episodes ago. But each character wore their floral prints true to their own personal style. Betty was in a cap sleeve blue floral sheath, while Joan stuck with her three quarter length sleeve dress in a maroon and sage floral print.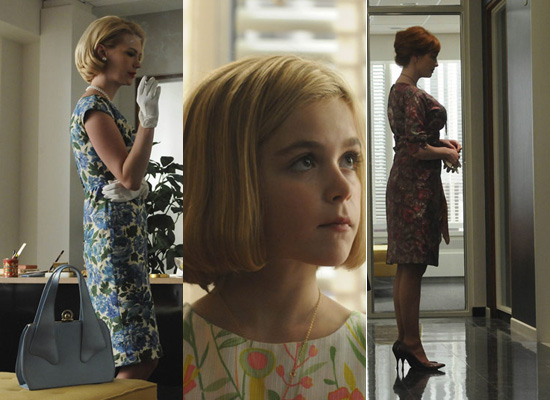 We also saw some of the characters in bright pastels. Both Peggy and Megan donned light green dresses. Megan wore an adorable double-breasted dress while Peggy stuck with her signature print, plaid. But in stark contrast to those colorful ensembles, we also saw the always classic navy blue in skirt form on Joan and Peggy. Joan added a splash of color to that navy skirt with her go to color of choice, a red printed shirt. Peggy also dressed her navy skirt with a navy and ivory polka dot shirt. Both women had bows on their collars.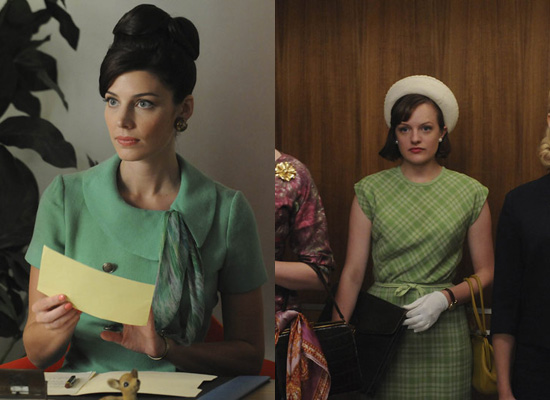 Before I get to the Mad Men looks of the week, here's a little tribute to Miss Blankenship. I, along with many others, am going to miss the always opinionated, feisty, and hilarious when not intending to be secretary that is Miss Blankenship. No one rocked those cat eye sunglasses better than you!
In the words of Bert Cooper, "She was born in 1898 in a barn. She died on the 37th floor of a skyscraper. She's an astronaut." (Photoshopped astronaut photo by dansai)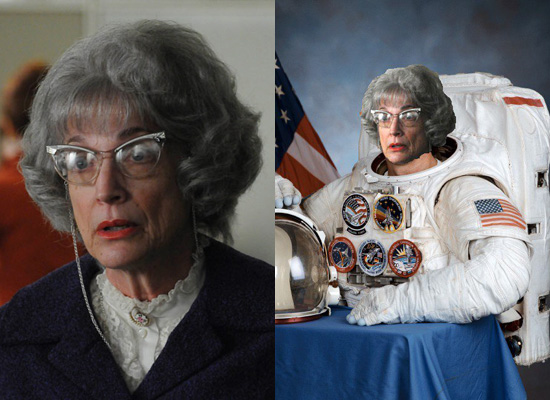 Bring out your inner Joan, Megan, Sally, and Miss Blankenship with this week's Mad Men look of the week.

Mad Men photos courtesy of AMC.