If you passed by Elizabeth Charles lately, or if you're part of their mailing list, you might have seen an ad of a woman who looks like she just took some sharp object and thrashed it through her jugular. The model lays there motionless, seems dead, and has her blue-colored blood everywhere. Looks like something you'd want to buy, right?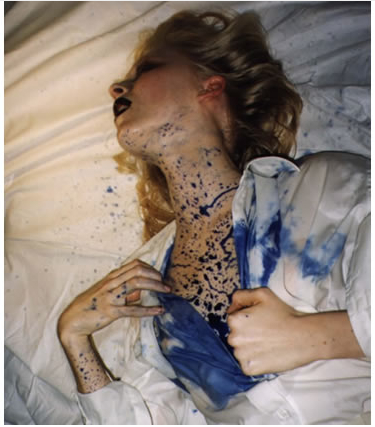 But what exactly is the picture trying to sell? Could it be a new trend, like the stained buttoned-up blouse? Or is it the dark lipstick? Hey, we all know dark is in - from the nail polish to the smoky eyes. But it's none of those products. What this advertisement is selling is that splatter of blue colored... perfume. Yes, colored perfume. Now is it something you'd like to buy?
Let me introduce you to Wode Paint, the new "art fragrance" by Boudicca. Their product in the advertisement is so ambiguous and abstract that it has a video and book description on it's website on how Wode Paint works, probably so you don't get as confused and disturbed as I did.
Since Boudiccia's book description is quite comprehensive, I pulled some excerpts so we can all understand their artistic concept:
The History: WODE the revolutionary Art Fragrance from BOUDICCA explores further the myth around Queen Boudicca. Legend has it that she and her tribe wore cobalt blue war "paint" that gave them a ferocious and mythical look when advancing into battle.
OK so maybe blue paint worked for Queen Boudicca, the Queen of the Iceni tribe in the eastern part of England back in 60 or 61 AD. But I have a feeling it's not going to work for me or you.
The Magic: When WODE is sprayed a vibrant cobalt blue mist appears and settles on the skin or clothing. Whether touched or not the 'Wode Paint' begins to fade and within seconds or minutes disappears completely leaving simply the scent behind.
OR you can simply buy their other Wode perfume called Wode Scent, which is the same perfume just without the art color crap. But it comes with a price. Wode Scent is worth around $165, which is $25 more than Wode Paint. Maybe the difference in price says a lot about Boudicca's expectations in the "paint" sales.
The Packaging: Wode is packaged in a classic spray paint can. Graffiti is the modern war paint, the most public of all art forms while steeped in rebellion and anti establishment values.
Wow, I can't tell you how much I've always wanted to spray myself with a spray paint can! All this for perfume? It just seems a little absurd to me.
Boudicca is a high-end label designed by the London based duo Zowie Broach and Brian Kirkby. Boudicca started as a purely artistic endeavor where the designers displayed their garments in art galleries and exhibitions. The design house got their big break in 2001 after being invited by the British Fashion Council to officially show their line during London Fashion week.
When I first saw this picture, I thought advertisers and design houses are getting so desperate in this recession that they'll try anything for attention. But in a true couture method like Boudicca, every thread in a garment and extract in a fragrance are deeply researched and beautifully executed. Don't get me wrong, Wode Paint is a cool and creative concept and their advertisement does make you look twice, but it is more art than commercial. Imagine if you gave it to someone as a gift with no explanation on how the product works. I can see it now: a woman gone hysterical because she received a defective perfume that just stained her clothes, floor, and body. She then realizes the blue "paint" disappears but those minutes before of absolute shock will ruin the product forever in her eyes. Wode Paint seems too complicated and too expensive and the last thing we all need is more complications and expenses in our lives.