At one point or another, we all had a dream. Some of us wanted to become doctors, others wanted to fly planes, and I wanted to be the number one tennis player in the world.
Coming from a war torn country, a place where many kids do not dare to dream big, I was blessed to have the support of my whole family throughout childhood. They believed in me and dreamt with me. Belief is the most common word to me, even more than hope. For one to achieve his or her dreams, they need to truly believe in them. Even during tough times in Serbia and impossible training conditions, I strongly believed that I could accomplish my dreams. With my family's support and hard work, I became the number one tennis player in the world a day before winning Wimbledon title in 2011.
Unfortunately, many children are not as fortunate as I have been, and do not have the support and facilities to dream freely. That is why I decided to start the Novak Djokovic Foundation and help children dream big and create a better tomorrow for themselves and everyone around them.
I started the Novak Djokovic Foundation in 2007 with a goal to enable children from disadvantaged communities to grow up, play, and develop in a stimulating, creative and safe setting, whilst learning to respect others and care for their environment. Early childhood education gives a child a chance to face any challenge and become a winner in any field.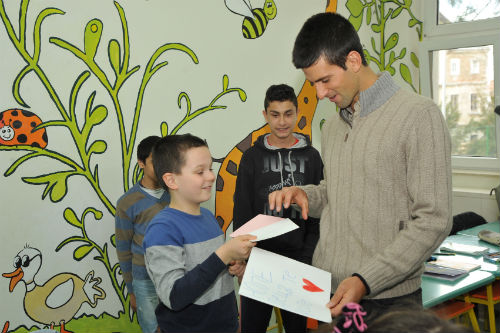 As UNICEF's ambassador for Serbia, I work hard to raise awareness of low enrollment rates in pre-school education in Serbia. With only 44 percent of children from ages three to five and a half enrolled in the preschool education in 2012, Serbia has one of the lowest participation rates of children in early development education. The worrying factor is that the total number of children in kindergartens in recent years is declining, while preschool services are inaccessible to those who need them the most: socially disadvantaged children.
In addition to children with developmental problems who don't have proper facilities for education, and Roma children who in many cases are not included in early education, there are many families that are facing financial hardship and can't send their children to preschool. Sadly, even if children wanted to go to kindergarten, there are over 2,500 localties across Serbia that don't have preschools. A majority of them are in poor, underdeveloped areas with no means to invest into early childhood development. My foundation's mission is to change that by working together with UNICEF and other non-profit organizations in Serbia.
Over the past six years, my team, including my parents and family, Jelena Ristic (Executive Director of the foundation and my girlfriend) Milutin Gatsby (Global Fundraising Chairman), and many other ambassadors and volunteers have worked tirelessly to secure funds through private donations and multiple fundraising events. The most recent events organized in New York City and London raised over $3 million, used to renovate and equip school facilities in several cities, provide professional development of the community, and assist in developing programs and skills that will aid in having all the children included in the education system in many municipalities.
Continuing the tradition from last year, we will organize another fundraising dinner on September 10, right after the conclusion of the US Open. With the support from friends in Hollywood, sports, fashion, and entertainment, we will raise funds to aid our efforts and more importantly galvanize awareness of our goal to create a world where all children have an equal chance to grow up and develop into productive, caring citizens of the world.
I believe that as we all go about our busy lives, and work on creating a better environment for our loved ones, we can take a minute and think of those less fortunate, especially children. Let's all work on giving the youth of the world hope for a future, offer them means and ways to get on the right path where they themselves can make a change in their life. Let's all believe in their dreams.