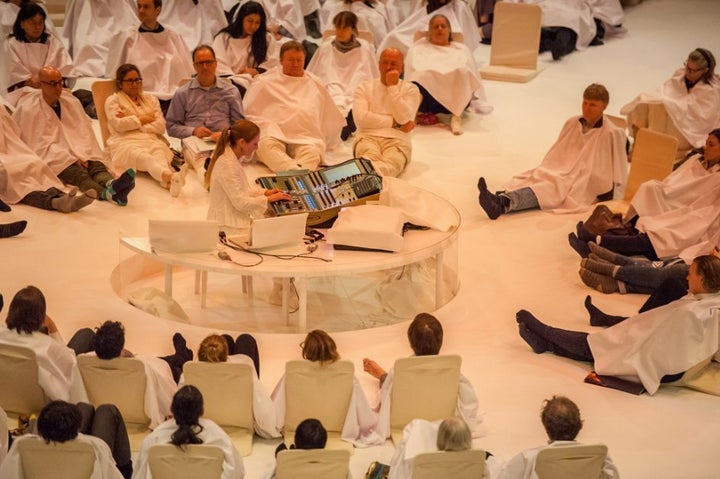 By Perry Santanachote for NYC-ARTS
Karlheinz Stockhausen composed his electronic symphony Oktophonie more than two decades ago as part of his massive seven-cycle opera Licht, which in full is 29 hours. The German avant-garde composer wrote each opera within Licht to stand alone. Each opera is named for a day of the week and reflects the astrological mythologies associated with that day, including the planet it was named after.
Oktophonie, 69-minutes long, is the second act in the opera, Dienstag (Tuesday). It is the day of conflict. It is Mars. It is red.
The polyphonic piece is fixed on eight tracks, each played on its own loudspeaker. The speakers surround the audience in a cube configuration, which allows for vertical and diagonal movements of sound. The music is designed to physically explore the space it's in, and because every space has its own characteristics, every performance is unique.
In its most recent production, the New York premiere at the Park Avenue Armory, visual artist Rirkrit Tiravanija stages Oktophonie as Stockhausen originally envisioned it -- in outer space -- by creating his own conceptual version of a UFO.
Kathinka Pasveer, one of Stockhausen's original collaborators, sits at the installation's apex, driving the omni-directional sound movements, while her co-captain Brian Scott controls the lighting. Six rows of white floor-loungers encircle them, seating 362 passengers. Everything except for the speakers sits atop a 60-foot wide disc, which is carpeted white. The audience is cloaked in white. The light is white, save for the very beginning, in which it surrounds everyone in a red aurora.
When Rirkrit first listened to the piece, which depicts the conflict between Michael and Lucifer, he immediately had a vision of how the set would look. "I felt like I was in a spaceship and the sound was transporting me through this epic battle of dark versus light," he says. "I felt the space needed to be minimal but unified, and saw it as a kind of eclipse, as something that comes over you and then releases you to another place."
Like in many of his masterpieces, Stockhausen looked to the cosmos for Oktophonie. With Rirkrit's help, we get to go along for the ride.
It starts with a takeoff. You feel the sound as much as you hear it. A deep drone rumbles beneath you and you can sense its power surge, warping the air below. After several minutes it putters into an even keel as we descend into the depths of darkness, fully surrounded by heavy curtains of sound and aural images.
Stockhausen is known for building elaborate, three-dimensional structures in space -- none that can be seen -- only perceived. For this reason, the piece demands your attention. It has been composed for the active listener, for the active dreamer, someone who can interpret the behavior of its notes.
The only way to listen to Stockhausen's music is at an event such as this, where you don't listen to it but rather inside it. Here in the 55,000-square-foot drill hall, with the speakers distributed just right, you experience its original spatial composition, which cannot be reproduced in stereo -- or in many other venues for that matter.
On this ominous journey, we encounter sound-bombs crashing down from above, indecipherable greetings (or threats?) from mythical creatures, an inclement battle, eerie echoes, screeching silence and the clash of cold metal.
In moments we speed through time and space with great intensity. In others, we float -- a chance to take in the heavenly scenery -- whatever that scenery is, is subjective and depends on where you are sitting. A shooting star, or maybe an asteroid, blazes over you in an arc. A sun shifts into the shadow of its planet.
Your neighbor stretches his legs and leans his head back over the back of the chair. Another lays down completely to take in the spectacle. Looking up at the 80-foot-high ceiling of the drill hall in this context, it looks exactly like the inside of a gigantic spacecraft (if ever there were one), with only a subtle, circular track of lighting illuminating a shadowy tangle of pipes, cables and ducts. Never before has the austerity of the Wade Thompson Drill Hall fed such fantasy.
As exacting as Stockhausen's music may be, it also feels tremendously unsystematic due to the aleatoric principles it follows. Aleatoricism is the incorporation of controlled chance into a work of art. Rirkrit similarly exploits the laws of randomness in his own work.
The Thai artist is well-known for his installations in which visitors participate in social activities such as cooking, eating or playing music within the structure he's created. His work is very much about bringing people together for a shared experience.
In creating the setting for Oktophonie at the Armory, Rirkrit was careful to not steal focus away from the music. "There are very complex things going on in the music," he said. "I wanted to make people feel relaxed so they can catch it better." Hence the monotone color scheme and the no-shoes rule. The lighting is subtle -- also for this reason -- providing just enough of a nudge to kick your imagination into full gear.
Stockhausen's otherworldly aesthetic and bizarre compositions have garnered fervent respect in the electronic music world and influenced artists from The Beatles and Miles Davis to Bjork and Frank Zappa. It also got him into a hotbed of controversy when, at the age of 73, he publicly stated that the attacks at World Trade Center were "the greatest work of art imaginable for the whole cosmos," just five days after 9/11.
He later formally apologized, explaining that he was speaking from the mythology of his opera cycle, and simply wanted to remind people of the role of destruction in art.
Perhaps New Yorkers have finally come around to forgive an elderly (now deceased) German composer's cryptic notions, and enjoy his music again. There has been a resurgence in performances of Stockhausen's works in recent years, and considering the popularity of these events, we can expect many more to come.
"Oktophonie" is playing at the Park Avenue Armory through Wednesday, March 27, 2013.