Pre-Super Tuesday Dispatches from the Bronx
by Annie Shreffler
A weekend trek to local eating spots in the Bronx introduced us to voters who debunk any notion that the borough's residents are united on choosing their candidate. Instead, we heard it all, from hope that Obama can shake up Washington, to lament for Edwards withdrawal, to belief that McCain can bring calm to the Middle East.
Bronx voters have strong reactions to issues like immigration reform, health care coverage, labor reform and troop withdrawal. They are scrutinizing their choices to see who they can trust to do right by them.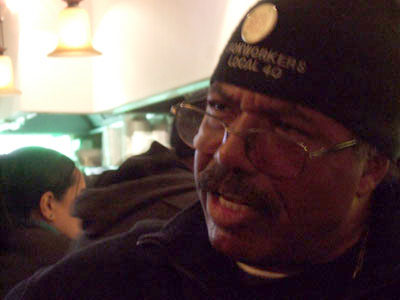 Franklin Hampton
photo by Claudia Cruz
Franklin Hampton, 60, lives in the east Bronx neighborhood called Parkchester. During lunch in a favorite Dominican spot, El Valle, he sported a black knit hat from the Ironworkers Local 40 with three buttons that helped him express his views:
"As you sow, so shall you reap"
"Emancipate ourselves from the mental slavery, none but ourselves can free our mind"
"If you think education is expensive, try ignorance"
He spoke to us about his choice to do what Obama asks: Believe he can bring about change.
Listen to his comments here.