Looking to travel to an off-the-beaten-path Spring Break destination this year? Then look no further than Colombia. Bogotᅢᄀ is just an easy three hour direct flight from Miami, and provides a great starting point to travel through the rest of the country. In addition, the combination of gorgeous landscapes, friendly people, delicious food, warm days and breezy nights, make Colombia our pick for Spring Break 2012.
Parker Stanberry, Oasis co-founder and CEO, has given us a five-day itinerary filled with his favorite places to eat, drink and stay in Bogotᅢᄀ and Cartagena. For more ideas on what to see in each destination, check out our Bogotᅢᄀ and Cartagena City Guides.
Bogotᅢᄀ
Bogotᅢᄀ has cleaned itself up and is now one of the most interesting and exciting cities in Latin America. First-time visitors will be pleasantly surprised by its gastronomy, nightlife and cultural activities as well as the cleanliness, polish and, yes, safety. Years of steady economic expansion have given the city a boost, and Bogotᅢᄀ now ranks as the fourth most important financial center in Latin America. It's a modern city with a diverse cultural, historical and architectural offerings and a stylish and sophisticated populace which reminds one of a European capital.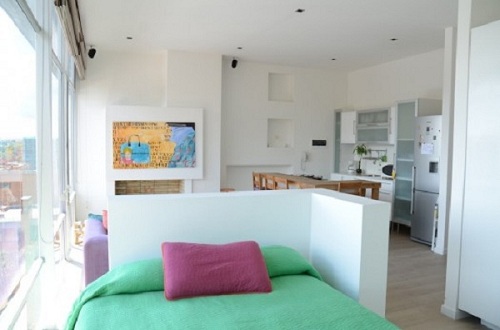 Where to Stay | Alameda Chico
This modern studio is located on Calle 89, near Parque 93 and Zona T, the trendiest districts in Bogotᅢᄀ. Tastefully decorated by its owners -- an architect and a fashion designer -- the apartment features high ceilings, big windows and a decorative fireplace. The luxury building provides 24-hour security, parking, a pool and sauna. See more of Alameda Chico here.
Wednesday Dinner | Central
With over 20 types of ceviche and a variety of fresh fish served whole, Central Cevicheria is one of the best seafood restaurants in Bogotᅢᄀ. Cuban music, specialty cocktails and a chic crowd keep the restaurant busy throughout the week. More info.
Wednesday Drinks | Armando Records
This open-air, rooftop lounge is reminiscent of a bar you might find in NYC's East Village with its hipster crowd and indie music. But shots of aguardiente, Colombia's unofficial national spirit, keep you grounded in South America. More info.

Thursday Dinner | Kong
Known for its stylish, yet over-the-top decor and delicious Szechuan menu, Kong does not disappoint. Grab a seat near the open kitchen where the chef prepares everything from fried rice to duck with oyster sauce. After dinner, migrate to the sexy downstairs bar where you can grab a seat in one of the plush velvet chairs and enjoy an after-dinner cocktail. More info.

Thursday Drinks | El Coq
The kitsch decor at El Coq is a departure from Kong, but that doesn't mean the Colombian jet-set don't flock there -- making it a great place for people watching and dancing. No website.

Friday Dinner | Andres Carne de Res
A unique blend of steakhouse and club, the beloved Andres Carne de Res is famous as much for its delicious steak as it is for its all-night dance parties. More info.

Cartagena
Cartagena has gained popularity over the past couple of years thanks in part to its extensive Old Town, where cobble-stoned streets are lined by colonial churches, homes and plazas, all surrounded by the original fortress walls. The brightly-painted faᅢᄃades, wooden balconies overflowing with flowers and interior courtyards make Cartagena one of the most beautiful cities in Latin America. Read on for what Parker has planned for this colonial, oceanfront destination.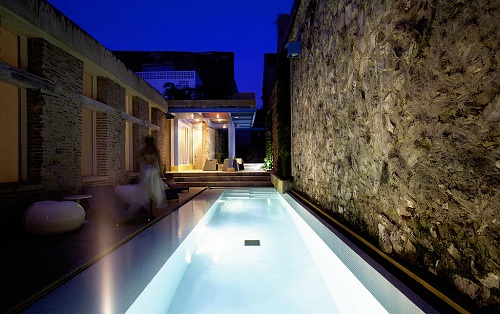 Where to Stay | Tres Pasos
The centerpiece of this unique colonial-style home is an elegant pool that stretches the length of the property and onto which all four bedrooms and the fully-equipped kitchen open. We also love the exposed brick walls, beautiful tiling and antique arches of this renovated beauty. More info.

Saturday Dinner | Juan del Mar
Bullfighter-actor-restaurateur Juan del Mar owns several restaurants in Cartagena including the self-titled Juan del Mar. Located in a restored home in the city's exclusive Plaza San Diego, Juan del Mar features one of the city's best seafood menus. More info.

Saturday Drinks | Hotel Santa Clara
Stop by El Coro (the Choir), so called because of its original use in the old monastery, at the exclusive Hotel Santa Clara Thursday to Saturday for live Cuban music and specialty cocktails. More info.

Saturday Drinks | Cafe del Mar
Cafe del Mar's location is enough of a reason to visit this fantastic bar. Perched on top of the city's ancient walls, go at dusk for one of the most spectacular sunsets overlooking the Caribbean sea. More info.

Saturday Dancing | Cafe Havana
This hidden gem, located just outside of old town in the Getsemanᅢᆳ neighborhood, is the place to go for an authentic night out in Cartagena. Recognized as being one of the city's best salsa bars, go for the dancing and the mojitos, you won't be disappointed with either. More info.
Sunday Lunch | La Cevicheria
Featured in the "Colombia" episode of the Travel Channel's food series "No Reservations," La Cevicheria has received a lot of buzz for its unconventional ceviches (shrimp with mango, passion fruit, garlic butter, mozzarella cheese and white wine, for example), tasty cocktails and prime location across from the Hotel Santa Clara. No website.

Sunday Dinner | La Vitrola
The New York Times has called La Vitrola "the culinary kingpin of Cartagena," and we couldn't agree more. Renowned as much for its delicious seafood menu as for its atmosphere (part jazz club, part lounge), La Vitrola plays host to dignitaries and journalists from around the world. No website.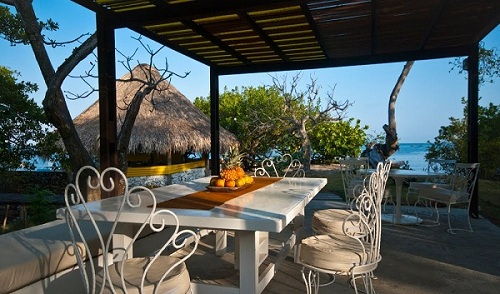 Side Trip | Coralina Island
If you have any flexibility in your schedule, we recommend a side trip to the beautiful Rosario Islands. Just a 45 minute boat ride from Cartagena, Coralina Island is a private island in the Rosario Islands and is the perfect vacation getaway. It has two free-standing one-bedroom suites, each with an en-suite bathroom. There is also an eco-hab that can accommodate four additional people.
The layout of the island compound allows guests to enjoy the beautiful weather in the large covered gazebo living room and the outdoor dining area. There is a small beach area and an ample deck over the sea, perfect for sunbathing. The island is isolated and does not have internet access or televisions -- to create the perfect meaningful escape from a stressful modern life. More info.