While it may be better known for pierogies, Poland is also making a big drunk ruckus on the street art scene.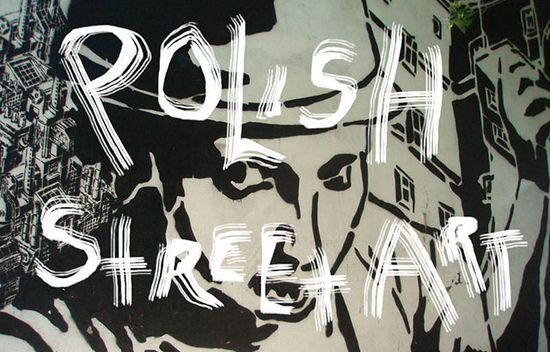 Photo by: Monika Kostera
All around the drabbest parts of Poland, most visibly in Lodz, imaginative street art is changing the landscape and attracting artists from around the world to come paint up the scene (and likely down a few dozen pierogies in the process).
Brief History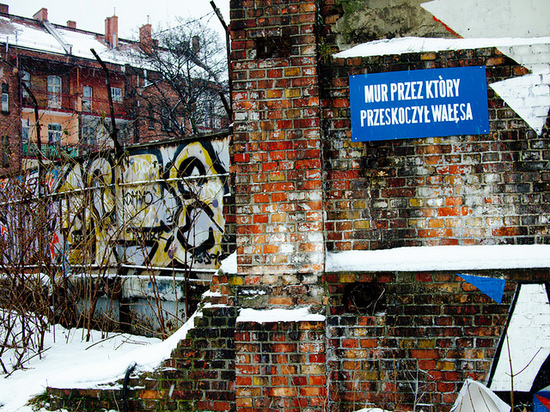 Photo by: Olgierd Rudak
Street art in Poland emerged to spruce up the drab greyness left behind when socialism rolled out of town in 1989. All around the country, elaborate pieces were thrown-up along the sides of tall residential complexes and woven into the cityscape. While the current legality and public opinion about street art ranges across Poland, in Lodz, people are all about it thanks in part to the Urban Forms Foundation, an organization that pushes for the street-artification of the city. Their mission is to attract both local and international artists to splash their works on the tall grey buildings of Lodz and they've had a fair amount of success (with 21 murals up in 2012).
Every artist has their own unique style but as a whole, Polish street art has a distinct realism. Many murals are like children's book illustrations and feature distorted iterations of the human form, with long drippy limbs, somber Eastern European faces, and colorful clothing. Perhaps the general acceptance of street art as a way to bring aesthetic value to the country allows artists to take their time with details and colors without fear of being thrown in jail for expressing themselves on public property.
Artists You Should Know
Etam Cru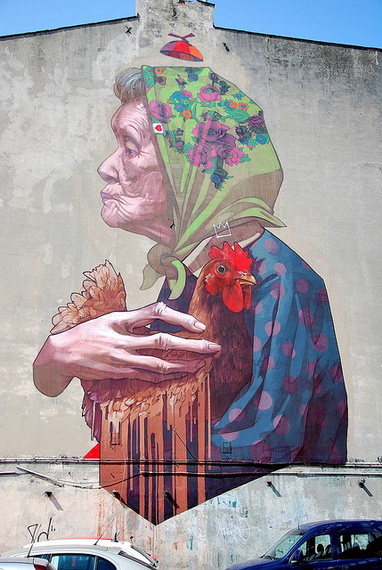 Photo by: Zorro2212
The most popular Polskiy can shakers, Etam Cru is comprised of Sainer and Bezt, two incredibly talented street artists that also create kick-ass studio work. Their pieces are huge and feature hyper-realistic characters and trippy scenery like a brightly-colored dilapidated shack propped up like a mousetrap, hot gypsy chicks decked-out in fashionable travel rags, and large surrealist panoramic works. Take a look at "The Race", to get some insight into Bezt's approach to the craft.
M-City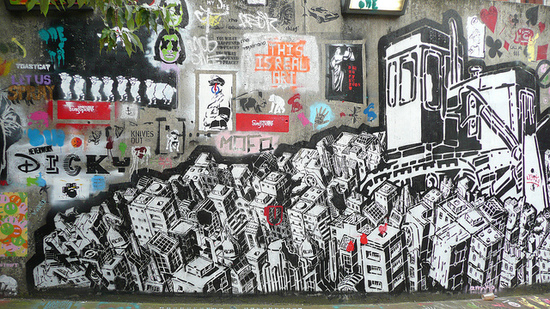 Photo by: Thaddeus Maximus
Born in Gdynia, Mariusz Waras holds a degree in graphic arts from the Academy of Fine Arts in Gdansk. His pieces are best recognized by their architectural quality, usually a highly-detailed collection of buildings stacked on top of each other in wild geometrical patterns. Sometimes he'll throw in a monkey or a political figure behind the boxes for shits. In addition to painting up the streets of Poland with his distinct architectural forms, M-City teaches, collects, and curates Polish street art.
Chazme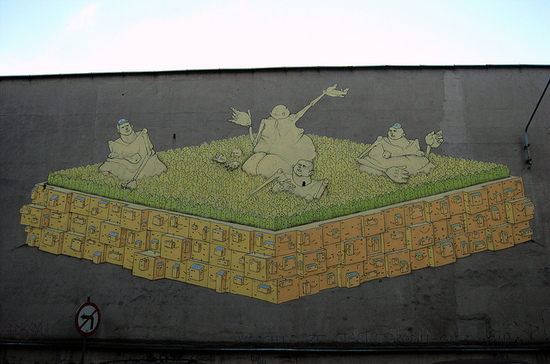 Photo by: Krzusztaf Duda
Chazme is hard to put into a stylistic box. While a lot of his work can be identified by sharp, geometric prisms and cityscapes, he also collaborates with other artists on the streets. These projects often result in a mash of styles that create an interesting aesthetic which bends Chazme's shapes together with surrealist bodies and splashes them all over cities like Warsaw and Poznań.
Sepe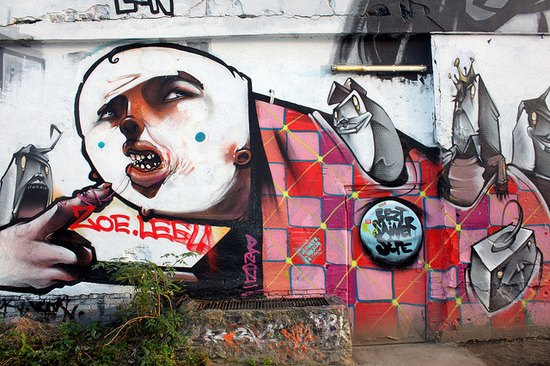 Photo by: Lord Jim
Michal "Sepe" Wrega's style is all about paint splatters and drips that feature human forms with exaggerated bellies and expressions. While he does a lot of solo pieces, Sepe collaborates with other street artists, like Chazme, to create multi-faceted murals.
Where to Find It
From Warsaw to Gdansk, and the other consonant-heavy cities all over the country, the rule here is to look for the tallest, greyest building and give it a once-all-around; chances are you'll find some incredible art splattered on at least one side. Poland is also big on street art festivals including Katowice, Galeria Urban Forms Festival in Lodz, and Poznan's Outdoor Spaces Festival. Here's a little direction to point you towards the best art finds:
Warsaw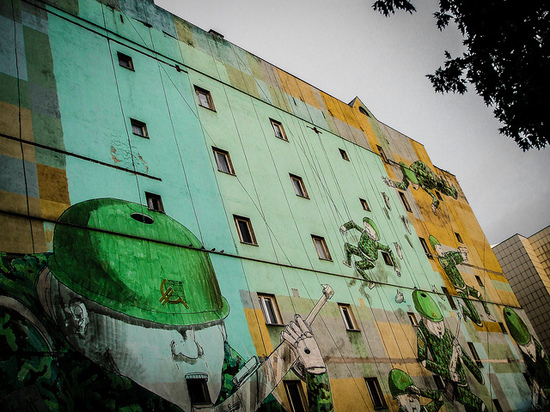 Photo by: Marcell Dietl
Nicknamed the "phoenix city," because of its history of post-war resurrection, Poland's capital is skillfully sprayed with words and pictures by the likes of Etam Cru (check the monkey business on Dzielnej Street), Sepe, and many others. To catch a long stretch of art, drive along the road at Wyścigi and watch the artists and styles morph into one continuous picture of Polish street art.
Lodz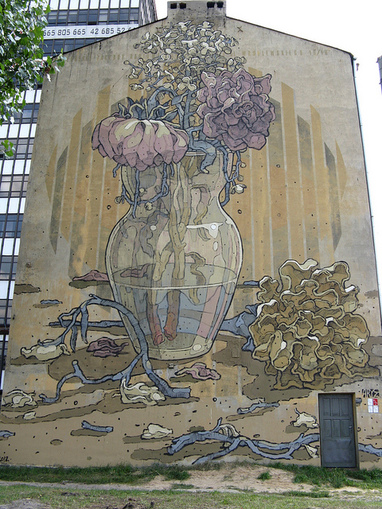 Photo by: Zorro2212
The home city of the Urban Forms Foundation, here, you will find a collection of works by both locals and artists from all over the world. Check out Spanish-born Aryz' beautiful wilted flowers, Lump's bloody heart, and (our favorite) Sainer's blue-haired, gypsy chick.
Gdynia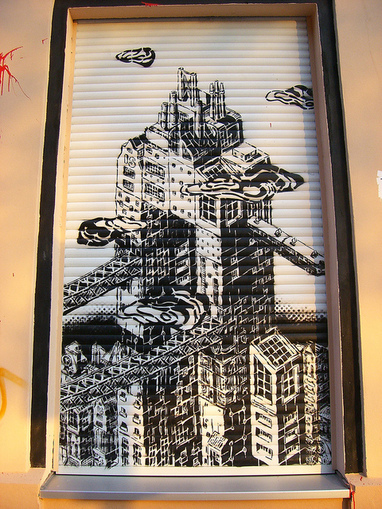 Photo by: CBS Fan
Here, you can spot many works by SAINER (one half of Etam Cru) but come to Gdynia to pay homage to M-City, whose architecturally-inspired works hide in the city's cracks and crevices.
Wroclaw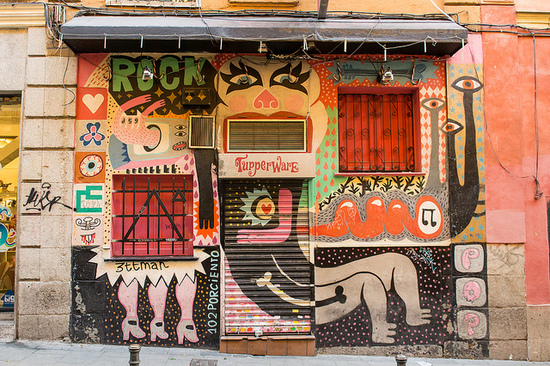 Photo by: r2hox

The city itself is made up of colorful buildings with spiky elaborate architectural details all mashed together streetside and dotted with art from French-born Remed and a crafty Hungarian named Mr. Zero.
Shedding its warlorn past one eccentric mural at a time, Poland is undoubtedly a huge street art hub in central Europe. This country will also gladly stuff you full of grandma's dumplings and local, unpronounceable beer to keep you fueled throughout your quest for unique visual stimulation.