Find out how the sandy mole-people of Australia get deep down.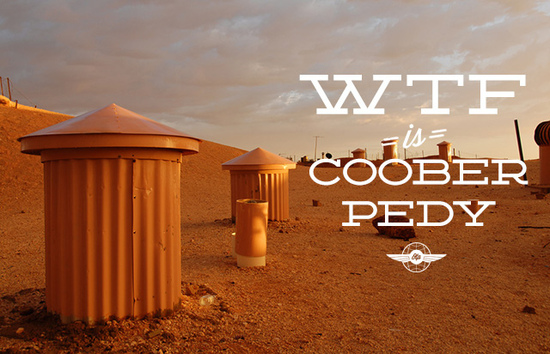 Photo by: Whale05

Australia's anti-oasis between Adelaide and Alice Springs, this lovable little wackjob town is the opal capital of the world. It's so asscrazy hot out there that the town's population of about 3,500 decided to screw AC and live way down under. Burrowed in the steady temps of the underground, their homes are legit dugouts, usually discernible only by the little metal chimneys poking up from the sand.
Digging In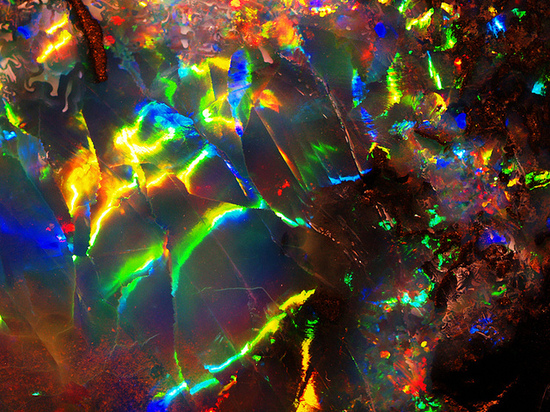 Photo by: Assignment_Houston_One
No surprise, the Aborigines got there first. They'd been wandering the area for thousands of years before any Europeans set up camp. In 1915, William Hutschison, the youngest member of a crew of Adelaide gold prospectors, wandered from camp in search of water. A few hours later, 14 year-old Willie came back quenched and with a sugar bag of opal. Scottish born explorer John McDouall Stuart, however, was the first to pass through Coober Pedy in 1858 (for five years they called it the "Stuart Range Opal Field").
This was before Twitter, so it took a few years for opal to trend. Miners trickled in for a few years, aided by the shiny new Transcontinental Railroad in 1917. So the story goes, some of the first miners were soldiers that just returned from France where they were used to living in trenches, and started the local tradition of living in dugouts digs.
Blowing Up the Coob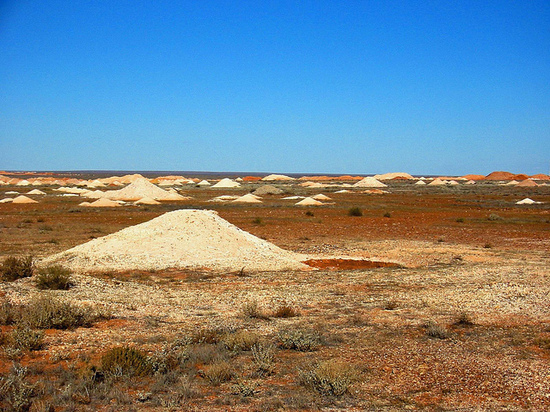 Photo by: Thomas Schoch
In 1919 the first rush hit. Coober Pedy was now 500 thirsty residents deep. In 1924, the government built a bigass water tank, and each person got a ration of 110 liters a week. Today, they pump in their (pricey) water by underground pipeline from 25 kilometers out of town. The town cleared out around the Great Depression, and things kept quiet until 1945, when Aboriginal Toddy Bryant discovered opal central Eight Mile Field, setting off a healthy boom. Ole' Pedy kept growing through the 60's and 70's with money-hungry European migrants, becoming the modern mining town she is today.
Around the Underground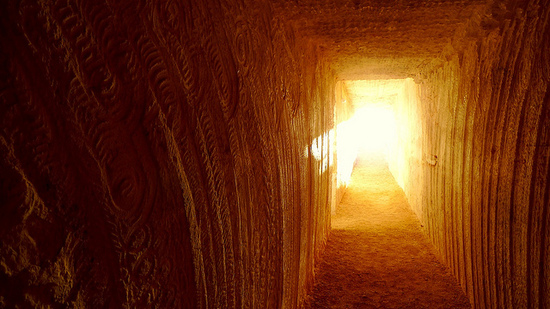 Photo by: DuRemMi
From the flat-topped mesas and stony gibber deserts of the Breakaways to the Moon Plain's mind-blowing flatness, Coober Pedy looks like the backdrop of a Sci-Fi flick or an off-kilter cult classic. Aside from digging for treasures, you're gonna want to take in the so-weird-it's-Helena Bonham Carter -beautiful landscape and tour it up.The Coob is kind of a big shot when it comes to movie appearances as Mad Max Beyond Thunderdome, Red Planet, The Adventures of Priscilla: Queen of the Desert, Pitch Black, Until the End of the World and Salute of the Jugger were all filmed there. The minefields are an eerie vista of molehills where most Cooberfolk make their money. Watch your step; even Tiger Woods wouldn't want to slip down into these open shafts.
OTP Fun Fact: The Dingo Fence outside of town is the longest man-made structure in the world.
Tripped-Out Tours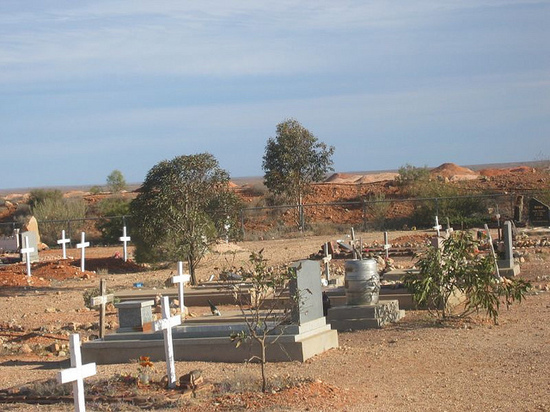 Photo by: Percita
You can drive yourself around town - if you've got your own car, try and catch a Saturday screening at the drive-in - but an organized tour will no doubt score you time with characters who have some solid storytelling skills. A proper town tour will take you to the Coober Pedy's local graveyard, constructed of scrap metal, and the site of a keg grave, where one miner rests in bubbly peace. You can also tour the town's first mine, a C.Y.O.T. (Carry Your Own Turf) golf course, a catacomb church and a sinful cave called "Crocodile Harry's Underground Nest."
Harry's Croc of Crazy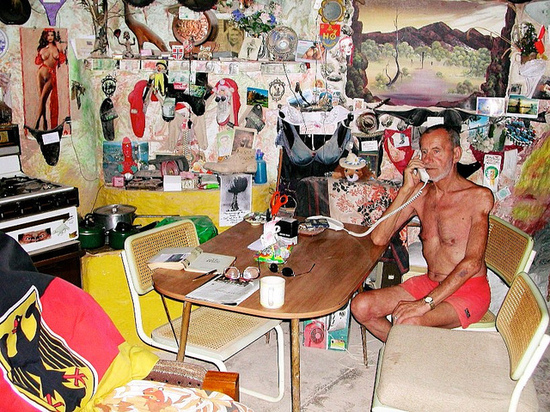 Photo by: Werner Bayer
The man who called this dirty hole home passed away in 2006, but his museum lives on. The walls of this self-proclaimed "pimp's burrow" are decorated with bras and addresses of his past lays, with plenty of raunchy "art" like naked chicks with gremlin-like lady parts. A bush legend, Harry told tales of his pre-opal mining days as a Latvian Baron-cum-crocodile hunter.
Freak Fest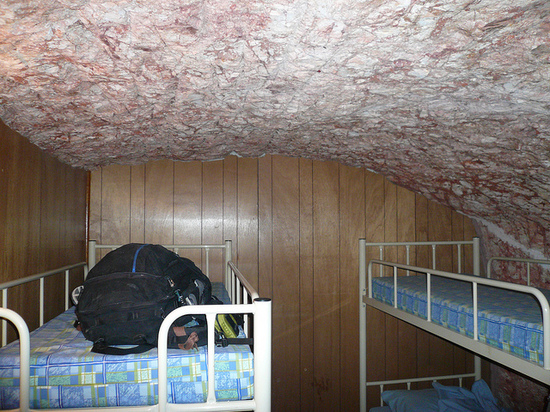 Photo by: eyeintim
Coober Pedy is bizarre all year round, but if you want to go for something special, visit during April's annual Opal Festival. The day features an Opal King and Queen contest where you can flaunt your "opal mining and outback living prowess," plus an (opal) sack-holding contest, followed by an explosive sausage toss.
Amplify the weird by adding tipsy to the mix at the underground bar, sleep it off in an underground hostel, then scoop up a few shiny rocks and peel out before you get too comfortable in the post-apocalypse.
Written by: Jaclyn Einis