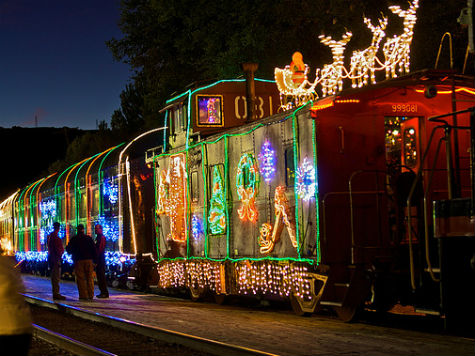 Oh by gosh, by golly. The holiday season is officially in full swing. The shoppers and tourists have descended upon Union Square (more than usual!), and come Saturday the streets will flow with drunken Santas.
While we love our city and all its festivities, sometimes the crowds and carols make us want to scream, "Bah humbug!" At these moments, it's time for a city break. These unique holiday activities around the Bay Area will help you escape the madness and keep your holiday cheer intact.
What: Oh, Christmas tree.
Where: Rancho Siempre Verde Christmas Tree Farm in Pescadero
Why: In a treehugger conundrum over your Christmas tree? Most experts say that live trees are greener (pun intended) than artificial ones—and a nicer tradition too. At Rancho Siempre Verde, it's not just trees but tractor rides, ocean views, and all the marshmallows you can roast. Plus, the trees are stump cultured so that they grow back year after year (they don't call this place "always green" for nothing).
When: Open 9 a.m. - 5 p.m. daily.

How: The very nature of transporting a tree necessitates a car, but you're doing the environment a service by keeping another toxic artificial number out of it (learn more about cutting your own trees here).
---
What: Love Shack, Baby.
Where: The Boat Shack at Nick's Cove in Point Reyes
Why: Escape to the edge of the earth (or the edge of Tomales Bay, anyway). This humble warming hut beckons from the edge of a twinkling pier. You can bring your own food and drink or pick up a tasty bite at Nick's Cove (at the beginning of the pier) before heading out to get toasty by the wood-burning stove. We can't guarantee there won't be carols around the upright piano, but in a place like this how can you not be in the spirit?
When: Open daily; Nick's starts serving dinner at 5 p.m. Better yet, make a day of it with these great Point Reyes activities.
How: The Boat House is free and open to the public (and their pups!). Take Golden Gate Transit bus 24 to the Fairfax -- Broadway & Bolina stop, then transfer to the Public Transportation to the West Marin Stagecoach (bus 68), which runs to the Bear Valley Visitor Center.
---
What: Crippsmas Place
Where: Cripps Place and Wellington Place, Fremont
Why: Any other time of year, this unassuming stretch of suburban Fremont would just as soon warrant a visit as, say, Fresno (no offense, Fresno), but for this former Fremont girl, Christmas just doesn't feel real until the traditional holiday pilgrimage to Cripps. Mr. Robert "Spider" Cantley began building elaborate wooden lawn ornaments in the 1960s, and soon the fever spread so that popular characters from Mickey Mouse to Charlie Brown were parading in their holiday best in front all the homes on Crippsmas Place (yes, they cover the street signs).
By the time Cantley moved in 2004, the magic was so ingrained that a group of neighbors (the Cirppsmas Club) carried it on. Today, the cast of characters can mostly be found on neighboring blocks, but Santa still comes out to pass out candy canes and collect money for the Leukemia Lymphoma Society, in memory of Robert's mother Nan.
When: Evenings throughout December (go after dark for full effect).
How: Take BART to Union City, and catch the AC Transit bus 264 or 275 to Fremont Boulevard/Nicolet Avenue (crippsmasplace.org). Or go early and and take the Niles Canyon Railway Train of Lights, a magical holiday journey through Niles Canyon. Trains depart from Niles Canyon Railway (36001 Mission Boulevard) at 4:30 p.m. daily and tickets cost $25 per person (buy now as they sell out quickly!). Note that a car would be helpful to fit in both activities, but you conserve fuel while on the train and by parking and walking Cripps.
---
What: You Could Even Say It Glows.
Where: Twilight Twinkle Tours in Felton
Why: Redwood forest. Twinkling lights. The mist tickling your skin as you zip through the forest. Wearing a headlamp without looking ridiculous. Carolers and hot drinks are also present, but really, who needs 'em?
When: The two-hour tours start at 4:30 p.m. or 5:30 p.m. on select nights (see the website for the full schedule.
How: Tours cost $80 per person, and guests must be at least 10 years of age. Come out early and play at Roaring Camp Railroads before you tow the line. Take Caltrain south to the San Jose Diridon Station and catch the Highway 17 Express towards Santa Cruz. Get off at Cavallaro Transit Center and take the 35/35A bus to Felton Faire Bus Stop.
See the rest of our holiday picks. Where do you go to enjoy (or escape) the season?
Photo: moyerphotos.