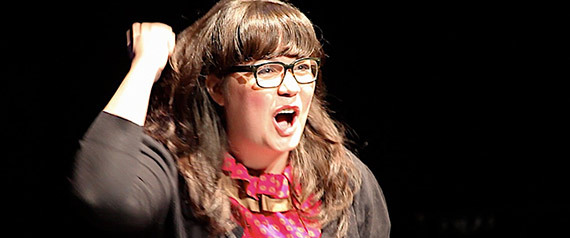 This story was written and performed by Mandy Aguilar for the live, personal storytelling series Oral Fixation (An Obsession With True Life Tales) at The McKinney Avenue Contemporary in Dallas, on January 22, 2013.
The theme of the show was "Cloud Nine."
"I've returned to this funny story again and again," says Oral Fixation creator and director Nicole Stewart. "I think Mandy Aguilar really captures the feeling of being a fangirl ready to do what it takes to make a connection with the object of her affection. Sometimes it works and sometimes it comes off creepy -- and she owns it either way. Read her story here and don't miss her memorable performance in the video below."
You've seen my kind before. I'm the starry-eyed girl standing in the front row of the concert, singing every syllable, arm held aloft in solidarity with the music. The girl who knows what the bassist drinks and where the singer attended college.
I wasn't always this way. My life began on a remote farm in Arkansas, surrounded by cows and rolling hills. It was lonely for a girl with a big imagination, especially in the days before cell phones, satellite TV, and the Internet.
But I did have music, and that was my connection to the world.
I started small, by writing letters. Like the one I wrote begging Janet Jackson to play concerts in nearby Fayetteville. I settled for joining her fan club when she couldn't work that into her schedule. And I nearly died when Michael Crawford, star of The Phantom of the Opera, answered my fan letter and enclosed a signed photograph. But there was no way to meet such superstars. The closest we had to a celebrity back home was that bank manager who used to be a University of Arkansas cheerleader.
Once I was exposed to more obscure music, however, I realized my true calling in life: I am a fangirl for underdogs.
My first in-the-flesh fan encounter was during my junior year abroad in Dublin. One of my idols, barely famous singer Gavin Friday, was eating dinner with U2's drummer in a hole-in-the-wall restaurant. I left my table and headed to his. After touching him on the shoulder (then poking him a little harder until he turned around), I choked out something like, "Your songs mean so much to me," and "You've changed my life," and "I'm so sorry I ruined your dinner."
Even though the rest of the patrons howled in laughter at my stammering, American earnestness, I was euphoric as I sailed out of the restaurant. I had communicated what I so badly needed to communicate -- that Gavin Friday had made a difference to me.
I came back from Dublin with a passport full of stamps and a slew of new musical addictions. I played their albums nonstop, safe in the knowledge that I was so much cooler than everyone else.
The most meaningful fan encounter came three years later. I was still living in Arkansas, working a boring office job, totally in love with the frontman for Welsh band Super Furry Animals.
The Super Furries had a large U.K. following but were mostly unknown in the States. Their singer, Gruff Rhys, was a tall, skinny, handsome intellectual who drove around in a military tank and sang in a politically charged mix of Welsh and English.
We had never met, but I spent my evenings learning Welsh from audiotapes, just in case. And one of those evenings, I paid $37 in an online auction to win a loaf of bread baked by Gruff himself.
I was sure that winning this auction was the start of a beautiful relationship that would culminate in a stone chapel on a windswept Welsh mountain, as I said "I do" in Gruff's native tongue and he married the girl who bought the homemade bread.
Weeks passed, with agonizing updates from the auction manager. "They're in the studio." "He'll bake it this weekend." "No, this Saturday instead." Then finally: "The bread is done!"
It was all happening: Years of fandom finally paying off. I would leave this backwater town and go back to the British Isles where my heart belonged, surrounded by the music that made me feel everything.
The bread was stopped at Customs and not allowed to leave the U.K.
Instead, I received a box of rare Super Furry Animals memorabilia and a lovely handwritten note from Gruff Rhys. It was a sweet and acceptable substitute for the bread. I framed the letter, of course.
A year later, I moved to Austin, Texas. Super Furry Animals were on tour, and I had tickets to both Texas dates. My friend and I drove up to Dallas for the first show. We were hanging out on the upper level at the small venue when I spotted him: Gruff Rhys.
Ten feet away from me, watching the dreadful opening band. He was alone, as if surrounded by an impenetrable halo of angels, or rainbows, or unicorns.
This was my chance! I didn't trust myself to speak, so I fished around in my purse to find pen and paper. My knees were shaking as I walked up to him and handed him a note. It said, "Hi, Gruff. Where's my bread?" He read it, looked down at me, and cracked a huge smile.
"You won the bread?"
In his lilting Welsh accent, he lamented the narrow worldview of U.K. Customs and told me how sorry he was. Then he hugged me. Voluntarily. "Bliss" doesn't begin to describe what I felt.
"Wait right here," he said, before disappearing backstage.
Five minutes later, he returned with a loaf of sliced bread and a rueful smile. "It's not as good as homemade," he said.
I was astounded that he cared enough find a replacement loaf. I thanked him profusely, and he left to get ready for the show. I clutched the bread to my chest as the Super Furries put on the best concert I had ever seen.

I couldn't wait to see him again in Austin the next day.
Back at home, I put the sacred bread in the freezer for safekeeping and got ready for the show. My new boyfriend was going with me, and he didn't seem to mind that I was a rabid fangirl. He liked Super Furry Animals, too. I even charmed him into baking cookies with me before the concert.
At the venue, I found Gruff at the side of the stage, standing by himself, just like in Dallas. "I BAKED YOU COOKIES!" I shouted over the same dreadful opening act. "FOR THE BAND! THESE HAVE NUTS AND THESE DON'T -- IN CASE ANYONE IS ALLERGIC!" I held out the baggies of cookies, and he took them gingerly. "NOW WE'RE EVEN. YOU GAVE ME BREAD. I MADE YOU COOKIES!"
The look in his eyes said "back away slowly so the crazy girl won't know you're on to her poisoning scheme." He thanked me and retreated backstage.
I was mortified. I had ruined everything with my stupid, overzealous cookie baking! I stayed for the concert, but the magic just wasn't there anymore.
Years passed. I saw a few Super Furry Animals shows but kept my distance. No more bread, no more cookies. That dream was over.
Instead, I married the boyfriend and eventually threw out the freezer-burned bread. These days, I'm more likely to rave about a debut author than some band I heard about way before you did. The awkward fan encounters are long gone.
Well, pretty much. Recently, I met famously shy author John Green on his book tour. I handed him my copy of his latest best-seller to sign, as well as a homemade T-shirt inspired by that book. He joked that all of his clothes were dirty, so he might wear it soon. Naturally, I offered to do his laundry. At my house.
Other than that? Totally reformed.
In the summer of 2012, Gruff Rhys embarked upon a small solo tour of the United States. There were no Texas dates, so I flew to Memphis to see a show.
I sat alone in the audience, heart racing, wearing a grin so big my cheeks hurt. For me and the 40 other fans there, it was a magical night, with Gruff's warbling mix of Welsh and English uniting us in song.
Afterward, I waited for my friend to pick me up from the club. Gruff was at the side of the bar, graciously chatting with few fans. I told myself not to bother him this time.
But my friend was late. And my hands were already shaking.
"Hi. Gruff? A long time ago you gave me a loaf of bread."
His face lit up. "In Dallas?"
"Yes, that's me!"
It turns out that Gruff Rhys still thinks about the bread every so often and still feels bad that I didn't get a homemade loaf. We talked for a few moments, the graying Welsh singer and the not-so-young fan, almost like old friends. This time, I hugged him, before hurrying back to the real world.
I will always be the star-struck girl with the huge imagination. I know I'll never go home with the singer, but I can't stop loving music or caring about the people who make it. Songs will always serve as memories, they will fuel my dreams, and they will be my connection to the world.
Crazy Bread Girl lives on, my friends. She lives on.