I am a mother to the most amazing, surprising, delightful child. Since the moment he came into my life, actually since conception, he has taught me more lessons than I have learned in my thirty plus years of life.
Amidst all the joy, the challenges, the growth, I struggle every day to provide a life that is rich and abundant. In our life, riches and abundance aren't what you may imagine. It has been just me and him since day one. I have family who have held us, and continue to hold us emotionally, sometimes giving us a roof over our heads when we were in transition, but in the end it's the two of us. Always has been.
But I strive for the richness and abundance our life has to offer that has nothing to do with money (although money would be nice). It's connection, spending time together doing things we love, sharing life activities like cooking, cleaning, imaginary play, hiking, exploring. Laughing. It's the morning tickles, midday wrestles on the bed, and bedtime stories at night. Looking at his sweet face as he sleeps. It's the drives to school when we talk about everything while admiring the nature around us. It's his little soft hand in mine as we walk down the street. It's the "Mama, I love you," and the "street jeams" (sweet dreams).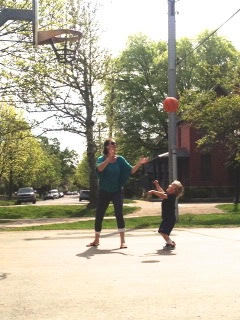 And yet, I feel the drain each day of an empty wallet, an empty bank account, working for wages that go right back into basic living expenses, each penny is already accounted to go out before it even comes in.
I know it can be different, I strive and work for it to be different. I dream.
And I find many ways to use foods, clothes, time.
Food: I buy foods that can be used in different ways. For example, plain yogurt. It has probiotic health benefits, can be dressed up with seasonal fruit and maple syrup (another all purpose food to put in yogurt, oatmeal, coffee and tea, baking, squash) for a healthy sweet snack, or added to tacos or dip in lieu of sour cream. Cook simply and don't eat out. I cook delicious, nutritious food full of vegetables and fruits (which are the most affordable food group), make a chicken soup each month, and make extra broth with the leftover bones, skin and meat (delicious, nutritious, and useful for cooking everything else in the following weeks) and shop at farmer's markets and on the outer edges of the market where food is fresh, healthy, and has a lower price point. And in the end, I couldn't do it without the support of my trusty EBT card, and I am grateful.
Clothes: For my son, whether I get hand-me-downs or find deals at the recycled clothing store, I always go for one or two sizes bigger. In the winter it's good for layering and overall they last longer. For me, my wardrobe is neutral with a couple bright (recycled) pieces so that I can dress up or down by mixing and matching limited options.
Time: Instead of working full-time, I have pieced together my income over the years with part-time work. I vacillate between providing for us financially while trying to be more physically, emotionally and spiritually available for my son. I'm sure any parent, especially we who are the sole provider works with this balance. It's a big job for one person! For me, this has meant being creative and resourceful. I choose jobs that are family friendly. I choose self employment, which can be stressful, but in the end I make the rules. I get to take my son to work when I clean houses, or on quiet days in the office. I find ethical opportunities to barter to reduce the cost of living and childcare and to get our needs met.
And think outside the box. I save gas by using downward hills to my advantage. We use less of everything, which is good for the wallet and good for the environment. We find playthings in nature. I decline certain social situations like dining out and encourage others like parks and hikes. We "eat out" at the market where I can use my EBT card. I trade childcare.
So while somedays I struggle with the overwhelm of not knowing how rent will be paid next month, I keep returning to love and joy we share. I sneak peeks at my sparky boy as he spins tales of knights and princes, horses and dragons (he has named me Queen), my heart melts and I am reminded that despite the day to day stresses of putting dollars together to make this life flow, we have a beautiful life together abundantly rich and full of love and magic.
--

Osha's story is part of a Huffington Post series profiling Americans who work hard, yet still struggle to make ends meet. Learn more about other individuals' experiences here.
Have a similar story you'd like to share? Email us at workingpoor@huffingtonpost.com or give us a call at 408-508-4833, and you can record your story in your own words. Please be sure to include your name and phone number.
PHOTO GALLERY
12 Things Every Woman Should Know About Money