Feel like getting social while going green(er)? Launched earlier this summer is Greenopolis, a social networking site that functions like the others, i.e., Facebook and MySpace, just with a green twist.
The site connects people and businesses on green issues and is sponsored by WasteManagement, a $20 billion company.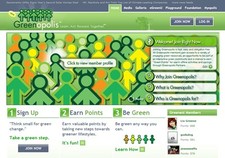 Users create a Green Profile and can rack up Green Points. This shows how much you care about the environment. Greenopolis says its function is to teach people about ways to be more environmentally sound. Of course, a night out at a GreenDrinks gathering goes a long way as well.
For more info, check out Michael Arrington's review of the site on TechCrunch.
Another site launched not too long ago is SocialVibe. How it works is like a google ads system except the money goes to your charity of choice. OK, in English, what that means is that you choose a sponsor listed on the site that you want to be an "ambassador" of (such as Apple or Xbox) to match with your profile and any points/money earned goes to your chosen charity like Surfrider Foundation or World Wildlife Fund. You can also click on the brand logo and paste it into your Facebook or Meebo page. SocialVibe also functions as a social networking site itself. Here's the YouTube commercial that explains it: