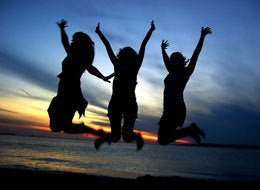 Exquisite. Exquisite is The Grand Del Mar and exquisite is the word that tumbles off the tongue at the mere mention of this opulent 249-room, $300 million resort property. The glamour and old-world decadence of The Grand Del Mar evoke the golden era of movie stars and statesmen rubbing shoulders at such famed getaways as the Hearst Castle. The luxuriant splendor of The Grand Del Mar's Resort Spa and Golf Course nestles up against the Los Penasquitos Canyon Preserve in San Diego's North County area of Del Mar.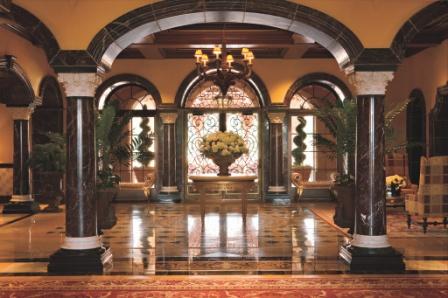 Open just a year now, The Grand Del Mar's frequent comparisons to the Hearst Castle are well understood the moment you set foot in its lobby for its attention to ornate detail and its welcoming ambiance. It made Conde Nast Traveler's Magazine Hot List 2008 for both its Hotel and Spa.
To say that The Grand Del Mar is truly a five-star resort is to risk understatement. The Grand Del Mar, like a masterpiece, overlooks no detail of craftsmanship and finery, its color palette a rich blend of golds, deep rose, terracotta, blues and greens. The property is imbued with not only elegance but also comfort throughout.
Modeled after 1920's architect Addison Mizner's predilection for romantic themes and Spanish and Moorish influences, the resort is reminiscent of the Spanish colonial palaces and architecture that were Mizner's lifelong passions.
The Grand Del Mar features an exotic mix of Spanish, Portuguese, Moroccan and Venetian design elements. Its elegance sets a new standard for luxury resorts, and not just in San Diego but, arguably, west of the Mississippi. That The Grand Del Mar retains its relaxed, home-like feel is further testament to architect Altevers' adaptation of Mizner's style. The fireplaces in the lobby, the bar, the library all evoke the feeling of being an honored guest at a friend's (opulent) country manor. When considering the holiday season, this luxurious comfort, this elegant familiarity, make The Grand Del Mar an ideal choice for gatherings large and small of family, friends and colleagues.
Distinctive to The Grand Del Mar is its strong indoor-outdoor relationship. The resort's architecture respects and harmonizes with the natural environment and its climate, in keeping with the Mizner philosophy.
The Tom Fazio-designed championship golf course hugs up against the Nature Preserve and was designed to respect the Los Penasquitos Canyon Preserve's natural elements by blending the course with the landscape.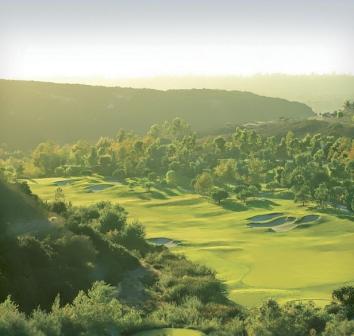 The Grand Del Mar's Tom Fazio-designed Golf Course
A dramatic, 75-foot long, 22-nozzle fountain extends from the lobby towards the golf course and the grand entryway, the long driveway leading from the gatehouse to the resort entrance, is lined with Canary Island date palms. The resort's Mediterranean style is evident throughout from the imported Carrera marble used in The Spa to the large pieces of heavy antique furniture that you likely would only otherwise see in a Spanish or Italian Colonial Palace.
The Elizabethan Capella, the non-denominational chapel that "Papa" Doug Manchester, owner of The Grand Del Mar, insisted on being a feature at the resort, is a sanctuary that has rusticated timber beams and multi-hued stained glass windows. An artful mix of Jerusalem gold-honed limestone flooring is blended with marble imported from both Italy and Egypt. Perfect for weddings or large gatherings, its 28 removable pews can seat 200. For weddings, the cost of the chapel is $5,500 when you host your reception at The Grand Del Mar, otherwise it is $10,000. The outdoor grounds overlooking the golf course avail themselves spectacularly for hosting large events whether personal or corporate.
The Wine Cellar Room is another distinctive attribute to the resort. Located on the ground floor, it is a dining room located in the resort's cellar whose walls are lined with vintages from around the world and various decades. The heavy wood dining table seats 12 and one can easily imagine a dignitary or a Diva presiding at its head.
The Grand Del Mar offers 20,000 square feet of flexible function and meeting space, including a 10,000 square foot ballroom. The 8,400 square foot event lawn overlooks the golf course and features a gazebo. An interactive kids' center, The Explorer's Club, offers supervised children's programs.
Standard rooms are approximately 600 square feet and are more accurately called "suites" like at the Venetian. They feature Pratesi sheets, down mattress pillows, soaking tubs that are shoulder-height when seated in them...small flat screen TVs over the double marble sinks as well as the large, 40" flat screen LCD TVs in the bed/sitting room.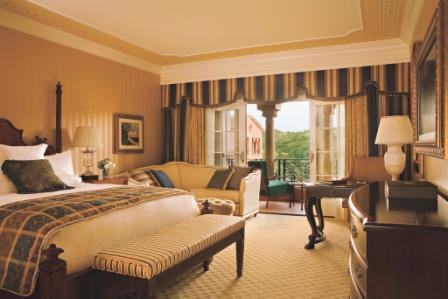 WiFi is readily available in the rooms and on the property which features a full service business center. The in-room wet bars offer premium liquors in 200ml bottles as well as two complimentary Fiji bottles of water. The Grand Del Mar's Presidential Suite is 2,840 square feet and has private balconies. Concierge service is 24 hours as is in-room dining. Housekeeping service is twice daily. General Manager Vikram Sood appears to have missed nothing when it comes to offering The Grand Del Mar guests gracious and efficient hospitality.
If you like to take your dosage of decadence with a straight shot of nature, this is the place. The Grand Del Mar keeps an on-site Naturalist on staff who spearheads recreational events such as nature walks, children's canyon expeditions and mountain bike tours. The Los Penasquitos Preserve offers 37 miles of hiking, biking and horseback riding trails. The public park offers interpretive hikes, educational talks and access to historical landmarks.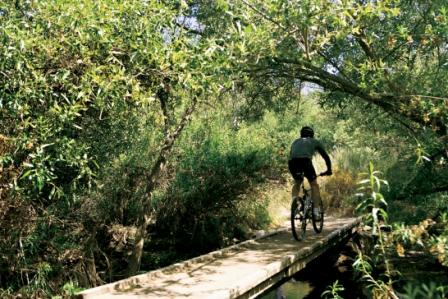 Bike Trails in Los Penasquitos Canyon Preserve
The Preserve is one of the last remaining coastal canyons in San Diego. It has 140 million year-old sedimentary rock deposits and in conjunction with continually flowing water, the Preserve's terrain and soils form more than 14 habitat-types that support more than 500 species. More than 175 types of birds make their home here; Also bobcats, coyotes, fox, mule deer and the occasional mountain lion. Most of these are endangered and protected within the preserve.
Human history in the canyon dates back 7,000 years to the prehistoric La Jollan culture. It offers fresh water, plants and herbs and was later inhabited by the Kumeyaay and San Digueno Indians.
A boulder-studded waterfall which cascades through volcanic rock is midway down the canyon. In the 1820s the historic Santa Maria de Los Penasquitos Adobe was constructed. That was back when the preserve was part of the first Mexican land grant in San Diego County. The walls of this original adobe still remain within the much larger ranch house built in 1862.
The Los Penasquitos Canyon Preserve is a 4,100-acre expanse of land that stretches for 7 miles just east of the San Diego coastline right alongside the Grand Del Mar resort. Trickling streams, fish-filled ponds, tree-lined trails await you.
The Spa at The Grand Del Mar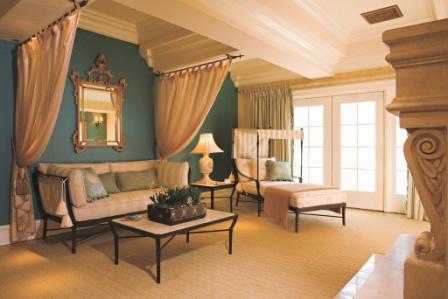 The Spa at The Grand Del Mar embraces the theme of Renaissance. If the Renaissance refers to a time of creativity, exploration and higher consciousness as well as rebirth, renewal and regeneration, then The Spa hits its mark.
The Spa uses herbs, flowers and other resources in its remedies gathered from the nearby Los Penasquitos Canyon Preserve. The services are designed to allow guests to reconnect with earth's elements: enriching warm mineral muds and clays, native herbs, soothing stones and calming botanicals.
Men and women have separate, luxuriously appointed locker rooms and relaxation rooms in this 21,000 square foot spa which features 11 generously appointed spa treatment rooms, including a plush couple's suite, for massage, hydrotherapy, facials and other beauty treatments.
Earthy creams, soft blues, beiges and taupes are the hues that decorate the women's spa area accented by framed silk Hermes scarves. The Men's side also has stone fireplaces, Vichy shower, steam and sauna areas as well as a European-style wet room, an indoor Jacuzzi along with a shared outdoor Jacuzzi and a spa pool however their furnishings are masculine red leather reclining chairs and vintage photos of Venice. Imported white Carrera marble gracesThe Spa throughout.
The Spa services are extensive and include everything from wedding day makeup application ($100) to their signature Hydrotherapy body wrap which cocoons you in dry sheets as it submerses you in warm, bubbly water. The floating, womb-like experience is Bliss. The "soft pack" or Hydrotherapy Immersion Bed is unique to The Spa and there is only one other currently used at a spa in California.
The Spa has developed signature treatments for its singular setting and discerning clientele. These are two popular ones:
Mineral rich mud applied to the entire body, immersion in The Grand Del Mar's state-of-the-art 'free-floating' hydrotherapy Spa system, a rosemary-infused cascading Swiss (Vichy) shower, followed by a relaxing stretching massage. The Spa's signature treatment. ($310)
My spa therapist for this treatment, Claude Jacobs', attention to detail included such things as wrapping my feet in warm towels while he massaged my neck and setting the temperature just right for when I stepped into the Vichy shower to wash off the mud treatment. As I was immersed into the hydrotherapy bed he noted that the huge smile on my face was the only reaction from Spa guests undergoing this therapy he'd yet seen.
A relaxing, mineral-rich bath in a tub big enough for two. This is followed by a moisture-intensive wrap as your head and feet are massaged into a state of bliss. A 60-minute full body massage completes the treatment for you and your partner. ($600 for both)
The Spa treatments at The Grand Del Mar are designed to fully rejuvenate the body and spirit. Other amenities include heated towels and blankets, soft pillows and linens, complimentary waters, hot teas and other organic refreshments. Victoria Kresge is The Spa's operations manager.
Top New Spa, Conde' Nast Traveler's "2008 Hot List" May, 2008.
The Spa at The Grand Del Mar Skin and Body Care Collection
This is a healing, non-invasive and energizing product line designed to complement The Spa's menu of services. Inspired by the theme of the Renaissance and that The Spa sits adjacent to the Nature Preserve they aimed to use the healing elements from the plants, herbs and mineral-rich clays indigenous to the area.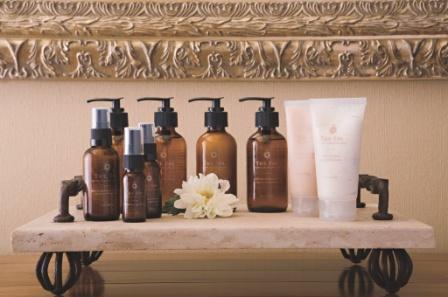 The Hydro Lipid Restorer is formulated to hydrate skin at the cellular level. It is made with essential and gamma fatty acid oils from Rose Hip Seed, Evening Primrose, Avocado, Apricot Kernel, Jojoba and Wheat Germ Seed as well as blended with essential oils of Jasmine, Frankincense, Vetiver, Valencia Orange and Carrot Seed.
The Spa's Rejuvenating Skin Dew was designed to relieve emotional tension in the nervous system and stimulate formation of new cells. The Clarifying Skin Elixir is lightweight and protective, antiseptic and antibacterial and uses stimulating properties of Thyme vulgaris, Rosemary and Lavendar.
All of The Spa at the Grand Del Mar's Skin and Body products are paraben and sulfate free.
Dining at The Grand Del Mar
With all the attention that Addison, The Grand Del Mar's crowning restaurant, has received since opening in 2006, it is mistakenly easy to overlook Amaya, the resort's main restaurant that serves breakfast, lunch and dinner. But to overlook Amaya and its winningly genial and talented staff, Camron Woods, Restaurant Chef and Humberto Ramirez, Amaya's Assistant Manager and acting Sommelier, would be to do yourself a disservice.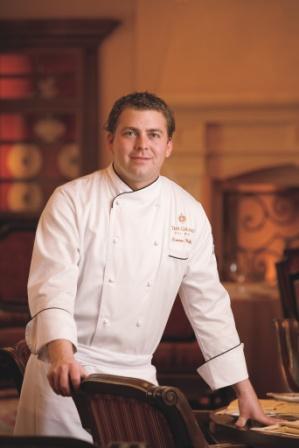 Amaya's cuisine is Mediterranean. Chef Woods pride fully cultivates his own fresh herb garden just to the side of Amaya's outdoor terrace. He grows basil, thyme, rosemary, oregano, hot peppers and chocolate mint that is so abundant it provides all the fresh herbs for his kitchen. He also grows fresh tomatoes in the garden and next year they will be planting a larger vegetable garden on the grounds to supply his kitchen with the succulent tastes that only garden grown fresh vegetables can deliver. A native of South Carolina, Chef Woods still finds California fecundity astounding and is delighted to have all the fresh raw ingredients he could ever want to whip up his extravagant delights in Amaya's kitchen.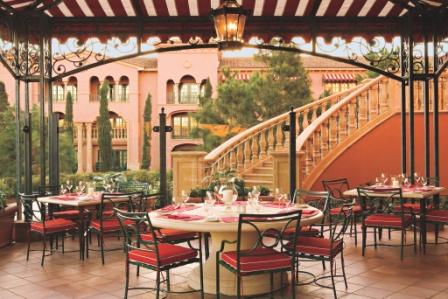 Rich is the word to describe the menu Chef Woods created for our meal. As someone who has had the privilege of experiencing fine dining in culinary capitals such as Paris, Tokyo and New York, Amaya's offerings had me floating on the tastes of these unique food combinations.
Seared Jumbo Scallops, that were handpicked so as to preserve the ocean were served with Seared Duck Foie Gras (duck, as opposed to goose, is not force fed). These were served over a cauliflower puree and with Sommelier Ramirez's suggestion of La Roncaia, Verduzo, Ramandolo, Friuli, Italy 2002.
A next course was Quail prepared two ways, Crispy fried which was reminiscent of Chef Woods' southern origins and pan roasted. Quail was served with Braised cipollini onions and Madeira sauce. Accompanying wine was Christophe Perrot-Minot, Pinot Noir, "Cuvee' Martine," Bourgogne, France 2005.
A next course was organically farmed Beef Tenderloin coupled with a cut of Braised Short Ribs that tasted like candied meat. These were served over Wild Mushroom Ragu and Crispy Sweet Potato Salad. Wine was Mouton Noir, Red Wine Blend, "Montgomery Place," Napa Valley, 2006.
The repast began with paper thin slices of Beef Sirloin Carpaccio served with Pickled Peppers and Mushrooms, Dijon Aioli. Wine: Veuve Fourny, "Blanc de Blancs," Vertus, 1er Cru, NV. Meal ended with La Grande, a wafered Chocolate Peanut Butter Torte with Banana Ice Cream coupled with an unusual but brilliantly bold pairing of Michele Chiarlo, Moscato d'Asti, "Nivole," Piedmont, Italy 2006.
That Amaya Chef Camron Woods and assistant manager, acting Sommelier Humberto Ramirez took absolute delight in their degustation expertise and creativity was supremely evident. These two passionately enjoy what they do. As food critic Abe Opincar phrased it, "They reminded me that life is, in fact...reliably punctuated by a certain measure of ease and happiness. Which is the sort of accomplishment you can reasonably expect of the finest restaurants." He wrote that about Addison, but it is equally true for Amaya.
Executive Chef of The Grand Del Mar is Jason McLeod. He oversees Amaya and the resort's entire catering and in-house dining. Jesse Rodriguez is Wine Director for both Addison and Amaya and was recently named one of America's Five Best New Sommeliers by Wine & Spirits magazine. Addison's Executive Chef is William Bradley.
The Grand Del Mar Culinary Series is one thing that cannot go without mention. The Culinary Series was designed for guests who want to meet and learn from the resort's great chefs. Each month is a different-themed class which offers a fun learning experience that participants can bring home to finesse their own cuisines. For example, January 2009 offers "A Grand Collaboration" and can be booked by calling 858-314-2000. These courses have proved so popular they fill up well in advance and even have waiting lists. Cost is $75-$150 per person.
The Grand Del Mar, 5300 Grand Del Mar Court, San Diego, CA 92130. Reservations: 888.314-2030.