"We can still be successful in this marketplace. Winners win. We can move forward. It's all about the mindset," said Earvin "Magic" Johnson in his Keynote address to the Association for Financial Professionals whose conference opened today at the Los Angeles Convention Center. Though it was widely commented upon that most attendees had to wrangle to make it to the conference this year, the room was packed with finance professionals from Wachovia, HSBC, Google, BMO Capital Markets and many others.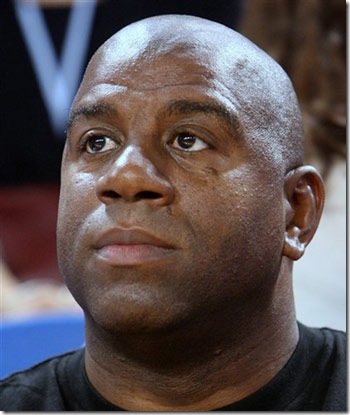 Earvin "Magic" Johnson, CEO
Loren Starr, AFP's Chairman of the Board and CFO of Invesco, said that, "Treasury and finance are being challenged like never before in the midst of this global economic upheaval." He described the AFP Conference as the "best and largest conference of its kind in the world," and stated that its membership is 15,000 strong.
"Magic" Johnson's talk with AFP attendees centered on what he's done for minority urban communities with his businesses and how he's built a successful, thriving empire meeting their demands. Candidly he divulged that before the economy collapsed in its current credit crisis, he had just closed on a $2 billion round of financing. "And then I did something that you won't see many black men do: I walked away from $1 billion. I took $1 billion and I walked away from the other $1 billion." He went on to explain that with the billion he did take he invested in key landmark property acquisitions in L.A., N.Y.C., and Washington D.C. The L.A. property, including downtown's TransAmerica building, he parceled up and turned around and sold at a mighty profit. He explained that his personal tradition of discipline, his work ethic and his "championship spirit -- meaning I love to win and I hate to lose," is what has largely driven his success.
The capital he did take put him in an enviable position. "We have capital and when you have capital in this marketplace you hold most of the cards," he said. His strategy has been a simple one. He invested in the urban, minority community that had been overlooked and under-served. For example, he said, African-Americans are the biggest movie theater-goers but there were no theaters in their communities. "So I built the Magic Johnson Theaters," he said. He explained that his approach has always been not to create demand but to meet the demand that is already there. In the next 20-40 years half of America is going to be "minority." Their spending power will be $2 trillion annually.
Johnson said his other "magic trick" is to over-deliver to your boss and your clients. When his company started investing in Starbucks in urban areas dominated by minority communities, no one believed that anyone there would pay $4 for a cup of coffee. "Now I'm not saying that we stock the counter with scones. Because I still don't know what a scone is. But we stock the counters with sweet potato pie and pound cake. And now our store average is $4.68 per person which beats the Starbuck's corporate average of $4.62," he said.
He has succeeded in bringing quality retailers, such as TGIFriday's and 24-Hour Fitness to urban minority consumers. "I put minorities to work. We are effecting change in a community that was used to having only bad things happen but now they have great things happening," he said. He cited another example of providing laptop computers through his nonprofit to kids in those same communities and has seen their grades improve by 71%.
"Minorities have to get out of dominating sports and entertainment and get into dominating money," said Johnson who is part-owner of the Los Angeles Lakers. "We can do this through good education and working in corporate America. We need to make sure minority kids dream and that they chase that dream with a good education. We are going to win. We have to have that mindset and that attitude," said Magic.
Notably there was some "Green" to be seen at the AFP Conference. It was in the form of this year's "AFP Aware" program which is the conference's initiative to be more environmentally sensitive and socially responsible. A couple points:
- AFP printed its marketing materials such as flyers, brochures, signage on chlorine-free paper using soy-based inks. It distributed CD's for conference info rather than printed material.
- AFP participated with Fidelity Charitable Services to host a volunteer day at L.A.'s downtown Midnight Mission to provide and serve a Sunday lunch to people at this homeless shelter who otherwise do not get a Sunday lunch.
- The Los Angeles Convention Center is considered the largest solar energy-generating convention center in North America. Just this past week, the LACC was presented by the USGBC with a certificate for Leadership in Energy and Environmental Design (LEED) in keeping with Mayor Villaraigosa's intention for Los Angeles to be the greenest city in the country.
- The hotels AFP recommended this year to attendees have recycling, energy and harmful chemical reduction programs.