If you are like most people you assume financial advisers work in a regulated industry that requires them to tell the truth. Nothing could be further from the truth.
If you still believe in Santa Claus, you may believe advisers are supposed to tell the truth by not omitting pertinent information and misrepresenting other information that impacts your financial decisions.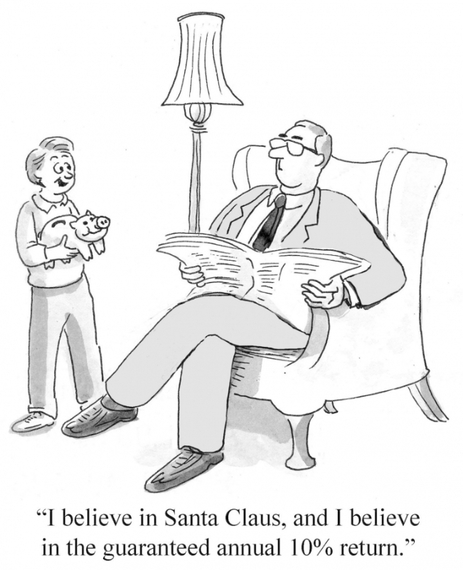 There is no Santa and most advisers do not tell the truth. The use of the word "supposed" should tip you off to what is really going on. It is critical that you know the truth about advisers so you can protect your financial interests.
You may be asking how advisers get away with omission and misrepresentation. Good question. I happen to know how they get away with it.
Verbal
You may have noticed in your dealings with financial advisers that 90% of the information that they provide you is verbal. You have no written record of what was said to you. This is not accidental. If there is a dispute it is your word against theirs. You will lose because you have no "proof" of what was said to you.
Enforcement
There are three regulatory agencies based on an advisers licensing and registration. The principal agency is FINRA.org. You can use its BrokerCheck service to check the compliance record of 675,000 stockbrokers and other types of salesmen.
Ask yourself this question? How do FINRA, the SEC, and the States regulate verbal information? They don't. You are up the proverbial creek without a paddle. Why do you think the information is verbal? The industry knows you need documentation to win any disputes that may occur.
Disclosure Requirements
Perhaps the most egregious behavior by the financial service industry is the lack of any type of mandatory disclosure requirement. That's right there are none. The industry has made it your exclusive responsibility to ask the right questions and know good answers from bad ones. In other words, you are on your own.
How big is the problem? A survey done in early 2014 showed only 7% of individual investors asked financial advisers to document key information for their credentials, ethics, business practices, and expenses. 92% made decisions based on verbal information that was controlled by advisers - big mistake.
You would be right to assume this is a massive problem for millions of Americans who do not even know the problem exists.
You Against Goliath
By now you may have figured out that it is you against goliath (Wall Street). You need assets that will help you achieve your financial goals, in particular a comfortable, secure retirement. Wall Street needs your assets to maximize revenues, profit, executive bonuses, and adviser incomes. This major conflict of interest makes Wall Street your adversary, even when it says it wants to be your new best buddy.
Only you can protect your financial interests. The regulatory agencies are not going to protect you - they don't know you exist. Your adviser is not going to protect you - he needs your assets to produce income and keep his job.
This is not the message you get on TV, but it is true. It is you and only you. It should not be this way, but it is. If you want someone to blame, you can blame Wall Street. It created this toxic environment to benefit itself.
About the Author: Jack Waymire worked in the financial services industry for 28 years. For 21 years he was the president and chief investment officer of a registered investment advisory firm. He left the industry in 2003 when his book, Who's Watching Your Money?, was published by Wiley & Sons. In 2004 he launched an investor education website, www.PaladinRegistry.com, that was based on the principles in his book. A Registry of vetted, rated financial advisors was added to the website in late 2004. Jack is a columnist for Worth magazine, a frequent blogger on major financial sites, and is widely quoted in the media including the Wall Street Journal, Forbes, BusinessWeek, Bloomberg, and Kiplinger. Follow Jack on Twitter @PaladinRegistry or email Jack@PaladinRegistry.com.
PHOTO GALLERY
Top 8 Financial Worries Of Americans