Did you know two major wars are being fought in the financial services industry and their outcomes impact you? One of the adversaries is Wall Street. It represents everything that is bad about the financial services industry. The other side is the RIAs (Registered Investment Advisers). They represent everything that is good about the financial services industry.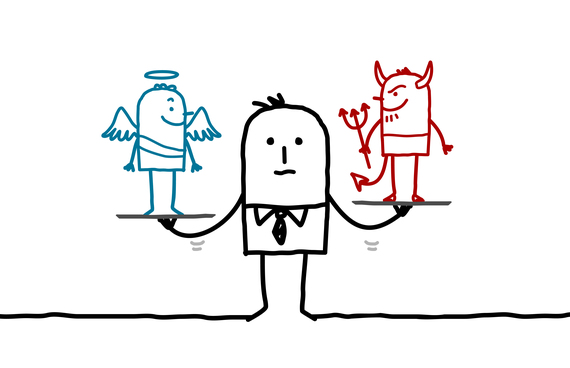 Independent financial advisory firms and credible associations represent the RIAs that believe investors deserve a level playing field.
Wall Street
Wall Street represents a status quo that allows it to abuse the interests of investors with impunity. You have seen the headlines. The biggest financial firms in the country rip-off investors and are allowed to pay fines without admitting guilt. Every criminal in America would like this deal, but it is limited to big businesses that have the right political connections.
The RIAs
RIA stands for Registered Investment Adviser. This registration permits firms to provide advice and ongoing financial services for fees. This is in stark contrast to Wall Street representatives who are limited to selling investment products for commissions.
The "F"iduciary Battle
A fiduciary is a person who holds a position of trust. What is more important than your ability to trust the person who is investing your retirement assets?
RIAs are fiduciaries who are held to the highest ethical standards in the financial services industry. Regulations require them to put your financial interests ahead of their own.
Wall Street representatives are held to a much lower ethical standard that is called suitability. This vague standard can vary by client, is subject to interpretation, and tends to change over time.
Wall Street is spending millions fighting fiduciary standards for its 675,000 stockbrokers and sales representatives. Can you imagine what would happen if Wall Street salesmen had to do what was best for their clients? And, Wall Street is liable if they did not put their clients' interests first. There would be disastrous consequences for Wall Street firms.
Probable Outcome: Wall Street will win and investors will lose. Wall Street sends $300 million per year to Washington to make sure regulations favor financial firms and not investors.
The Battle Over "F"ees
How you compensate financial advisers matters. Pay a commission and you get a sales recommendation. Pay a fee and you get financial advice and ongoing services. But, the issues are much deeper than this simple explanation.
Wall Street is addicted to commissions. A 5 percent commission that is paid up front has a lot more value that a 1 percent fee has to be earned over time. It takes five years of fees to earn the same revenue as the upfront commission.
Wall Street does not like fees for a second reason. Investors can stop the payment of fees at any time if they are dissatisfied. Continuing revenues make Wall Street accountable for producing competitive returns for reasonable expense and risk. Otherwise, the revenues stop.
Probable Outcome: Wall Street will win again. Commissions are not going away. It is up to you to require advisers to fully disclose their methods and amounts of compensation before you turn over your assets.
What About You?
There is no question you are better off when an RIA (fiduciary, fee-only) advises you on the investment of your assets. The RIA is held to the highest ethical standard and you control the adviser's compensation.
Wall Street has gone to great lengths to obscure the differences between RIAs and sales reps and the professionals who work for fees and the reps who sell products for commission. The confusion benefits Wall Street and damages you.
There is only one solution and it is you. The more you know about financial advisers and Wall Street business practices the better prepared you are to protect your financial interests. Informed investors are Wall street's biggest nightmare.
Article originally posted at Paladin Registry.
About the Author: Jack Waymire worked in the financial services industry for 28 years. For 21 years he was the president and chief investment officer of a registered investment advisory firm with more than 50,000 clients. He left the industry in 2003 when his book, Who's Watching Your Money? was published by John Wiley. That same year he launched an investor information website PaladinRegistry that was based on the principles in his book. Jack is a columnist for Worth magazine, a frequent blogger on major financial sites, and widely quoted in the media including the Wall Street Journal, Forbes, BusinessWeek, Bloomberg, and Kiplinger. Follow Jack on Twitter @PaladinRegistry