If you're over 40, you should probably click out of this page as soon as possible. This post is about an all-night party in Montreal that doesn't even kick into high gear until 3 a.m. or so.
Yes, I'm talking Nuit Blanche, the final celebration of Montreal En Lumiere, an 11-day winter arts festival that celebrates creativity in all its many manifestations and just wrapped on February 26.
Because it's Montreal, home of world-famous Cirque du Soleil and now many other contemporary circus companies (including a Circus School that grants three-year college diplomas in the circus arts), En Lumiere offers dozens of street performances and circus acts.
But it also showcases music, food, spectacular light shows, drummers, comedians, Belgian chocolate makers, a life-size parlor game of Snakes and Ladders, a Ferris wheel, an ice lounge, a 330-foot slide and 170 other activities. So really, you pretty much have to stay up all night to even make a slight dent in all that Nuit Blanche offers. Oh, and did I mention? It's all free.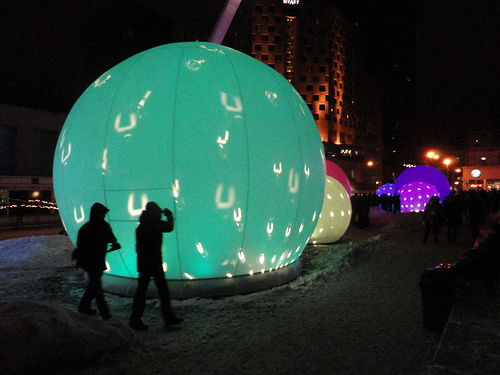 The city of Montreal has been throwing this all-night party for 13 years. It's the kick off for a whole Nuit Blanche circuit that includes Paris, Brussels, Singapore, Riga, Florence, Tel Aviv, Buenos Aires and other cities that pride themselves in creativity, art and joie de vivre.
The Montreal Metro, a work of art in itself, runs 24/7 during Nuit Blanche which gives takers more time to enjoy the 140 brand-new contemporary art installations throughout the city's impressive underground. Called Art SouTerrain, this year's show, a 4.5-mile circuit, is themed "Passageways" and patrons are invited to vote for their favorite installations.
I also loved the Port Symphony, an outdoor concert using boat horns, fog horns, train whistles, singers and other instruments. This year's rendition, Rives & derives, was composed by Sandeep Bhagwati, a composer from Mumbai, now living in Montreal. It's sponsored every year by Pointe-a-Calliere, Montreal's Museum of Archaeology and History.
You might be asking, "Why? What's the point of all this art? Why bother with all this creativity? And why, pray tell, do I need to stay up all night to enjoy it?"
To me, art and innovation is synonymous with being human. And Montreal could be the poster child of why the arts so deeply matter.
Take Cirque Du Soleil, as just one small example. When it was started in 1984 by a couple ragtag street performers, money was hard to come by. The performing duo, Guy Laliberte and Daniel Gauthier, were nearly forced to call it quits. But thanks to a $1.5 million government grant, Cirque du Soleil now employs around 5000 people and pulls down $850 million in annual revenue.
Just thought I'd point that out to Kansas governor Sam Brownback who recently cut all state funding to the arts. If it would make any difference, I'll walk on stilts -- as did the Cirque gang in the beginning, 56 miles to Quebec City -- if he'd reconsider.
Celebrating creativity, in all its many guises, will always matter and maybe, when things look so inhospitable in other arenas, we should put down our agendas, our blackberries, our hostilities and stay up all night to dance.
PHOTO GALLERY
Montreal En Lumiere