I didn't realize how immersed I was in roads, rules and traffic signs until I took a safari in South Australia's Gawler Ranges.
For five straight days, I saw neither a road, a stop sign, a McDonald's or another human being -- except, of course, for my two traveling companions and Geoff Scholz, the Australian bushman who guided our trek into the heart of Australia's oldest mountain range.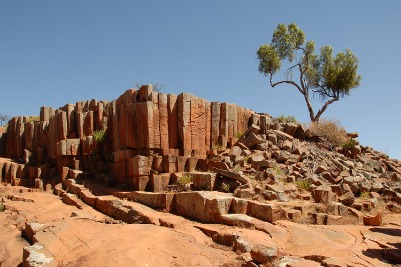 Unlike an African safari where you're just as apt to spot a herd of camera-toting tourists in photographer's vests as you are a herd of wildebeest, a Gawler Range safari guarantees nose to snoot vantage points of kangaroos, wallabies, wallaroos, emus and lizards.
If you're scratching your head right now, join the club. Even most Australians have never heard of this 1600 million year old range of granite. It's a good 250 miles (that's if the crow flies across Gulf St. Vincent and Spencer Gulf) northwest of Adelaide. The closest "big town" is Port Lincoln, known mainly for its white sharks and tuna fleet. Most days, you can catch a bush plane into Wudinna, 100 miles due north, where the safaris usually begin.
There's no 800 number to call to check on required inoculations (none required), no pricey, four-color brochure to detail the gear you'll need and no tourism central from which to buy wooden zebra napkin rings. Basically, you show up and Scholz, a sheep rancher who, to this day runs 2000 sheep a year, picks you up, all pretense aside.
To say we had reservations as we headed out of Wudinna into the land that only the Aborigines and a handful of sheep ranchers had ever seen is putting it mildly.
Scholz, a dead ringer for Crocodile Dundee, tried to put our minds to ease by explaining to us why he, his brother, Mick, and a neighbor decided to launch Gawler Ranges Wilderness Safaris.
"I've traveled around the world, taken lots of tours, seen lots of country. To this day, I've yet to see a spot that comes even close to being as spectacular as the Gawler Ranges," he said.
Until Scholz hatched the harebrained scheme of outfitting safaris, the ancient granite outcroppings were mainly used to feed sheep. Tourism isn't a word the locals -- as if there were any -- really concentrate on.
Not that they mind the company. The managers of the sheep stations gladly okayed Scholz's plan. Just remember to close the gates.
As it turns out, Scholz was right about the distinct landscape -- stark white salt beds as big as Lake Erie, towering granite formations shaped like God's own organ pipes, endless hills of blistering red Sturt peas. At times, I felt blissfully -- and sometimes not so -- like the only human being on earth.
There was nothing to follow but the sun and a rut that led to Kolay Drover's Hut where we set up camp. The hut, erected somewhat haphazardly for traveling sheep shearers, had a shower, a pink plastic curtain and squishy white soap already autographed with the dirt of previous "tenants."
Although Scholz set up tents for each of us, we opted to sleep the bushman's way -- under the stars in a swag. One step up from a sleeping bag, the canvas sleeping contraption has a three-inch foam mattress sewn into the bottom and a flap you can pull up over your head when it rains, which it did on at least one occasion.
The food, cooked over a campfire, was uniquely Australian -- mutton sausage, butchered by Scholz; damper, a lump of warm bread cooked on a stick over the fire, and Quong Dong, a peach-like fruit that we gathered by standing on the top of our jeep and beating a tree.
In many ways, Scholz's safari is an invitation to be a kid again, to enter the playground of his unique childhood in the bush. Many times, we jumped out of the jeep and, like 4th grade boys teasing the oh-yuck girls, we waved our arms furiously at emus, a signal that makes them charge the jeep. Other times, we sat and watched Bicycle Billys, the two-foot lizards that run speedily on two feet, or we imitated the red kangaroos that boing-boinged by our jeep at every turn. We snuck up on eagles nests (even got within 15 feet of a couple baby wedgetails), observed Paintbrush lizards (design inspiration for Aboriginal artworks) and played diggeridoos, the Aboriginal musical instruments that are shaped from clay and plunged into termite nests to hollow out the innards.
Not surprisingly, Scholz knew just were to find Aboriginal ruins. He led us to piles of stones marking ancient water beds, hieroglyphs etched into granite and abandoned tools used by an ancient culture long, long ago. Scholz seemed happy to share his childhood secrets, the special places he loved so much when, as a kid, he used to roar across the range on a motorbike.
He wove fascinating stories about the animals that he hung out with, dispensed little-known facts about the flora and fauna. Baby emus, for example, are raised, not by their mothers, but by the males. And death edder snakes hide themselves in the sand except for their tails which they wriggle to attract birds. Unsuspecting birds, smugly believing they've sighted yet another tasty worm, swoop down, grab the "morsel" and are instantaneously zapped by the poisonous snake.
At night, Scholz took us on wombat hunts. He even let us ride on top of the jeep with giant spotlights, something my parents certainly wouldn't allow.
In short, it was a safari I'll never forget. I saw lots of wildlife (sometimes I even got a bit too close like the time a brown snake slithered into our camp), escaped from the red neon and grinding wheels of civilization and was reminded (once again!!) that I'm not the center of the universe.

Click here for more info on Geoff Scholz and Gawler Ranges.